How to Hire a Healthcare App Developer in 2022: Costs, Locations & Cooperation Models
Why are health applications such a massive trend?
Every business is tapping into the mobile market to deliver new and innovative solutions to customers, and the medical sector is no different. With a wide range of advancements that apps may offer to clinical services, app development for the healthcare industry is a great way to improve the daily lives of both doctors and patients.
The popularity of mobile and wearable devices has heightened interest in mobile health (mHealth) application development that encompasses medical and lifestyle (self-care) apps. As part of the bigger telemedicine and telehealth landscape, the mHealth market was valued at $50 billion in 2021 and is estimated to hit $149.3 billion by 2028, according to Grand View Research.
What is the cost of hiring full-time medical app developers?
Just as much as in any other software development domain, the cost of hiring developers to build your health application will vary significantly from country to country. The compensation fees will also differ depending on the chosen platform, the dev's seniority level, and your hiring model, among other factors.
Let's start with rates of mobile app developers in the healthcare sector based on the global Glassdoor salary reports collected from the employees who work in the industry.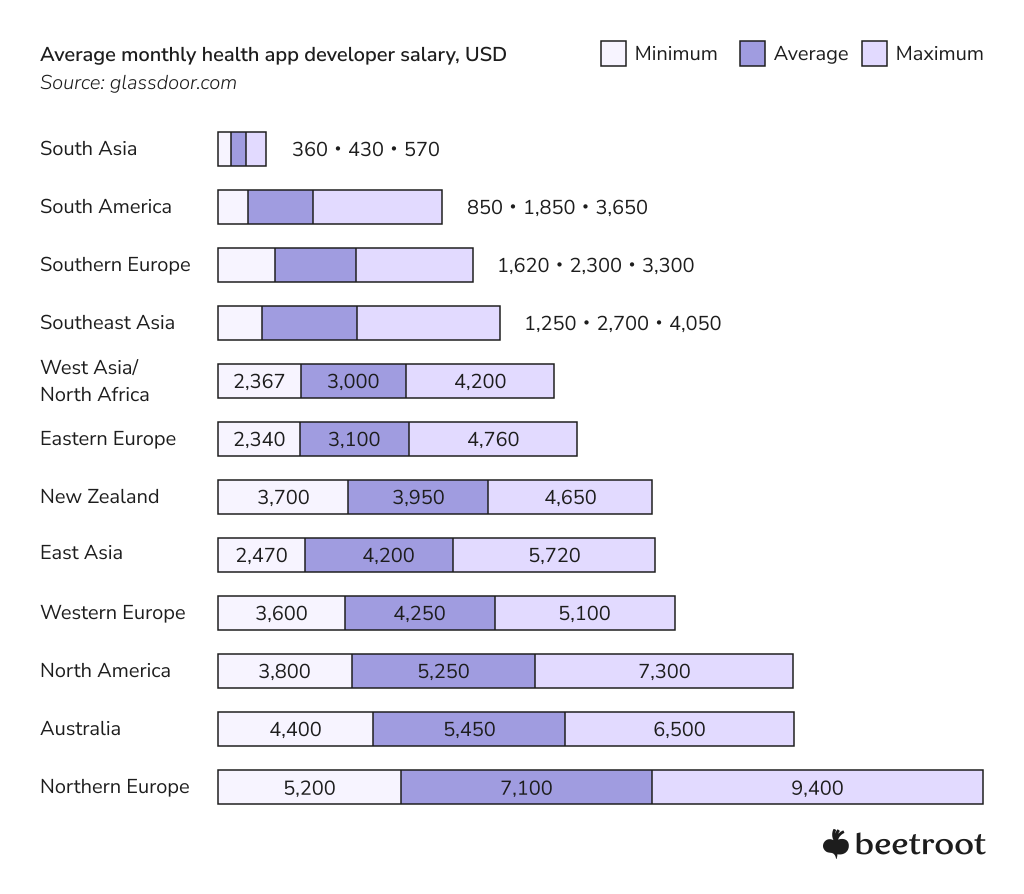 The data above represents the average base pay. Additional bonuses and benefits will also vary depending on the company and local policies. Like regular mobile apps, health-related applications are associated with smartphones, tablets, and compatible wearables. So let's also scrutinize the salaries of native Android and iOS developers and mobile engineers in general (including cross-platform) to understand how much mHealth developers are making in different regions of the world.
North & South America
According to Grand View Research, the United States accounts for the largest share of the global mHealth market ($13 billion). Based on our calculations, a mobile healthtech engineer makes around $97,800 yearly nationwide, with iOS professionals earning more than Android devs ($107,450 vs. $85,500).
In Canada, the annual average salary of mobile engineers starts at $60K+, with iOS and Android developers' compensation roughly at the same level ($64,720 and $64,200 a year). The cost of hiring app developers in South America is much lower. Below is a breakdown of the average hourly rates in select countries: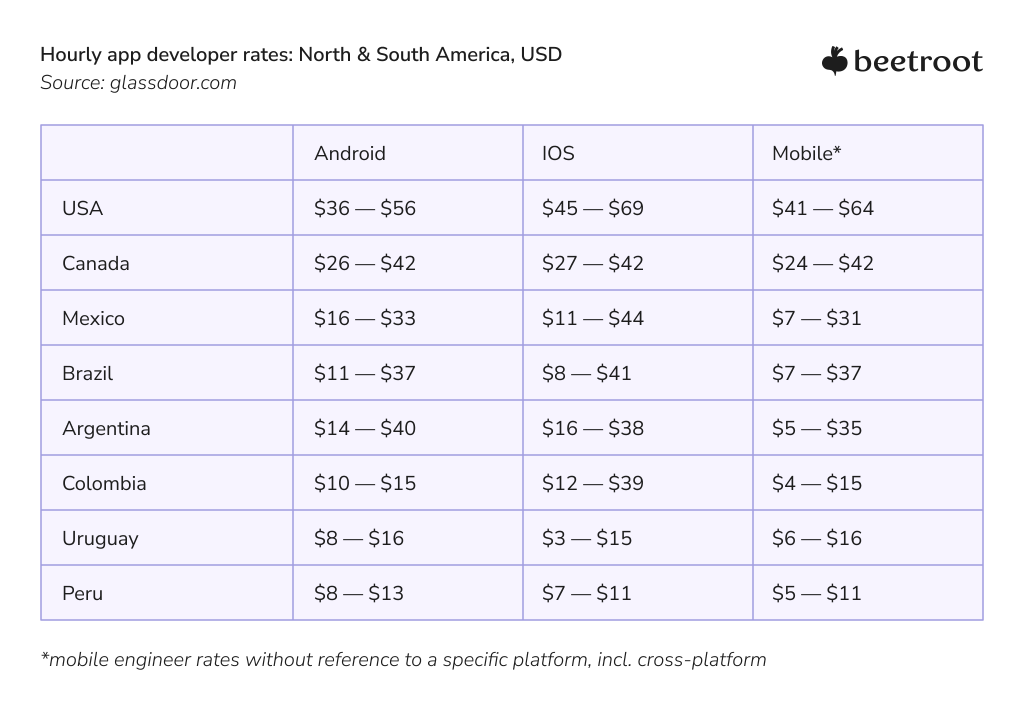 West Asia/North Africa
In the WANA region, the highest average yearly salary rates are in Israel, where mobile engineers make $151,350 a year, and iOS and Android professionals earn $115,000 and $161,200, respectively. Israel takes pride in its high-quality digital healthcare system and technical and entrepreneurial culture, but it is likely the most expensive destination to hire developers.
On the other hand, Egypt, Morocco, and Armenia are significantly more affordable countries for hiring app developers (see the breakdown of the rates below). The average yearly pay of health application developers in the region is around $36,100 — close to the average value in the Eastern European area ($37,125).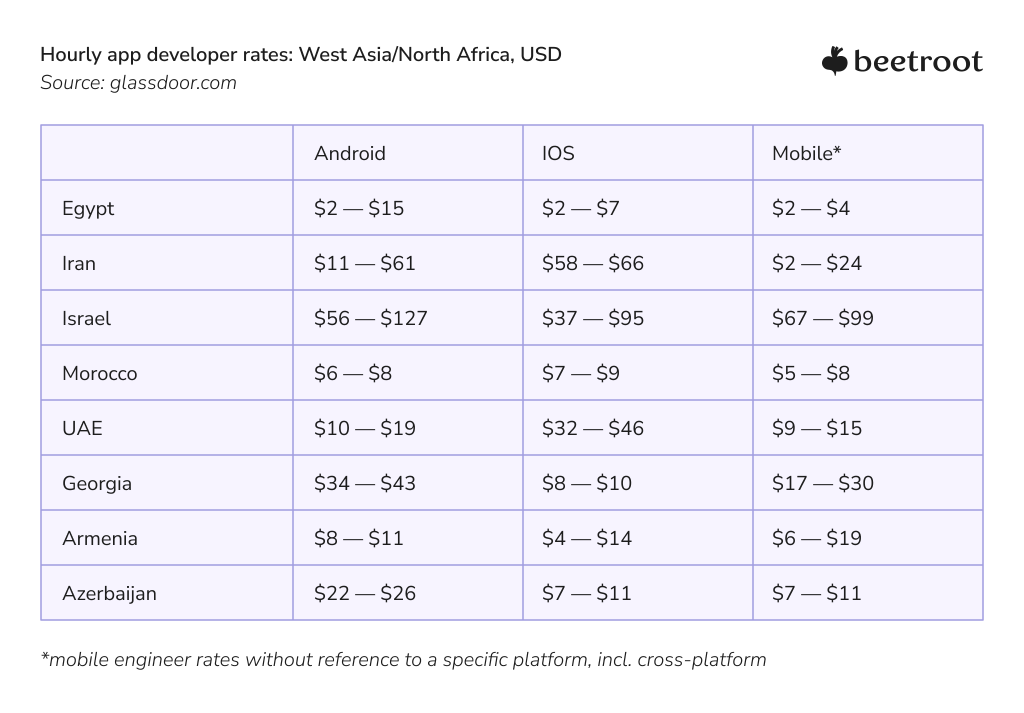 South & Southeast Asia
South and Southeast Asia are arguably the most popular software development centers and equally the most debatable ones in terms of price vs. quality. Like in other IT domains, the lowest average yearly rates of mobile engineers are in Sri Lanka ($2,800), Nepal ($4,550), and Bangladesh ($4,520). In India, the average pay for iOS developers is $9,800 annually, while Android developers earn around $9,250.
Moving to the East, the rates become increasingly higher, reaching their maximum in Singapore, where mobile app developers in the healthcare sector can earn up to $115,200 yearly. The average regional rate varies between $5,200 and $32,400 a year.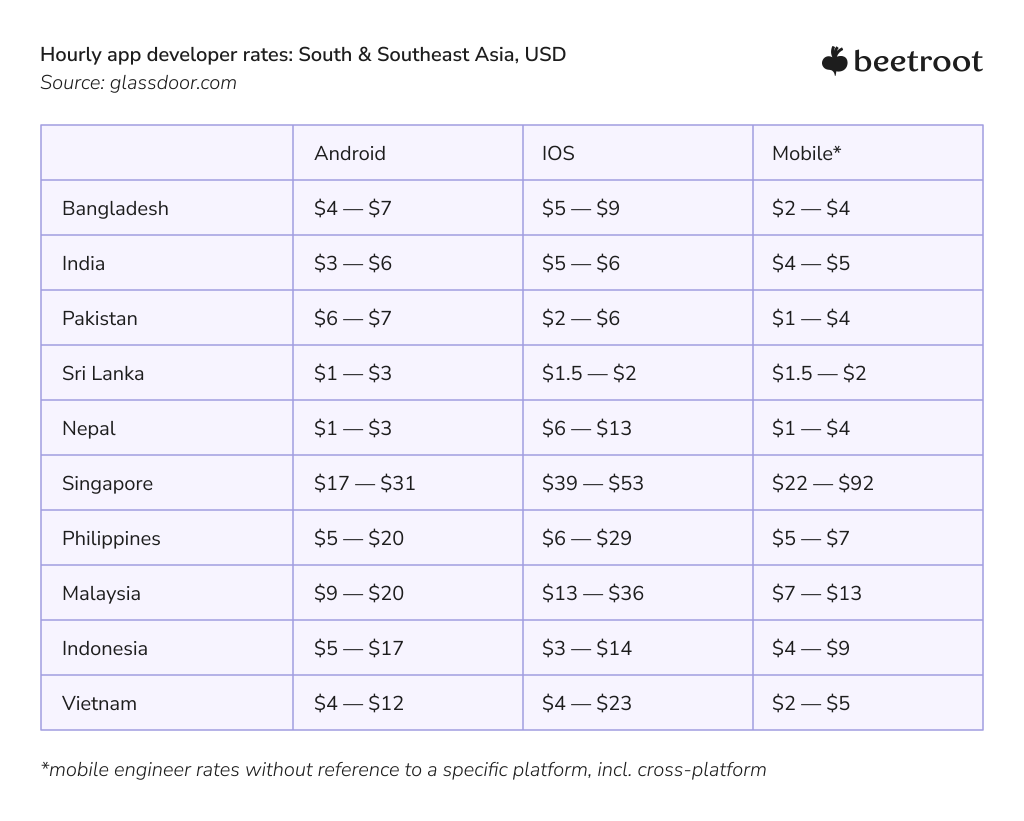 East Asia
The mobile developers' average yearly rate in the region is $50,200, which makes it a more expensive app development destination than WANA and Eastern Europe. Chinese iOS developers in the healthcare domain are among the top-paid in the world ($101,120 a year), while Hong Kong houses the most expensive Android programmers ($134,500).
In Japan, one of the region's digital health technology leaders, the iOS developers earn around $94,000 yearly, while the Android devs' salary is significantly lower ($56,000 a year).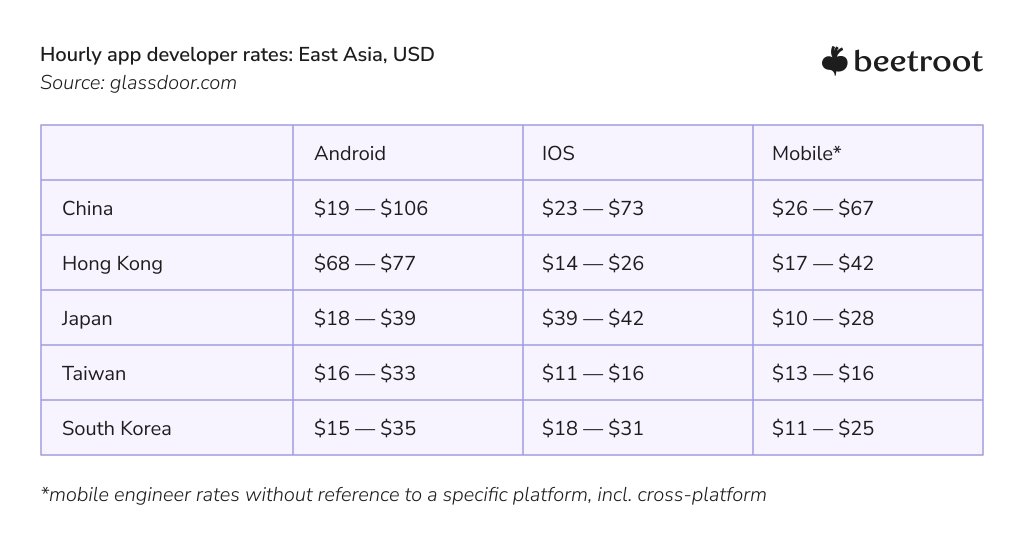 Australia & New Zealand
In terms of yearly compensation, this region stands alongside Western Europe, with the average mobile engineer's salary reaching $56,200. However, in general, iOS and Android app developers' pay rate is higher in Australia compared to New Zealand — approximately $60K a year versus $50K.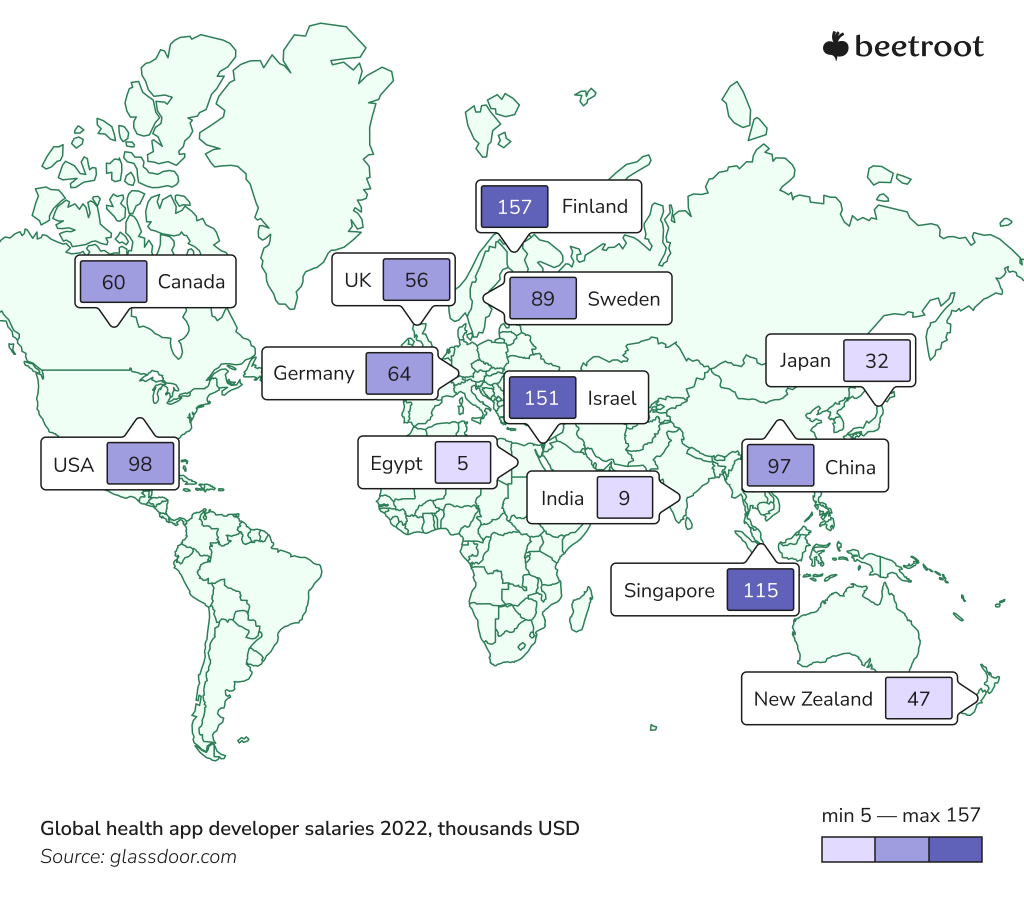 Northern & Western Europe
Based on the cumulative data from Glassdoor, the average annual salary of healthcare app developers in the Nordic region is around $85,200, substantially higher than in Western Europe ($50,900). The highest yearly rates are in Finland ($157,420), Sweden ($89,500), and Latvia ($76,700).
Regarding mobile platforms, Android and iOS developers make around $60,500 and $69,400 yearly in the Nordics and $56,700 and $54,500 in the Baltic and Western EU countries, respectively. Here's a more detailed rates breakdown: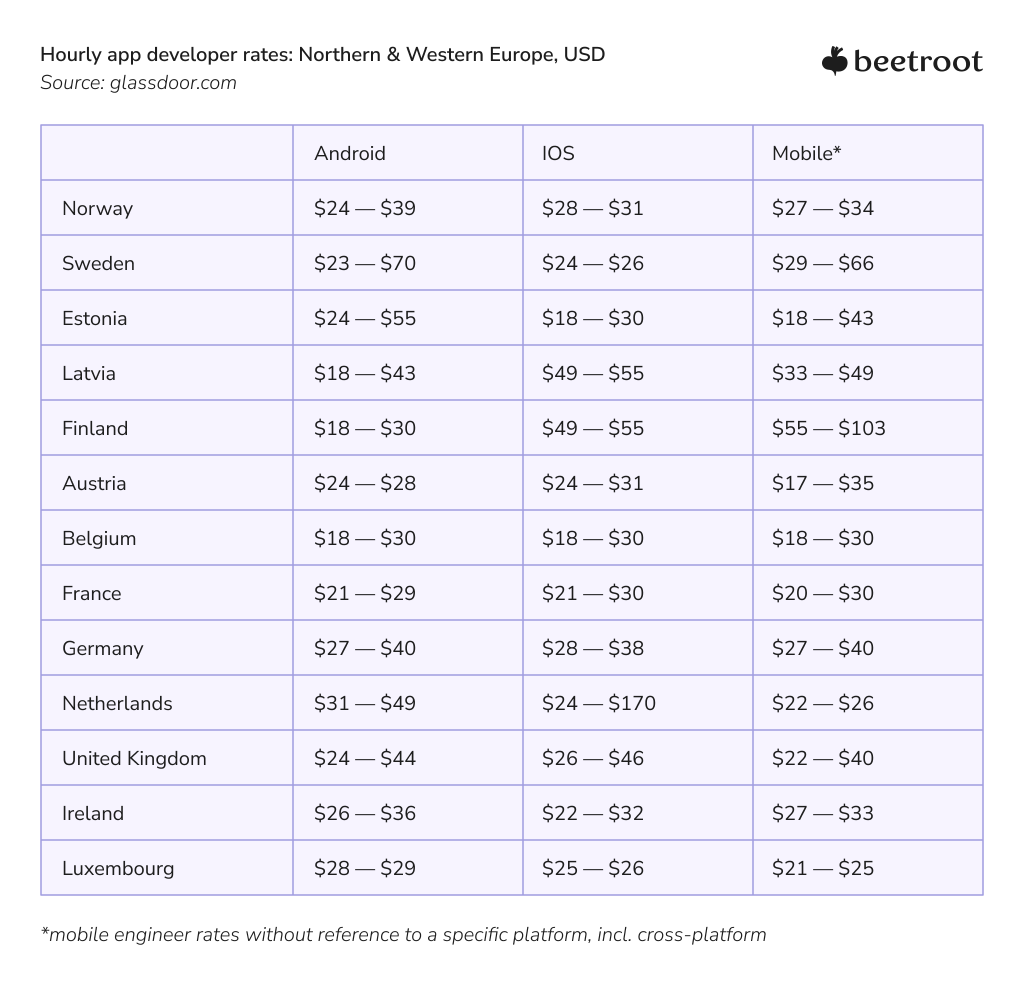 Eastern & Southern Europe
The Russian invasion of Ukraine has largely disturbed the region — one of the biggest tech hubs in the world — forcing many companies to relocate their teams to the neighboring countries and resulting in growing developer wages in these areas.
In the Czech Republic, healthcare iOS app developers make around $104,500 a year, while Android devs earn $67,500 on average. The average yearly salary of mobile engineers in Poland is $57,500 — nearly as much as in Austria ($58,000). Despite the war, many Ukrainian companies keep operating resiliently, safeguarding the local tech talent in the country. Here, both Android and iOS developers make around $43,000 yearly.
The importance of Southern European R&D centers is growing: you can find skilled developers for your health app in Bulgaria between $24,000 (Android) and $34,000 (iOS) a year, Romania — at $24,000 and $28,000, respectively — and even more affordable Albania (between $18,000 and $20,000). More rates are below: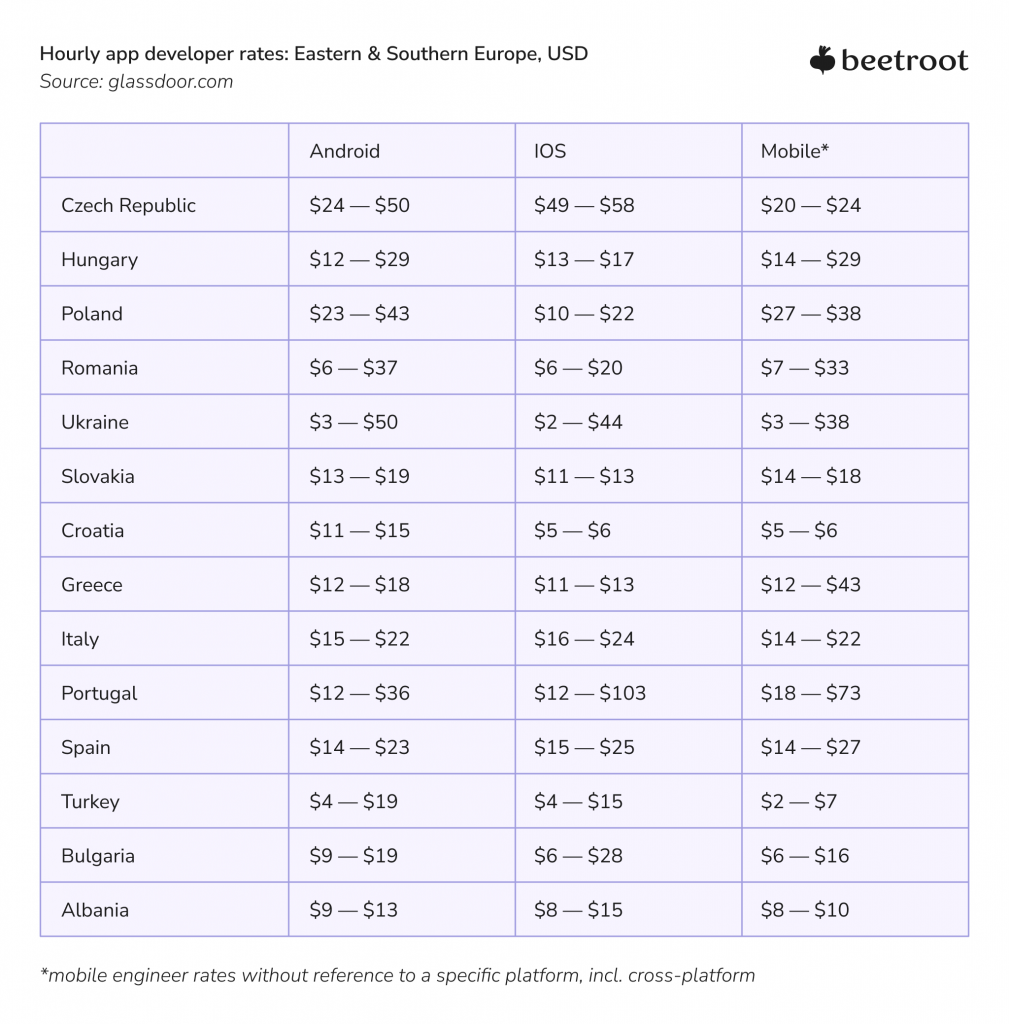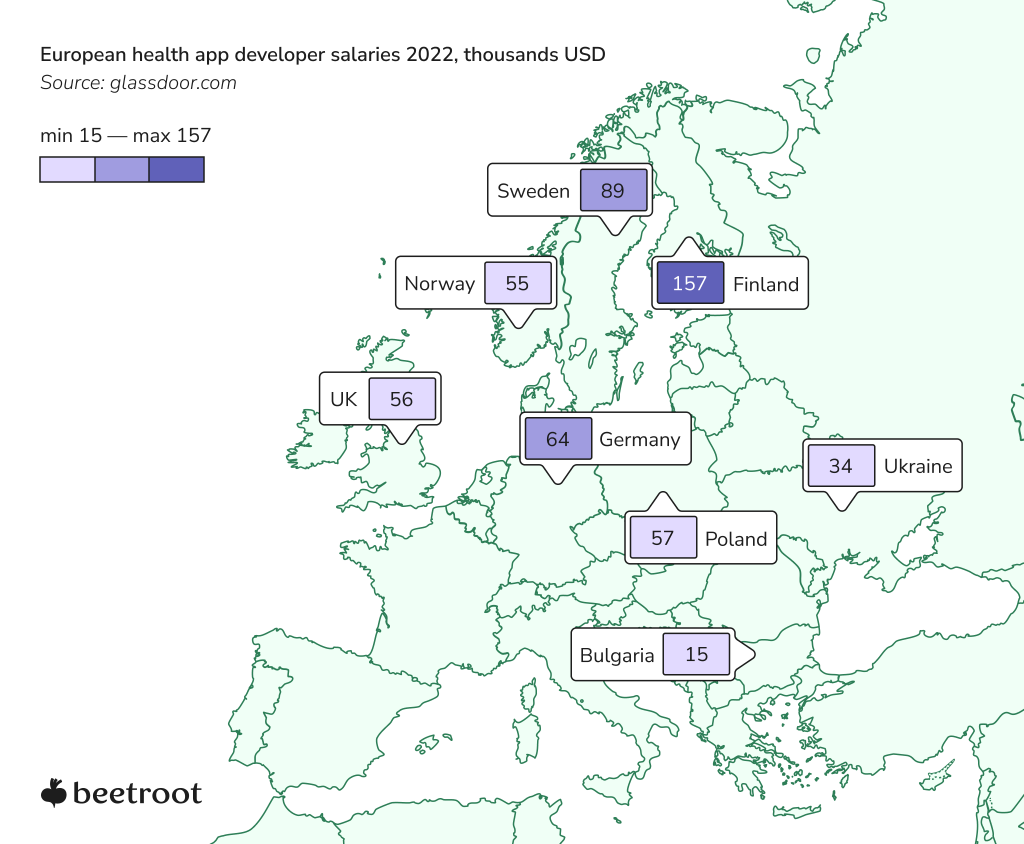 Freelance rates for healthcare app development
As much as it concerns in-house developers, a few important factors are at play when hiring freelancers for your healthtech project. According to Codementor's survey, freelance mobile app developers will charge $41-$60 per hour, and the ultimate number will depend on their background, geographic location, and the specific requirements of your application. Based on the freelance rates of over 20,000 vetted developers on the platform, the regional estimates for different seniority levels are as follows: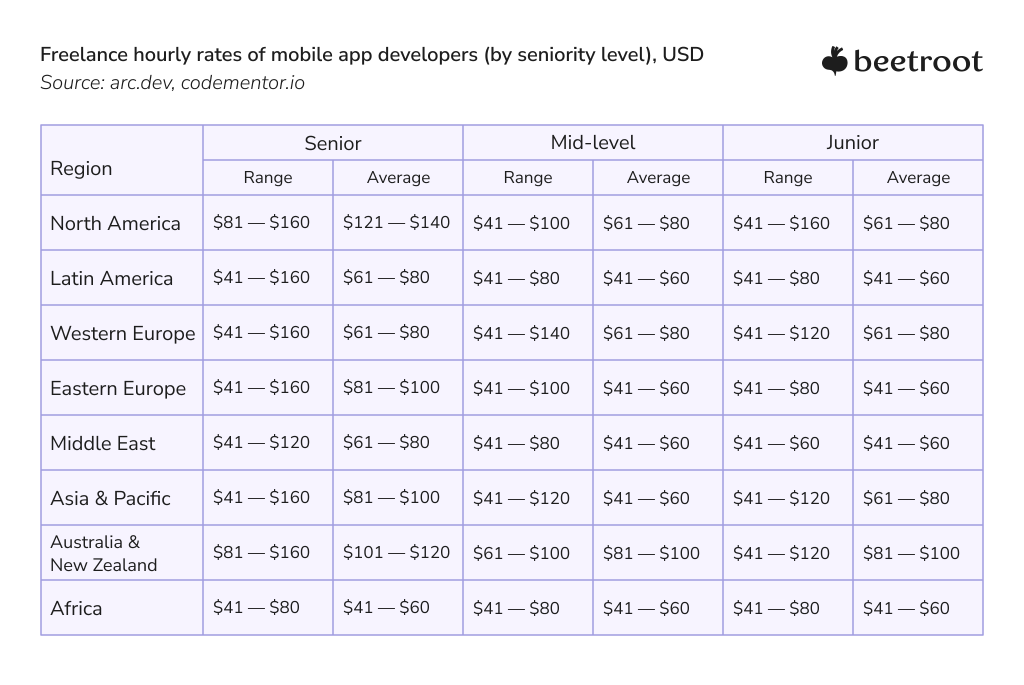 Hiring that one mobile developer depends highly on your project complexity: are you looking to create a native Android or iOS app or a multi-platform solution? Are you starting from scratch or adding new API integrations? The need for a more basic app setup incurs a lower rate and shorter timeline, while every new feature results in a bigger budget. Another critical factor is the freelance developer's reputation: if they're still building their portfolio, the rate might be more competitive than experienced programmers.
Even though the global software market is overheated and saturated with countless service providers, it is still difficult to locate medical software developers with the proper knowledge for the healthcare industry. So we'll discuss the technical skills needed for your healthcare project's long-term success in a separate article. Now, let's take a quick look at how developers' experience and skills correlate with the average hourly rates based on the data provided by Upwork: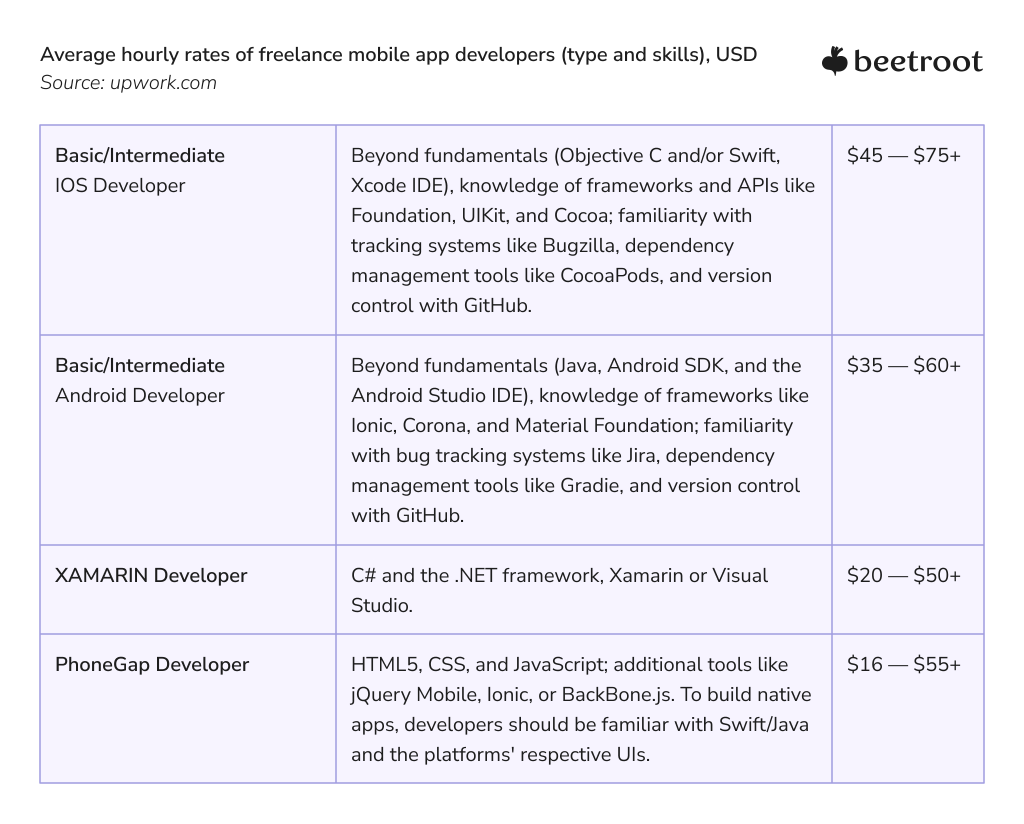 Dedicated healthcare app developers
The Dedicated Team concept, also known as Team Extension, is a method of supplementing your in-house team with hand-picked tech talent. Your software development agency recruits the required number of remote developers who will work on your project full-time and report directly to you while staying in your tech partner's office.
When should you utilize it?
You want to accelerate the hiring process for technical positions on your in-house team.
You want the flexibility to adjust project requirements as they evolve.
You would wish to maintain complete control over the development process.
Naturally, this level of excellence comes at a higher cost. However, it also includes administration, team support, and tailored recruitment. So, working with a reputable team provider is the way to go if your goal is to assemble a team with minimal strain and effort.
The average rate distribution of global companies that provide mobile app developers is shown below.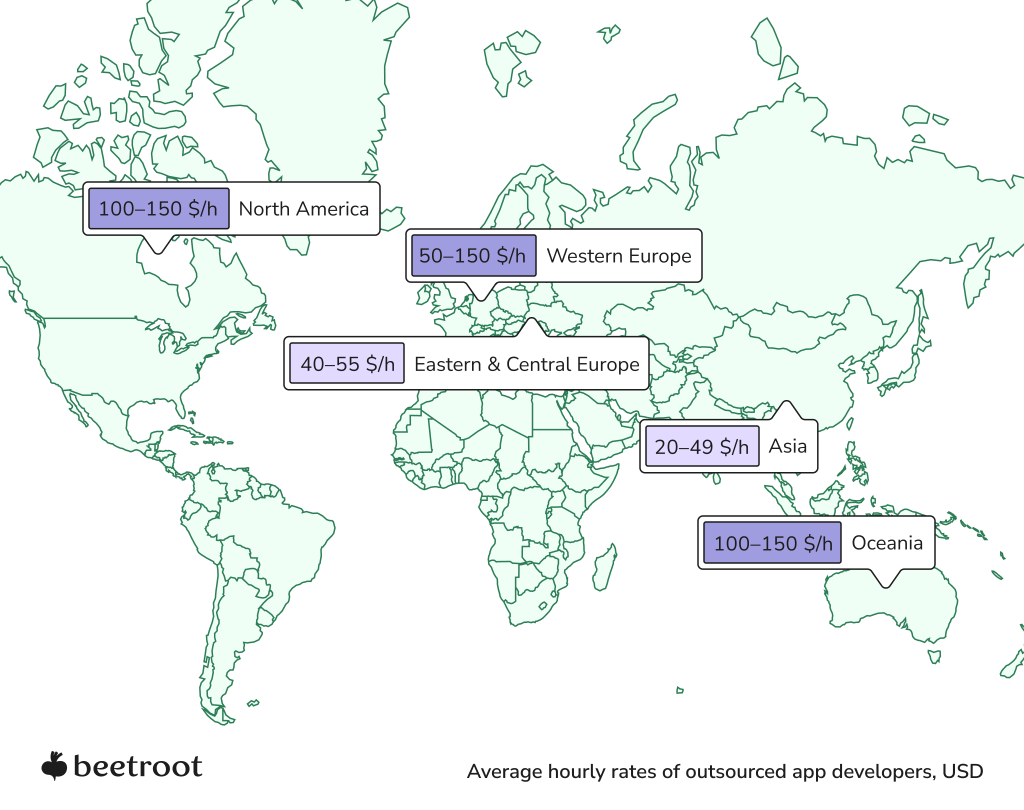 Beetroot builds sustainable nearshore teams of medical software engineers and other health technology professionals. Using our HealthTech knowledge and swift talent sourcing, you can employ our flexible teams for quick project delivery and extra capacity to address a specific task or fix an unexpected problem. We've got plenty of successful cases of building full-stack teams for end-to-end delivery, technical consultancy, and anything in between for international clients.
So if you're looking for a skilled team of healthcare app developers to boost your project, it is the best moment to drop us a line.
Find out how we can help extend your tech team for sustainable growth.
Contact us