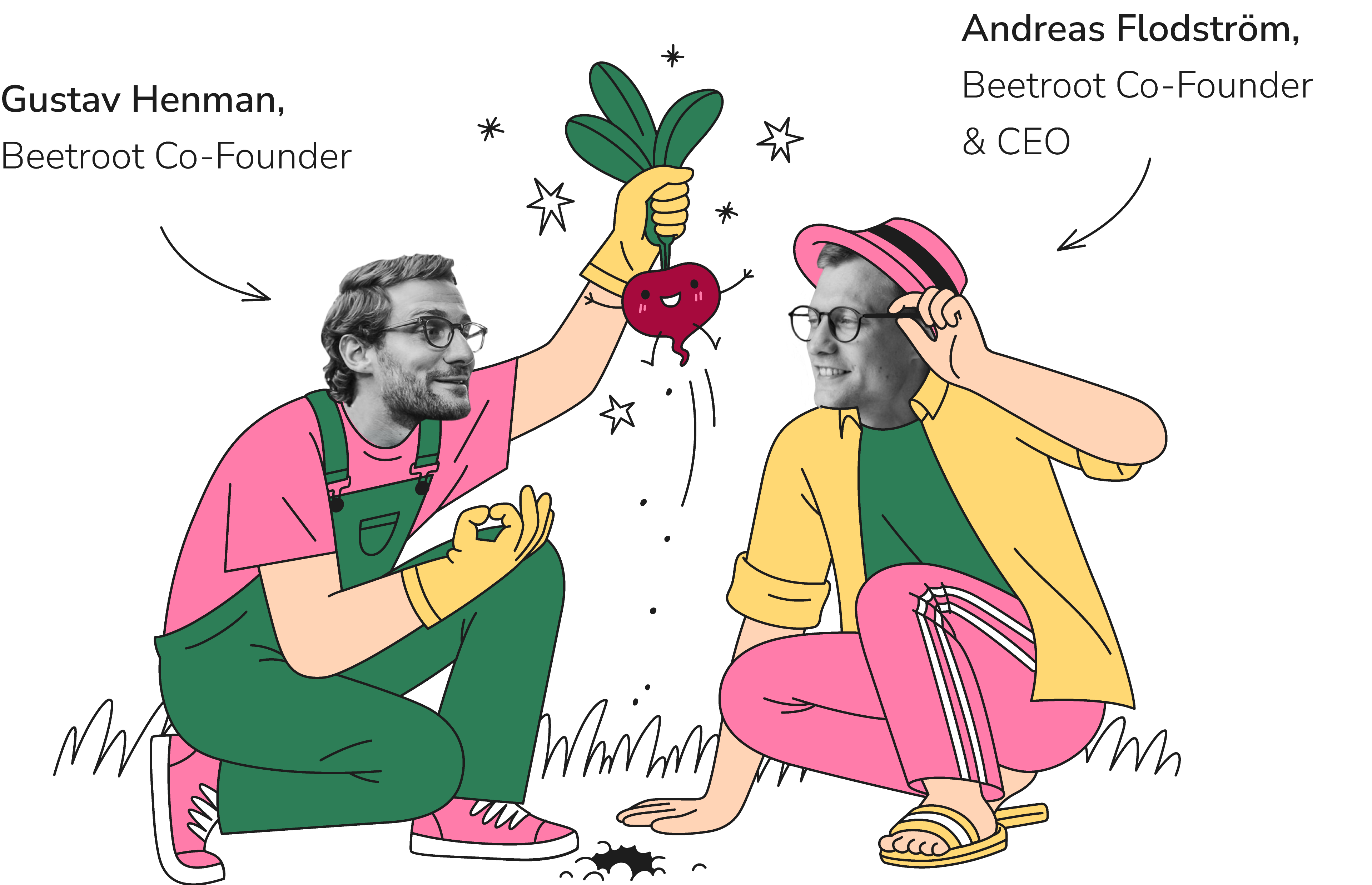 Beetroot saw the light of day in 2012 as a backpack startup of students Andreas Flodström and Gustav Henman. It grew from a seedling to an international tech ecosystem, remaining a social enterprise at the core. We're committed to creating a positive impact at scale through Tech Team Solutions, Software Development, and Education.
Today, engaging more than 500 people in Sweden and Eastern Europe, the Beetroot ecosystem comprises an extensive network of R&D offices in Stockholm and cities across Bulgaria, Poland, and Ukraine.
Beetroot Tech is the first unit in the ecosystem, born from the idea that tech team extension and work with remote teams can be done in a very people-centered and integrated way that doesn't sacrifice in-house quality.
Mission: for the Beetiful world
We're on a mission to create a positive social, economic, and environmental impact in the long run. Our efforts are aligned with the United Nations 17 Sustainable Development Goals (SDGs) adopted by global leaders in 2015.
Personal growth

We know first-hand that strategic business resilience relies on healthy and engaged teams. To engage with work and stay for a long time, we believe that individuals need the best possible working conditions and continuous personal development. We maintain this environment through flexible working hours, a culture based on trust and responsibility, longtime remote work acceptance, and wellness promotion efforts.

Strong society

Competing over a limited talent pool in large IT hubs generates marginal impact. Instead, we think it's wiser to look more broadly at mid-sized cities, work with sound values, and improve people's lives – growing new leaders and entrepreneurs. A part of the value we create is establishing a new, sustainable, international business in Europe.

Sustainable future

Beetroot drives a company-wide sustainability plan that investigates our total impact on the environment and outlines all the activities we pursue to mitigate negative influences. We try to produce as little CO2 as possible and compensate for what we can't avoid.
Working at Beetroot: direct speech
Beetroot Tech Relief Fund "Aid for Ukraine"
In partnership with Ioca Arma Nostra, we created the Aid for Ukraine relief fund to help people affected by Russia's terrorist war. Thanks to Beetroot's network in Ukraine and a straight-to-the-point, minimum admin vetting process, we direct donations to grassroots aid projects, prioritizing those that support vulnerable families and children. We aim to have as high an impact as possible per donated cent.
Beetroot Academy: improving access to tech education
Part of the Beetroot ecosystem, Beetroot Academy is an EdTech social enterprise on a mission to help people around the globe have great careers in the digital economy.
Providing affordable education with industry experts in live classes, we've trained over 7,000 tech professionals and built a network of 200+ hiring partners since 2014.
Here we are, Beets across our ecosystem's various units. We can't wait to get to know you better and work together for a better tomorrow. So contact us today to discuss your tech project or request a consultation.
Check some of the main reasons tech leaders and non-tech startup founders choose us for their custom software development solutions.