Women in Technology: Insights from Ukraine, Bulgaria, and Poland
It's undeniable that gender diversity in technology is a white-hot topic, and yet the numbers tell us there's still a long way to go to achieve true equality. Women remain a minority in tech sciences, face challenges like employment and pay gaps, and need a better IT leadership representation.
The tech sector offers various career paths for specialists of all genders, including well-educated women who can help address the growing skills gap reported by the European Commission, driven by the urge to continue the digital transition. However, the question remains: how does being a woman in the tech industry feel?
In this article, we'll explore the state of female representation in the IT sector across three of Europe's leading outsourcing destinations — Ukraine, Bulgaria, and Poland, sharing some of Beetroot's own achievements. We wish you an insightful and pleasant read.
Women in tech Europe: Presence, education, and pay
The global IT sector is predominantly male: according to the 2022 Stack Overflow developer survey, 92% of respondents identify as men. While there has been some progress in recent years toward increasing the number of women in big tech companies, with the goal of reaching 33% by the end of 2022, we still have a lot of progress to make.
The general lack of women in tech creates further barriers to success, pressuring female specialists to work harder than their male peers to prove their worth. According to a 2021 study by TrustRadius, 72% of women stated there are usually twice as many men present in business meetings, and 26% said they're outnumbered by 5:1 or more.
Let's look at the numbers in selected countries more closely.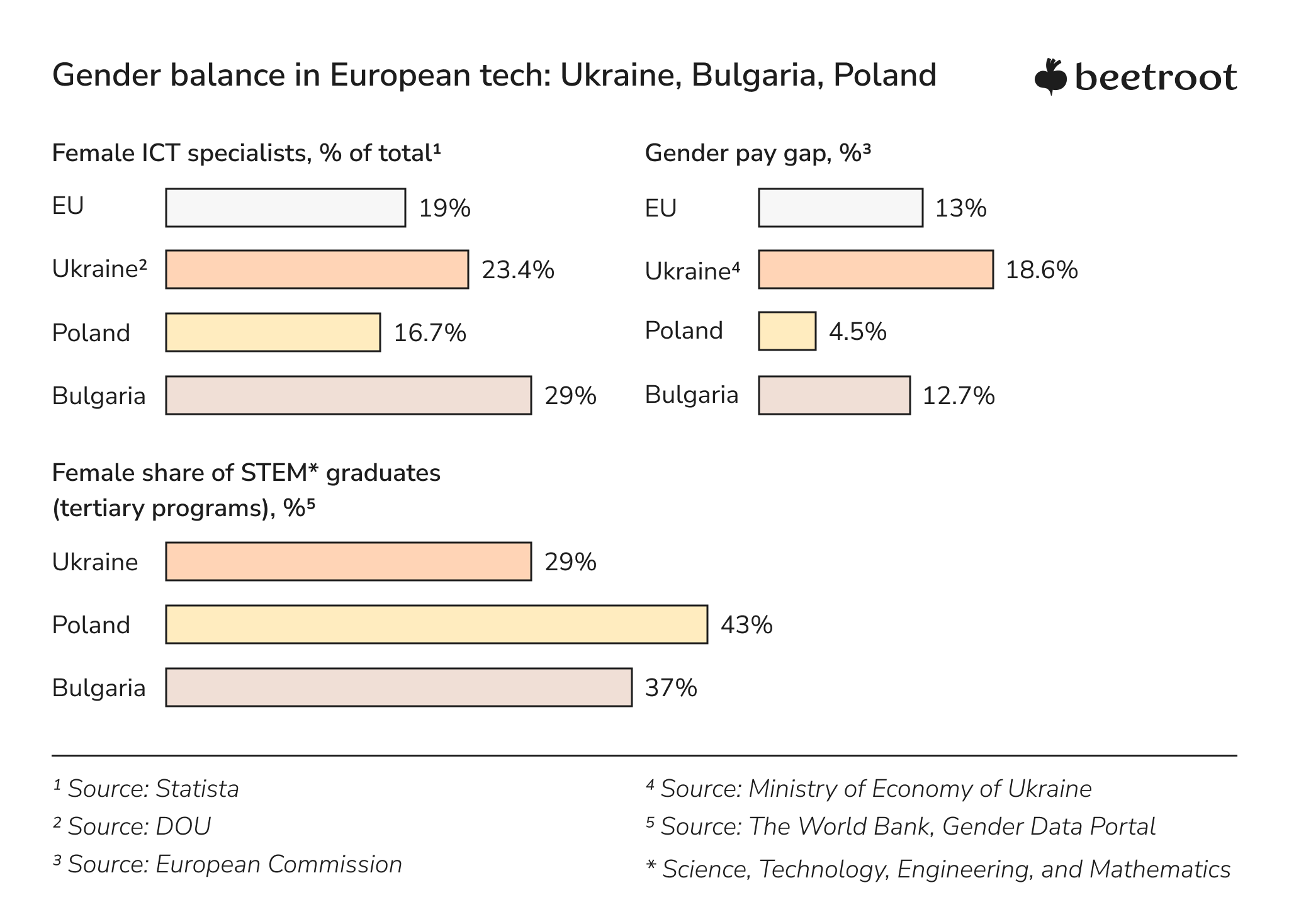 Less than one-fifth of the European tech population are women
Did you know Bulgaria has the highest percentage of women employed in information and communication technologies (ICT) among all EU member states? In 2022, Bulgarian women held almost 29% of positions in ICT, representing the highest male-to-female ratio in Europe, surpassing the union-wide average of 19%.
Over a decade ago, the Ukrainian tech industry was heavily male-dominated, with women being only 8% of the IT population. The situation improved significantly by 2022, when the share of women in tech reached 23.4%, according to DOU. This increase is also reflected in the number of female private entrepreneurs in IT (78.6 thousand as of 2022). The progress is particularly noticeable in specific fields, for example, data analytics. A few years back, most workers were women who had transitioned from accounting or finance. As noted by Oksana Nosenko, Head of General Analytics at Jooble, the male-to-female ratio among Ukrainian data analysts has shifted to 6:4.
Although Poland has a strong female representation in STEM, the share of women employed in tech is only 16.7%, as seen in the infographic above.
Women represent about one-third of STEM graduates
Only 30% of scientists worldwide are women, according to UNESCO statistics. Sadly, women remain a minority in digital information technology, computing, physics, mathematics, and engineering. Despite the apparent attractiveness of STEM and the increasing demand for tech skills, women still do not actively pursue a degree in this field. Research highlights that inequality in the workplace begins in the classroom: as early as elementary school, children begin to express opinions that girls are less interested in exact sciences. Consequently, fewer female students choose STEM majors in high school and further education.
However, some countries are making strides in closing the gender gap in science. Poland, for example, has almost 43% of female STEM graduates. Not all of them work in tech, though: only 22% of the respondents of the Women in IT report by No Fluff Jobs graduated from technological or engineering majors. Of the 10% of women who entered the IT industry after a non-technical major, 30% have a degree in human sciences.
Bulgaria has a proud legacy in STEM, with one of the highest relative presence of women among graduates — 37%. Bulgaria's actively invested in electronics and software industry development since the 1960s, encouraging both boys and girls to pursue a degree in technical majors, resulting in better access to tech education for women.
The relative presence of women among STEM graduates is 21.4% in the EU. Although a non-member state, Ukraine performs better than this level, with 29% of women graduating from tertiary STEM programs. At the same time, about 20% of Ukrainian developers do not have technical education.
The gender pay gap in tech should become a thing of the past
According to Eurostat, women in the EU earn 13% on average less than men. This difference has only improved by 4.1 percentage points since 2006, indicating that it will take 131 years to close the gender gap. It also means that our generation won't live to see gender parity.
The gender disparity is further exacerbated in ICT due to the overrepresentation of women in low-paying sectors, the unequal share of paid and unpaid work (European women dedicate 18.4 hours per week to cooking and housework, compared to 12.1 hours spent by men), and the persistence of the glass ceiling on women career advancement. LinkedIn data from 163 countries shows that while women make up 41.9% of the workforce in 2023, their share in senior leadership positions (C-suite, director, or VP) is only nearly 32.2%. In Ukraine, Indigo Tech's survey found that female executives earned 40% less than their male counterparts in similar positions in 2021 and 35% less at the end of 2022.
Although only 56.8% of women in tech are satisfied with their compensation, they are less likely to negotiate their salary than men. According to No Fluff Jobs, the majority of female tech specialists earn between $1,100 to $1,700 per month.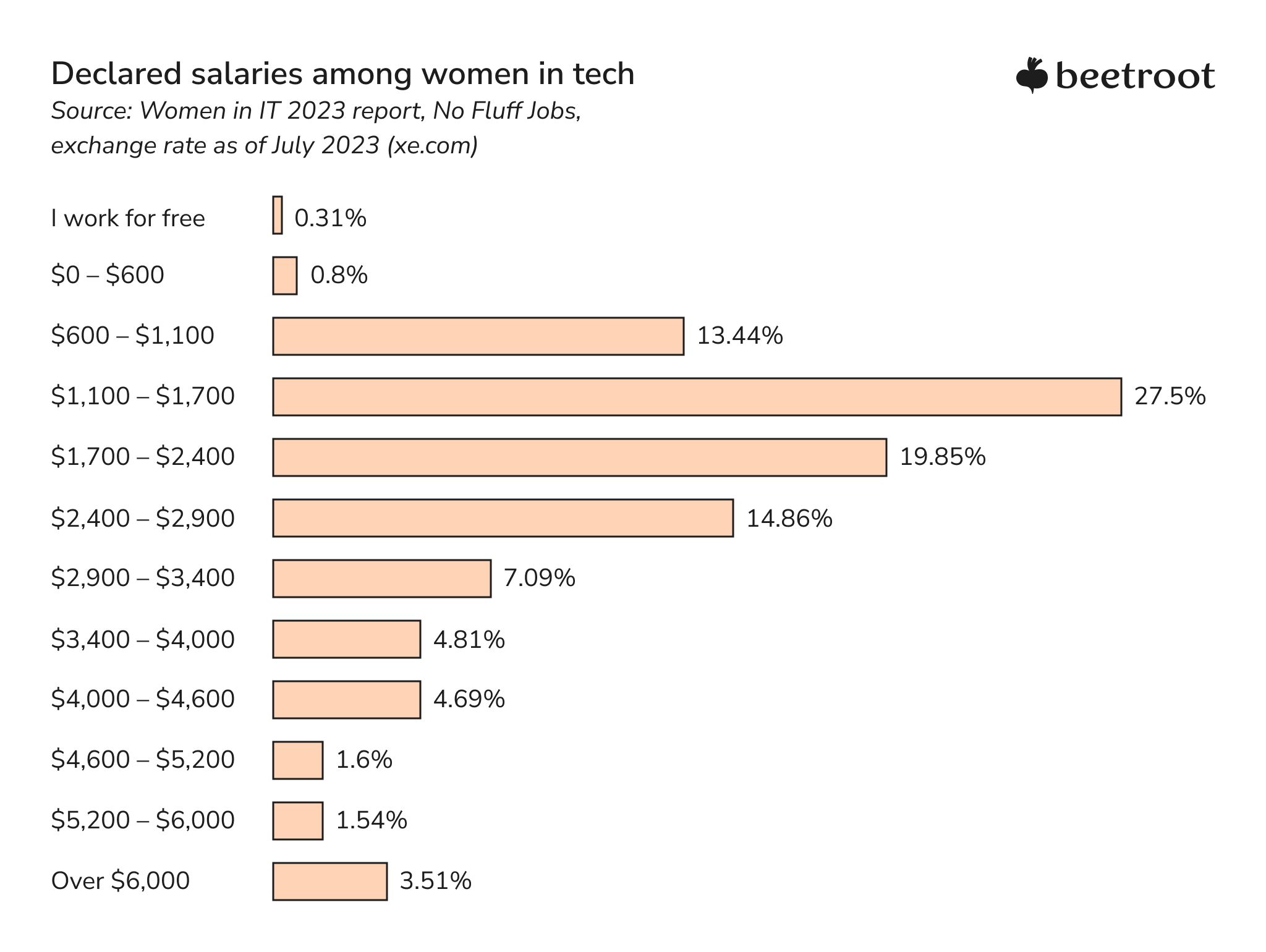 It is encouraging to see that the pay gap in Poland is the lowest among the countries mentioned in the report, at only 4.5%. It is also one of the countries with the highest score increases since the 2021 Gender Equality Index (+1.1 pp).
Unveiling the women in IT: The portrait of female specialists
Over the last nine years, the number of women involved in the Ukrainian tech industry has tripled. However, they only account for 9% of software engineers in 2023, with better representation in other business units such as HR, design, product, and project management. As for the technical roles, the largest share of women by specialization are analysts (43%), project managers (35%), testers (34%), and support specialists (30%). Conversely, the least amount of women work as DevOps/SRE (3%), sysadmins (4%), software developers (9%), game developers (11%), and security specialists (13%). Most women work in recruitment, marketing, design, and sales for non-technical roles, as depicted on this gender distribution graph in Ukrainian IT.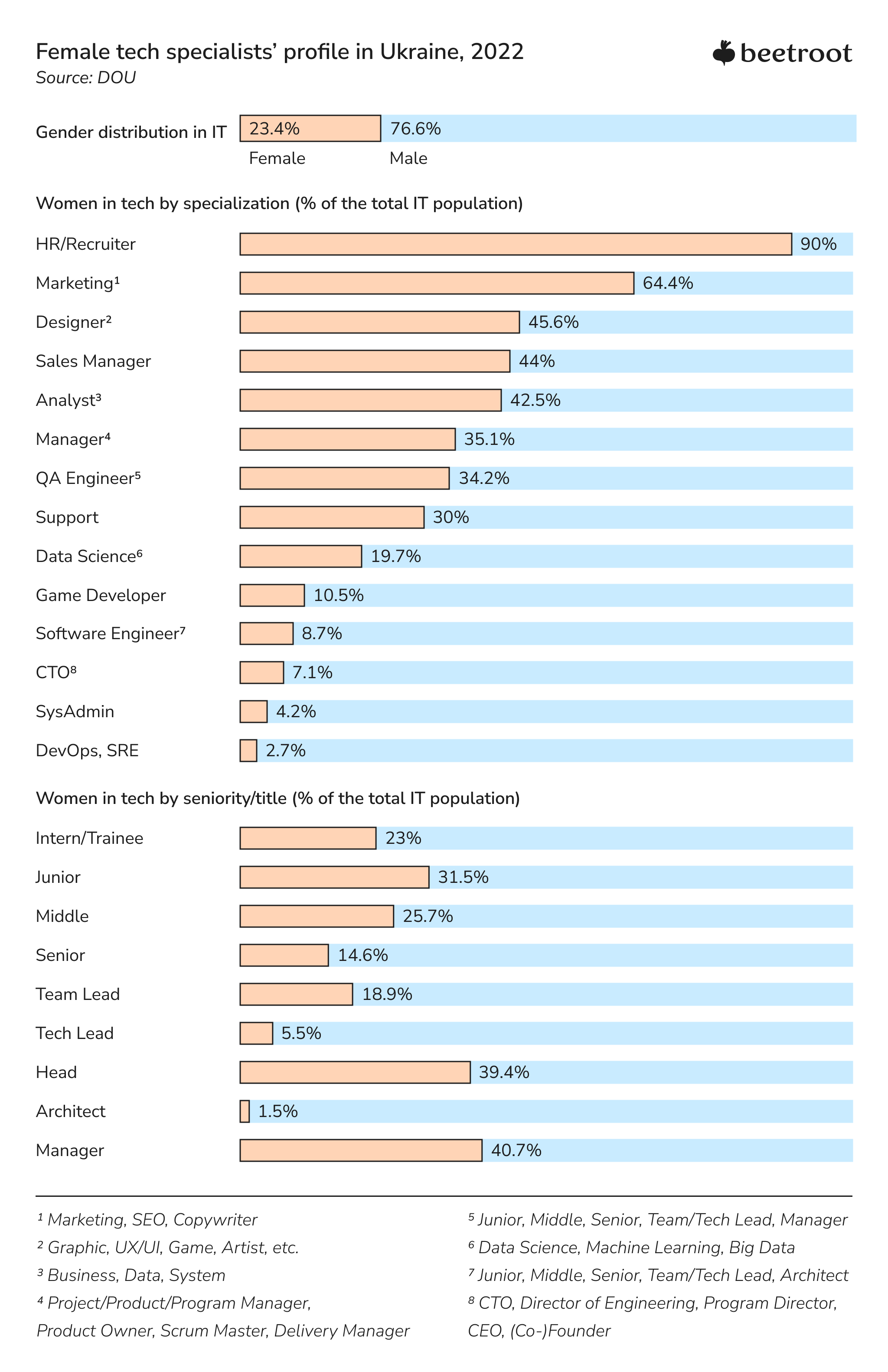 Like in Ukraine, most Polish female IT specialists hold middle or junior positions. As many as 81% of women candidates find entering the tech industry especially difficult, and nearly half have switched careers to start a new job in IT. Women in the tech field in Poland often opt for specializations with lower entry thresholds, such as testing (15%), project management (10%), and UI/UX (8%). Despite these challenges, Poland ranks third in the HackerRank list of countries with the best female developers.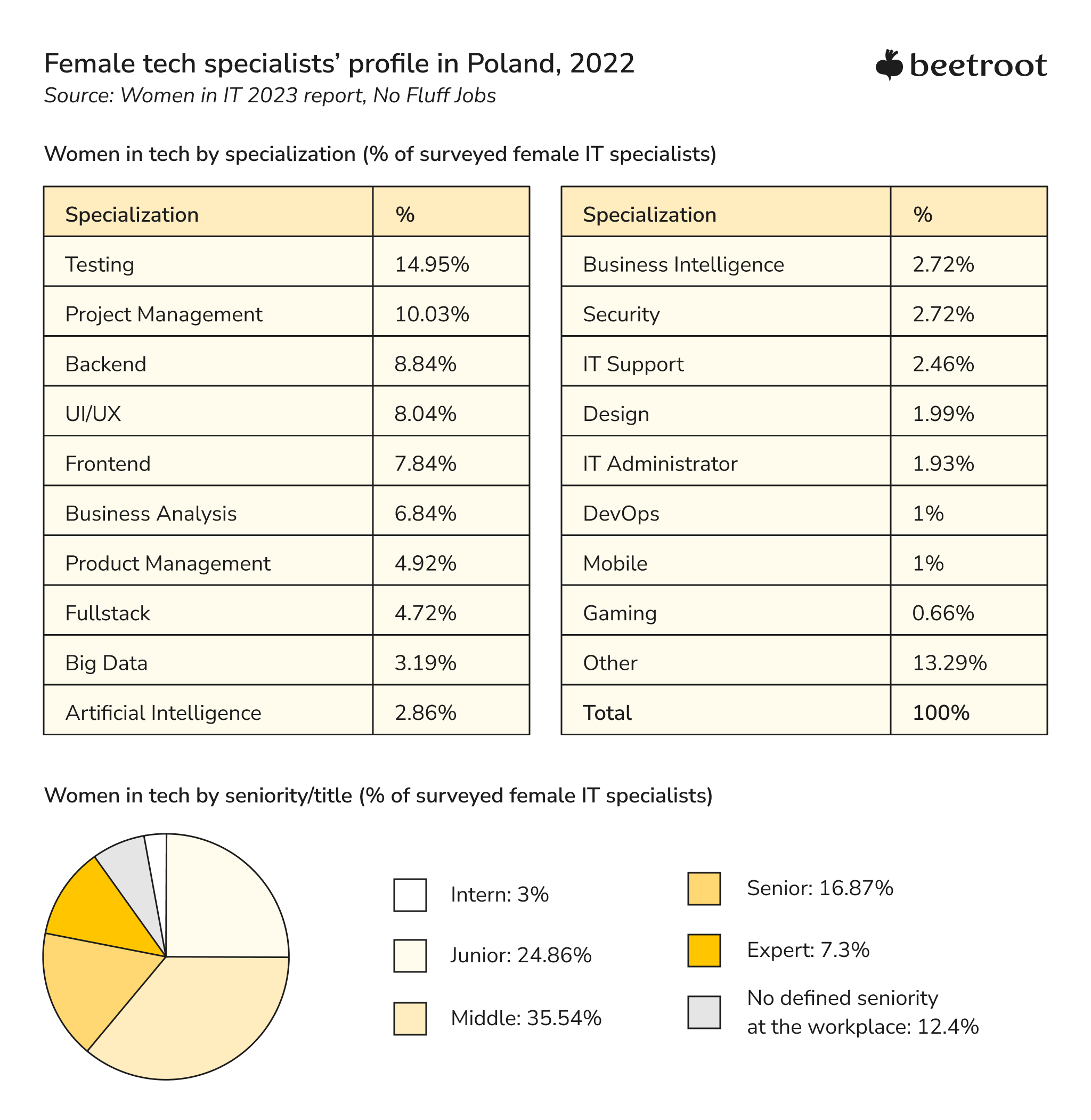 In 2022, women comprised 46.4% of Bulgaria's labor force, according to World Bank data. However, there's a lack of comprehensive research on gender dynamics within the Bulgarian tech industry, except that around one-third of the country's IT specialists are female, as mentioned earlier.
Globally recognized for their skills, Bulgaria's software developers are well-versed in popular technologies like C#, JavaScript, Java, Python, SQL, and PHP, excelling in software engineering, mobile and web development, and cloud computing. According to Reboot Online, the country secures a notable position in terms of gender-friendly workplaces, earning the joint-seventh spot for women's employment. Bulgaria ranked second — trailing only Norway — as the country with the strongest representation of women in executive positions.
Women leadership in technology across hot IT verticals
The progress for women in breaking the glass ceiling to reach top executive and boardroom positions is still limited. According to a report by Dealroom, women remain underrepresented in the industries with the highest VC investment and value, such as Enterprise Software, FinTech, and Health. Teams founded by women account for less than 15% of scale-ups.
However, there is a silver lining in this situation. "Often, though not always, ventures initiated by women have a social impact component," explains Maya Zlatanova, the founder of Bulgarian startup FindMeCure. This online platform enables individuals grappling with medical conditions to access treatments in the developmental phase. Women-founded scale-ups are gaining prominence in emerging sectors, constituting 19% and 21% of total scale-ups in impact-driven and deep tech fields.
For Ukraine, Dealroom lists 124 companies with at least one female (co-) founder out of a total of 8,232 listed startups and scale-ups founded or headquartered in Ukraine (a scant 1.5%!) across the following verticals and technologies: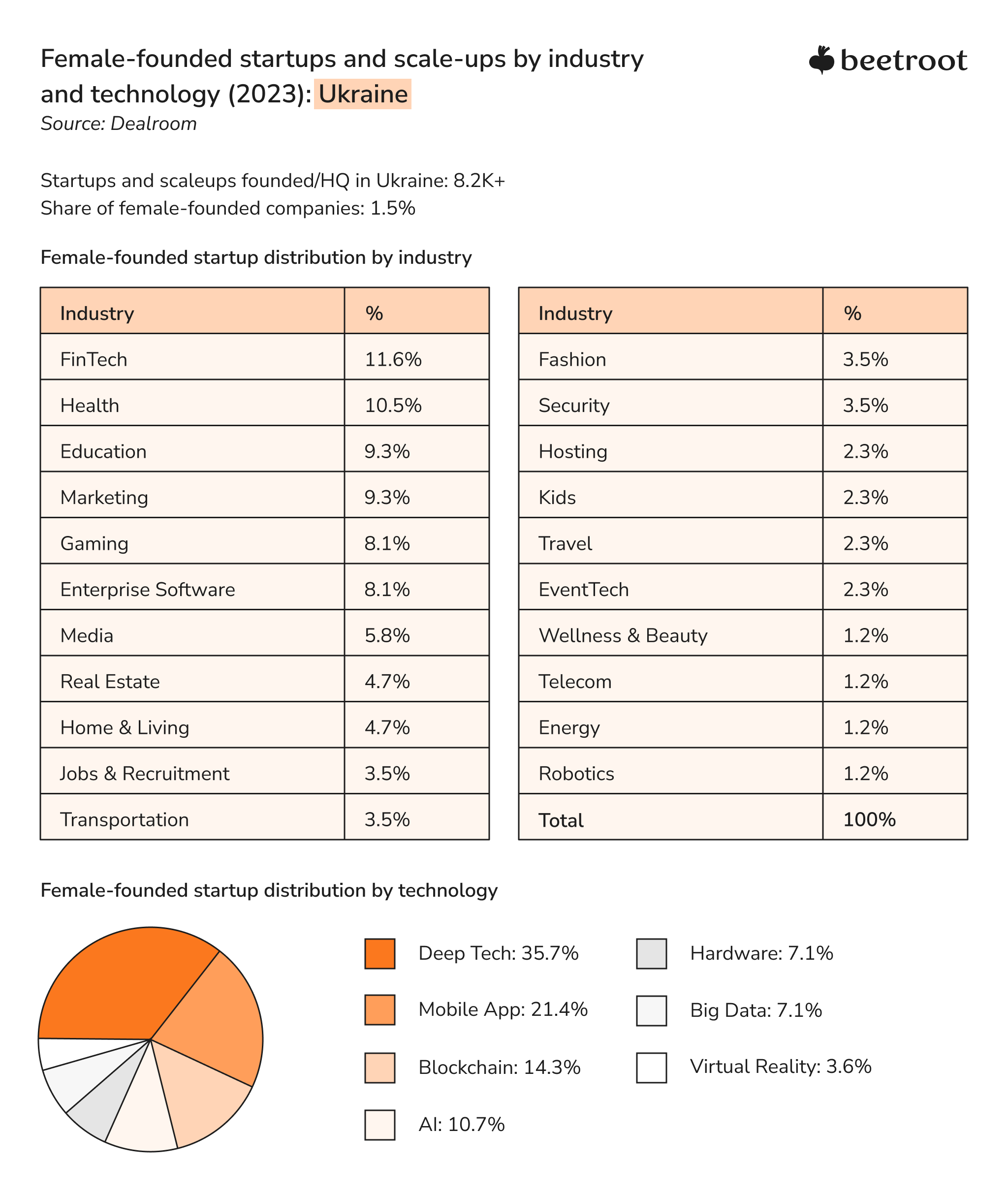 Over the past three years, there has been an increase in the number of startups founded and co-founded by women in the SEE region. While the area is famous for its flourishing tech scene, it's not as well-known for its high percentage of female leaders in the tech industry. According to Eurostat, Bulgaria ranks third in the EU for the proportion of women in managerial roles (42%).
However, women are still underrepresented at the executive level compared to men. Out of 2,686 startups and scale-ups listed by Dealroom in Bulgaria, only 44 have female founders. It's worth noting that these companies are involved in cutting-edge technologies ranging from blockchain and deep tech to AI.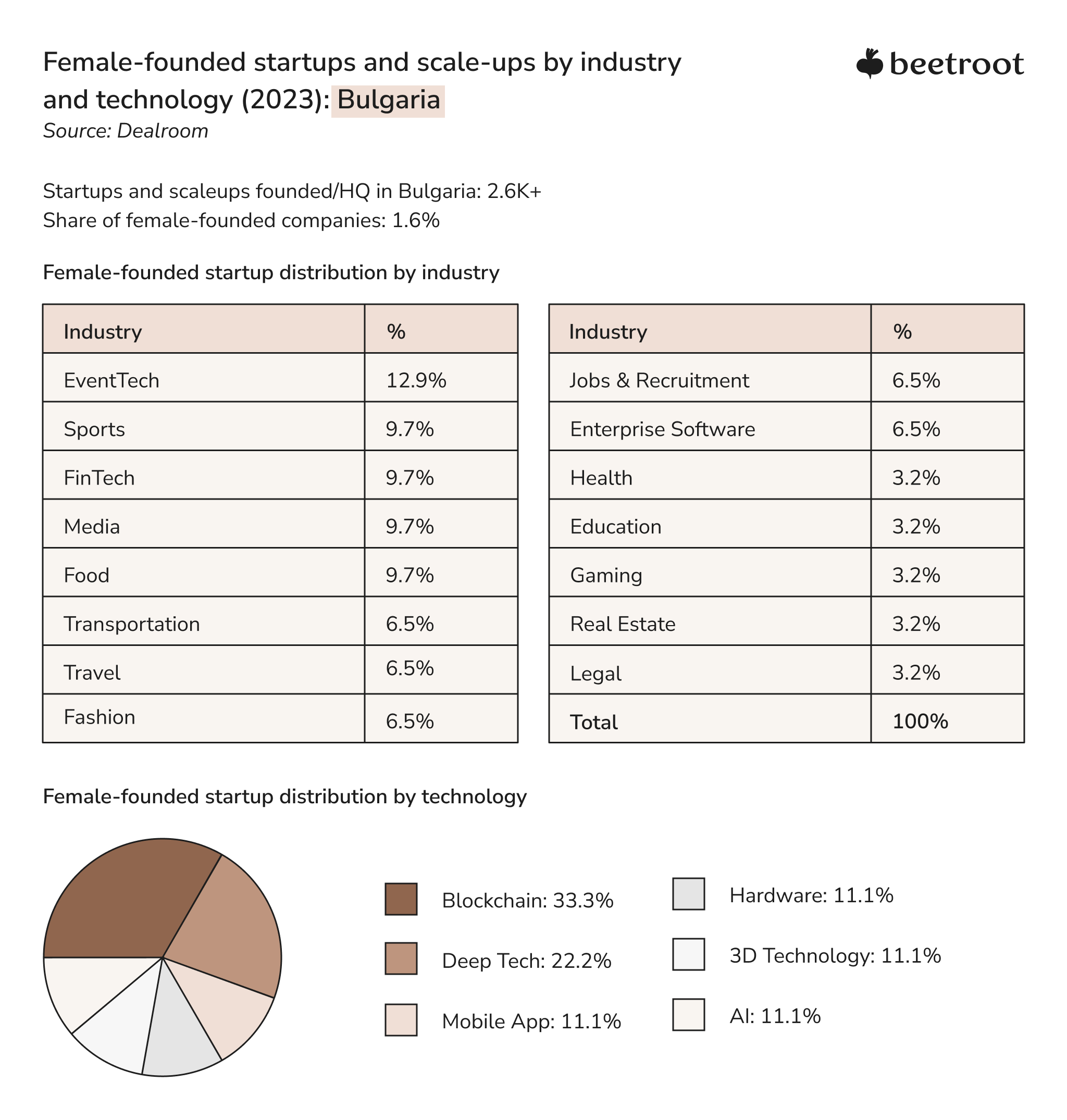 In recent years, the startup ecosystem in Poland has been thriving and making great strides toward gender diversity and inclusion, as evidenced by the increasing number of women in tech. The industry has seen a surge of innovative female-led companies, and the Mastercard Index of Women Entrepreneurs 2021 ranked Polish women as 21st globally and 1st in the CEE region. According to Dealroom, there are currently around 240 female-founded startups in Poland as of July 2023; the first emerged in 2012. The infographic below provides more details on the distribution of these companies by industry and technology.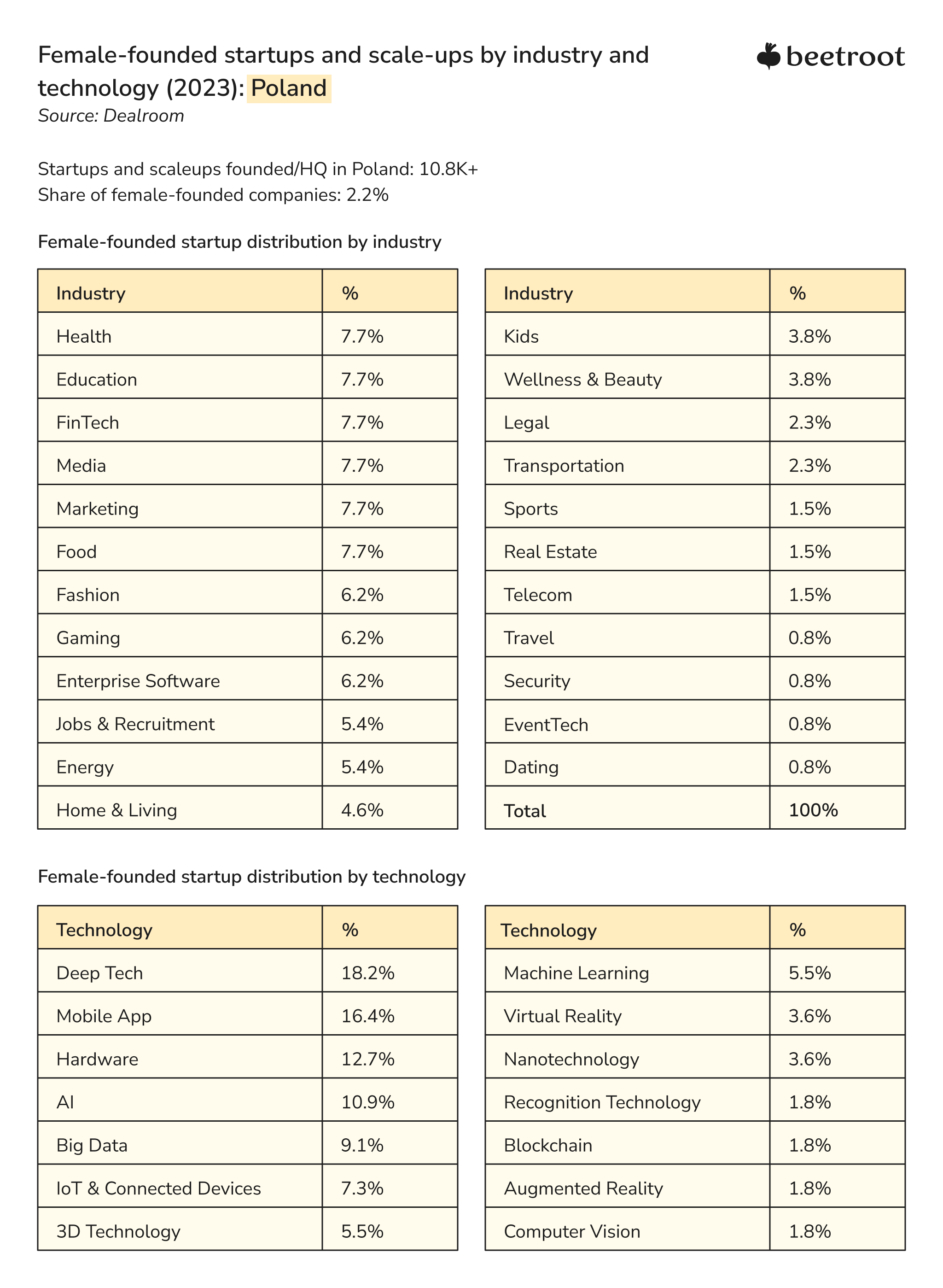 Strategies for narrowing the gender gap in technology
By championing the advancement of women's careers in STEM, tech, and IT fields, we're fostering skill development and cultivating modern leadership competencies, diverse team management, and a more inclusive industry culture. To find a solution to address gender inequality in tech, here are some strategies to consider:
Educating and raising awareness
The perception of IT as a male-dominated field often results in women being treated unfairly or overlooked for job opportunities, promotions, or pay raises. To reach gender equality, educating and encouraging young females to pursue careers in technology is vital. A study by Microsoft identified five key factors that can drive ladies' interest in technology: female role models, hands-on experience, supportive teachers and mentors, real-life applications, and confidence in equality.
Embedding a culture of diversity and inclusion
Leaders should leverage strategies that close the gender gap in tech to embed diversity, inclusion, and equity into their company's DNA. Establishing a culture of inclusion requires a top-down and bottom-up effort, with leaders providing practical tools like diversity training to help make work settings equitable for all. In times of uncertainty and challenging economic conditions, attentiveness and empathy at work become essential leadership qualities.
Addressing gender bias
Addressing stereotypes and prejudices that affect our perception of women's work is vital. A balance can be achieved through transparent salaries, flexible work options, promoting more women to leadership positions, creating more training opportunities, and focusing on well-being and mental health. Employees can also foster gender equality by becoming allies, speaking up against discrimination, and providing honest feedback to leaders.
Supporting a diverse talent pipeline
Organizations striving for inclusivity should examine their recruitment methods. Extending shortlists for job candidates helps increase gender diversity by encouraging managers to break free from gender stereotypes associated with specific roles. Training your HR managers to create longer shortlists, particularly for male-dominated positions, will enable more women to apply for top roles. Other studies suggest that women are more likely to be interested in a job when communicating with a female recruiter.
Supporting women's career advancement
Many women consider switching to a career in tech after exploring other options. However, a lack of resources and fear of the unknown can be barriers to making the leap. Tech organizations can help by offering mentorship and guidance to women who want to switch careers. Look to established organizations promoting diversity, like women's coding communities and tech affinity groups, to encourage underrepresented populations in tech careers. By the way, 61% of Beetroot Academy graduates are women.
Improving diversity in the tech industry: Case Beetroot
At Beetroot, we are proud of our unique culture that stems from our Swedish roots. Despite having over 500 employees in multiple international locations, we share values of teamwork, equality, respect, and deference. It extends to the daily workplace relations and how we approach leadership, positively impacting and promoting diversity within our ecosystem.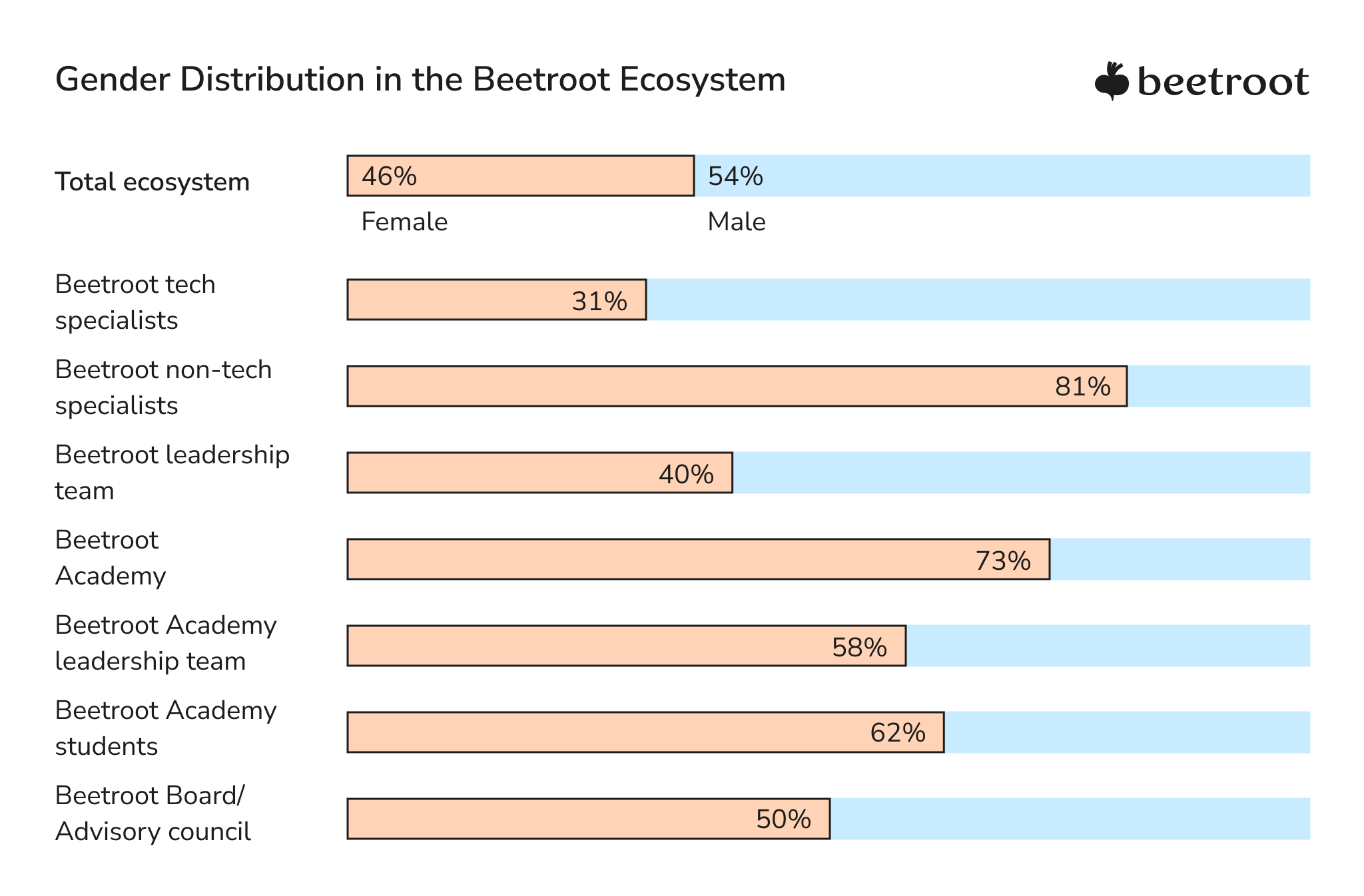 To validate the above statement, let's quote Rana Ersgård, the Deputy CEO of Beetroot:
"I have been fortunate to be in the Nordic environment, known for its high level of equality and tolerance. Not obstacles so much as the occasional "being underestimated" – this is easy to overcome if you have mature leaders who trust in you and give you a fair chance."
Women have been making significant strides in tech. Some are driven by a genuine passion to change the world through technological advancements, while others see IT as a pathway to professional growth and a healthier work-life balance. In countries like Ukraine or Bulgaria, IT offers opportunities for rapid career progression, unrivaled in other sectors of the economy. The journey is ongoing, and each step brings us closer to a brighter, more inclusive technological future.
Find out how we can help extend your tech team for sustainable growth.
Contact us