The "Aid for Ukraine — Beetroot Tech Relief" fund is a partnership between Swedish tech company Beetroot and non-profit foundation Ioca Arma Nostra, with the purpose to support Ukrainians who have had their lives thrown in turmoil by Russia's war.
By donating to this fund, managed by Beetroot AB in Sweden, you help the following situations caused specifically by the war:
Evacuation and relocation to safer cities or countries

Personal emergencies, including medical/health issues, the loss of critical personal possessions and other essential needs that are difficult to preemptively define

Providing income security and project opportunities to people who are unable to continue their normal work
We are able to accept donations through both Swedish and international channels.
Proceeds go to help families who, due to the war, are unable to continue working and earn an income. We do this primarily by engaging our wide network of contacts, developers, and other staff in tech-related relief efforts and tech projects that benefit families and young people in Ukraine. Efforts that affect particularly vulnerable families with children are given priority.
STEP 1

Fill out this form to give us some more information about you — we will send you donor updates and, if you need, a donation receipt.

STEP 2

Add your full name to the donation/payment description. If you are maing a Swish payment, add your e-mail address.

STEP 3

Make a donation using the bank information below
$1,000 – $10,000

Aid size
Ioca Arma Nostra Fundraising Foundation
The Aid for Ukraine tech relief fund is managed by Beetroot AB and Alpcot AB through Ioca Arma Nostra
Swish Donations

Bank account (SEB):
5203 10 914 76

Swish by phone number:
123 581 22 68

Message:
Your email address (to receive fund updates)

Bank Transfer

Donations from Sweden


IBAN (SEK):
SE8050000000052031091476
International donations
IBAN (USD):
SE9750000000050598263624
BIC:
ESSESESS
Thank you for your donation!
Together, we make a tangible difference in the lives of thousands of people.
Giving a helping hand when and where it's really needed
Thanks to you, thousands of people were not alone and received help in the most challenging times of their lives. More than 30 grassroots organizations in our fund network continue to evacuate civilians from the frontline regions, deliver food & supplies to refugee shelters, provide medical assistance, and enable recovery from trauma.
Child-focused initiatives
Some of the child-focused volunteer projects we supported are the following:
Summer camp for children of Bucha: helping kids from displaced families spend a vacation at a serene location in the Carpathians, hiking in the mountains, playing, and smiling.
Mariupol teacher network: providing laptops and working tools to help teachers who have fled Mariupol continue their work remotely and educate children.
Refugee children in Poltava: supplying food, medicine, and necessities to migrant families.
Maya project: equipping elementary school kids with backpacks, school supplies, and e-tablets
Rebuilding the country now
To draw attention to restoring Ukrainian regions that suffered the Russian occupation, our partners at Repair Together organized a one-of-a-kind performance in Ivanivka, Chernihiv region. Over 300 international volunteers were cleaning up a local center of culture to the DJ sets of Ukrainian and Lithuanian DJs.
You can help us implement more projects like this! Become a donor to the 'Aid for Ukraine' fund and we'll ensure that your contribution goes to trustful grassroots initiatives.
Drop us a mail at [email protected] and we will endeavor to answer as quickly as possible. Things are pretty intense right now.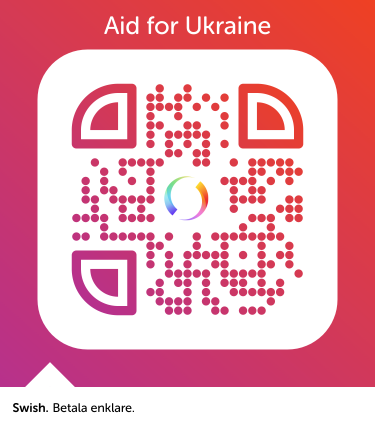 123 581 22 68
by phone number
Ioca Arma Nostra Fundraising Foundation
Beneficiary bank address:
SEB
106 40 Stockholm
Sweden
Correspondent bank for USD transactions:
The Bank of New York Mellon
New York ABA: 021000018
IRVTUS3N
Account No: 8900106808
Foundation (Beneficiary) details:
IOCA ARMA NOSTRA INSAMLINGSSTIFTELSE
c/o ALPCOT AB
GREV TUREGATAN 18
114 46 Stockholm
Sweden
Org.nr: 802480-7797