Newsroom
Read the latest on our events, people, product updates, and more.
May 20, 2020 — Stockholm — Beetroot AB acquires Zhytomyr-based  IT company Oldmin Team, adding 15 seasoned IT professionals to its lineup. This addition particularly strengthens Beetroot's ability to deliver complex solutions in modern web technologies and blockchain.  
Oldmin Team was founded in 2015, delivering solutions within Python, and leading web frameworks such as Django, React, React Native and Angular, to clients world-wide. Aside from being one of Beetroot Academy's local partners in Zhytomyr, the company has also been an active player and organizer in the local IT industry. 
"We had considered integrating with a larger IT company for some time when we came across Beetroot and Beetroot Academy. It quickly became obvious that Beetroot was exactly the kind of company with which such an integration would work. A lot of cultural factors clicked. I really believe that joining the Beetroot family will enable us to deliver even more cool, high-quality solutions to clients in the future."— says Igor Bolshakov, founder of Oldmin Team.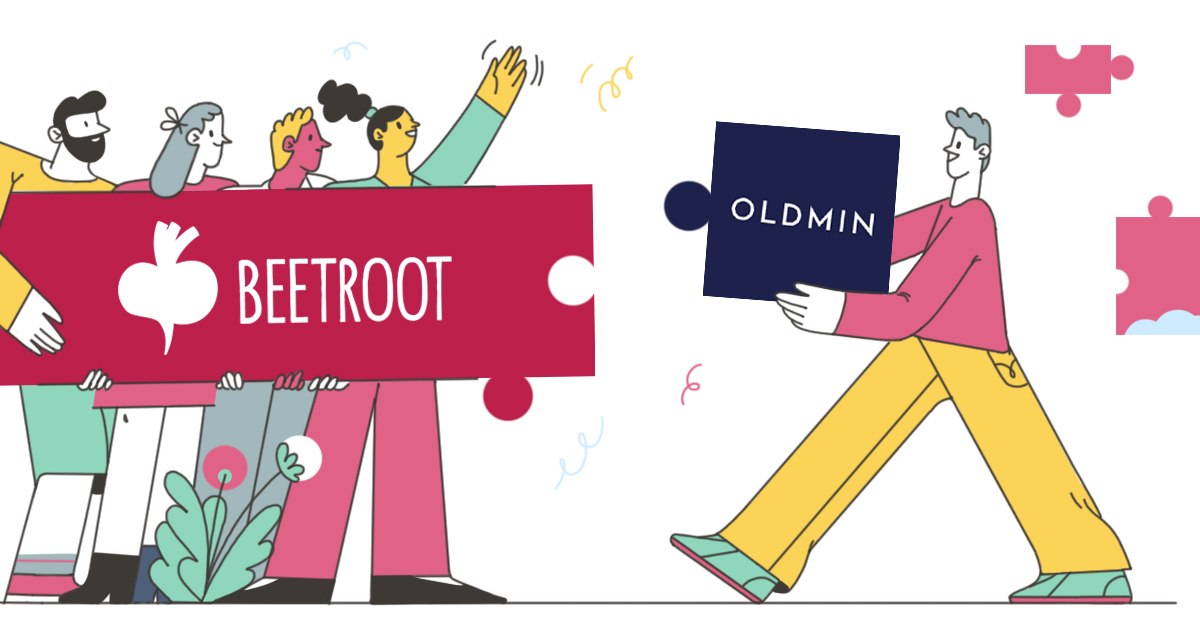 Andreas Flodström, co-founder and CEO of Beetroot and Beetroot Academy, comments "Adding Oldmin's skilled core team to our line-up is the right thing to do for many reasons—not only to expand our IT solution delivery capacity. Their technology stack and experience match our needs, their team culture is great, and an expansion in Zhytomyr aligns with Beetroot's strategy of growing in mid-sized cities. We will no doubt find many new synergies as an ecosystem, creating impact by combining Oldmin's expertise with Beetroot Academy's IT education in Zhytomyr."
The addition of Oldmin Team follows a successful integration of Stockholm-based Aducera Consulting and Kremenchuk-based Onlinico in 2019, to which Andreas Flodström adds: "We have now gained important experience from integrating a few, new companies into the Beetroot ecosystem. We feel strong, despite Covid-19, and our sights are set on more sustainable growth."
###
About Beetroot AB
Beetroot is a Swedish IT company, founded in 2012, providing IT solutions and building teams of developers and other tech talent in Ukraine. The company has a social mission with the goal to create sustainable value for both clients and society.
Beetroot also runs Beetroot Academy, a well-established network of IT schools in Ukraine. Beetroot Academy is today located in 18 cities and has educated approximately 1% of Ukraine's workforce in IT.
Currently, the Beetroot and Beetroot Academy ecosystem comprises more than 470 specialists in Ukraine and Sweden. 
Read more about Beetroot here.
About Oldmin Team
Oldmin Team was founded in Zhytomyr—a 90 minute drive from Kyiv—in 2015. It is an IT company of goal-oriented and result-driven developers with a passion for the future. The company's values build around humble, genuine people who care deeply about the development projects they are involved in.
Oldmin Team develops IT solutions in Python, Django, Angular, React, React Native, and with a specialization in blockchain technology. Clients are found world-wide, in countries such as Israel, USA, Canada and Spain.  
Oldmin Team joins Beetroot with 15 IT professionals. Read more about Oldmin Team here.
Find out how we can help extend your team to Ukraine.