State of GreenTech 2023: Key Learnings From the Booming Industry
The need for companies to reduce their carbon footprint is crucial in achieving the global goal of net zero CO2 emissions. It is a tipping point for sustainability: Taking action towards a greener future is not only a responsible move for the environment but has practical benefits for businesses and increased appeal to potential employees and end customers.
The demand for zero-carbon technologies has skyrocketed, offering vast growth potential for the green tech industry. Furthermore, sustainability calls for collaboration between like-minded startups, tech companies, corporations, regulators, and investors to drive meaningful changes. Our newest GreenTech market report explores the trends, opportunities, and obstacles that lie ahead.
The golden moment for environmental startups
The GreenTech industry is one of the fastest-growing sectors in the world, with over 1,500 companies listed on Crunchbase alone. Despite its relatively young age, the industry has already attracted substantial investment, with a total of $31 billion raised by early players and $59 billion destined for climate tech organizations in 2022.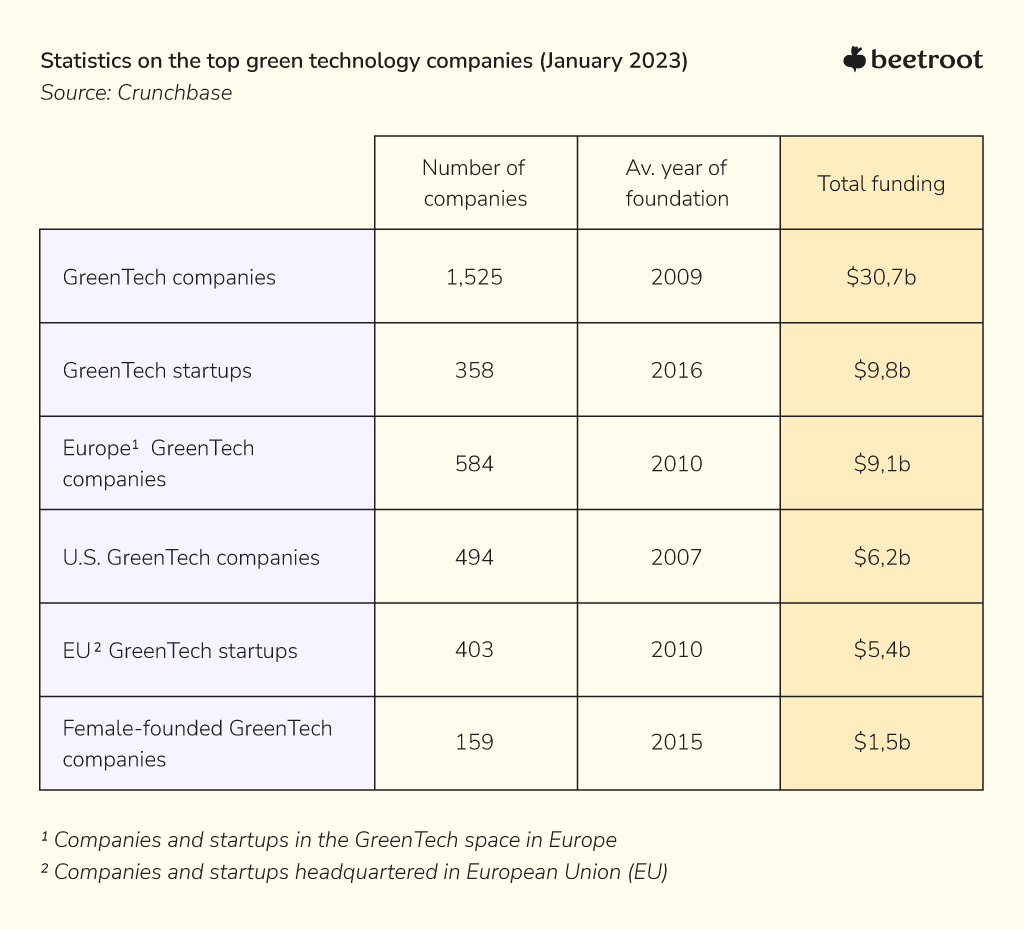 This rapid growth is driven by the pressing need to scale sustainable technologies to meet the world's ambitious climate targets. With 82 ClimateTech unicorns already valued at a whopping $180 billion+, it's clear that the demand for sustainable technologies is on the rise. And, as the world looks to transition to a greener future, GreenTech is set to take the spotlight and drive the growth of the next generation of sustainable unicorns and decacorns.
CleanTech scaling for impact: Takeaways from this year's analysis
Market drivers. Several key factors influence the growth in the GreenTech market, notably:
Rising environmental awareness and a move towards clean energy and eco-friendly products;
Stricter regulations and government support of sustainable initiatives, particularly in Europe and North America;
Startup acquisitions and new product launches attract investors and offer higher ROI while benefiting society and the environment;
North America is projected to have the largest market share by 2027 due to its high adoption of green technology and strong economy, with major companies like IBM and General Electric actively driving the sector;
The energy crisis fueled by Russia's war in Ukraine has highlighted the risks of a non-diversified energy supply, driving up demand for technologies that support the global energy transition.
Challenges. The growth of the GreenTech market is restrained by the slow implementation of clean energy policies and the need for clear frameworks and regulations to attract investment. The intermittency of renewable energy supply and the fact that present-day infrastructure still needs to be fully ready for renewables also pose challenges. The global issue of slow project approval and high CapEx for GreenTech deployment also hinder growth, as well as the lack of tailored solutions to address unique environmental issues and the talent gap in the sector.
Upcoming CleanTech trends. In 2023, the following innovation areas are expected to gain more prominence:
Renewable energy: Renewable energy sources (RES) are projected to be the most cost-effective form of power generation globally. By 2050, renewables are expected to make up 80-90% of total power generation.
Low-carbon construction: The construction industry is increasingly focusing on reducing its carbon footprint.
Advanced mobility: The transportation sector is adopting clean technologies, particularly in the form of electric vehicles.
Other emerging trends include carbon capture, use, and storage (CCUS) technologies, advances in battery technology and management systems, technology integration for a circular economy, sustainable automation, green hydrogen, and more.

Green transformation through software technology
Digitalization and software technology are key players in driving sustainable progress for businesses. 92% of companies aim to reach net zero carbon emissions by 2030, and software plays a crucial role in measuring, reducing, and optimizing their carbon footprint.
From data collection and analysis to renewable energy production, software advancements are transforming the GreenTech industry. Here are some of the positive influences of digital tech on green innovation:
Software drives scalability and improvements in renewable energy;
Custom software solutions drive dynamic growth in the industry;
Technological advancements decrease fossil fuel consumption and facilitate profitable green energy trades;
Transparent operations and existing technologies move the world towards carbon neutrality.
Built-in sustainability and green software engineering
The digital era has brought about eco-aware innovations, but it has also created new environmental challenges. By 2040, the Information and Communications Technology (ICT) industry is estimated to account for 14% of the world's carbon footprint, with data centers alone consuming a staggering 2% of global electricity.
To make a meaningful impact, software developers must prioritize sustainable software development from start to finish. By focusing on code, architecture, and conscious choices, developers create applications that are not only eco-friendly but also offer improved user experiences, lower costs, and deliver value while emitting less carbon.
Maximizing positive impact through strategic tech partnerships
Finding a reliable development team provider is a crucial step toward overcoming talent gaps and achieving success for companies in the green technology sector. So when shortlisting potential candidates, it would make sense to focus on the technical skills they provide and the values they uphold to ensure a productive and long-lasting collaboration that propels your business forward. To help guide your decision-making, here are a few key points to consider:
Relevant expertise: Look for a partner with developer standards, technology spectrum, and cross-domain competencies that match your needs.
Collaboration model: Remote augmentation, or the Dedicated Team model, is becoming increasingly popular for GreenTech startups. Even more flexible team options should be available if you need to get a tech solution faster or would like to test cooperation before making a long-term commitment.
Approach towards sustainability: Aligning with a partner who shares your mission and values for sustainability is crucial for both business and impact-oriented objectives.
Download the full report to find more criteria for selecting a technology partner and recommendations for building sustainable digital products and teams. You will gain insight into an extensive analysis of recent market developments, investment activity, and advanced technology outlook. And leverage Beetroot's domain expertise to scale your engineering capacity for impactful results.
Find out how we can help extend your tech team for sustainable growth.
Contact us