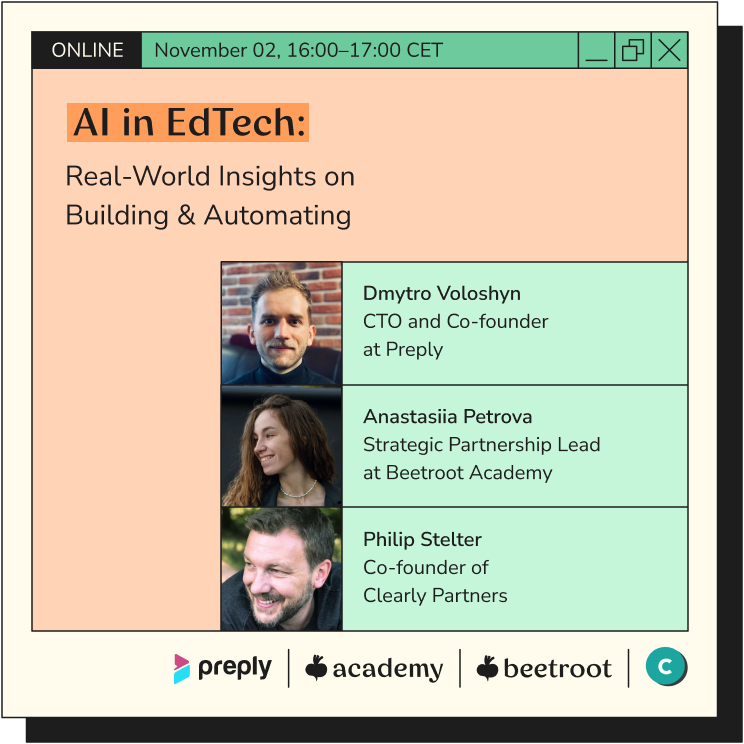 AI in EdTech: Real-World Insights on Building & Automating
Join us to discuss real stories and practitioners' takeaways from AI integration in EdTech.
For mature EdTech startups, established e-learning companies, and enterprises considering the integration of AI into their educational products or internal training, this webinar offers a substantive discussion on the practical aspects of AI in educational technology.
Discussion highlights

Generative AI in EdTech business: experience in implementing and launching AI features, attracting investment, and practical advice on fueling a successful product and company's journey for early-stage EdTech startups;
The importance of AI education: how incorporating learning about AI development and related skills becomes part of modern-day sustainable tech reskilling and how AI-focused upskilling helps companies improve performance and the bottom line;
A five-step plan for organizations on leveraging generative AI: the role of policy in unlocking the future value, aspects of becoming an AI company, considerations on early successes and long-term vision, building and learning with small POCs, and more.

Why attend?

Obtain valuable, hands-on insights from industry experts.
Learn actionable strategies for implementing AI in your organization.
Engage in meaningful dialogue with peers facing similar challenges and opportunities.
We are delighted to introduce our lineup of speakers:
Anastasiia Petrova

Strategic Partnership Lead at Beetroot Academy. Anastasiia will share our strides in making AI education a beacon for sustainable tech reskilling, reaching out to communities far and wide. On one side, the focus on AI is part of Beetroot Academy's approach toward up-to-date skill enhancement in tech. On the other hand, implementing AI-enhanced upskilling within IT companies helps them improve efficiency and profitability.

Dmytro Voloshyn

CTO and co-founder of Preply. Dmytro will unfold the narrative of integrating AI in language learning, sharing Preply's inspiring success story fueled by a hearty $70M investment. EdTech startups and entrepreneurs will benefit from the practical advice and tips on attracting investment and making it work for AI development in different scenarios.

Philip Stelter

Сo-founder of Clearly Partners, a consultancy designed to help organizations integrate and innovate with generative AI. As a business advisor and marketing consultant, Philip leverages 20+ years in leadership roles across startups and agencies (from WPP to indy ones). For those seeking a practical roadmap for infusing generative AI into organizations, our speaker will present a step-by-step guideline on rolling out Gen AI — from policy considerations to vision, testing, and learning with small POCs.