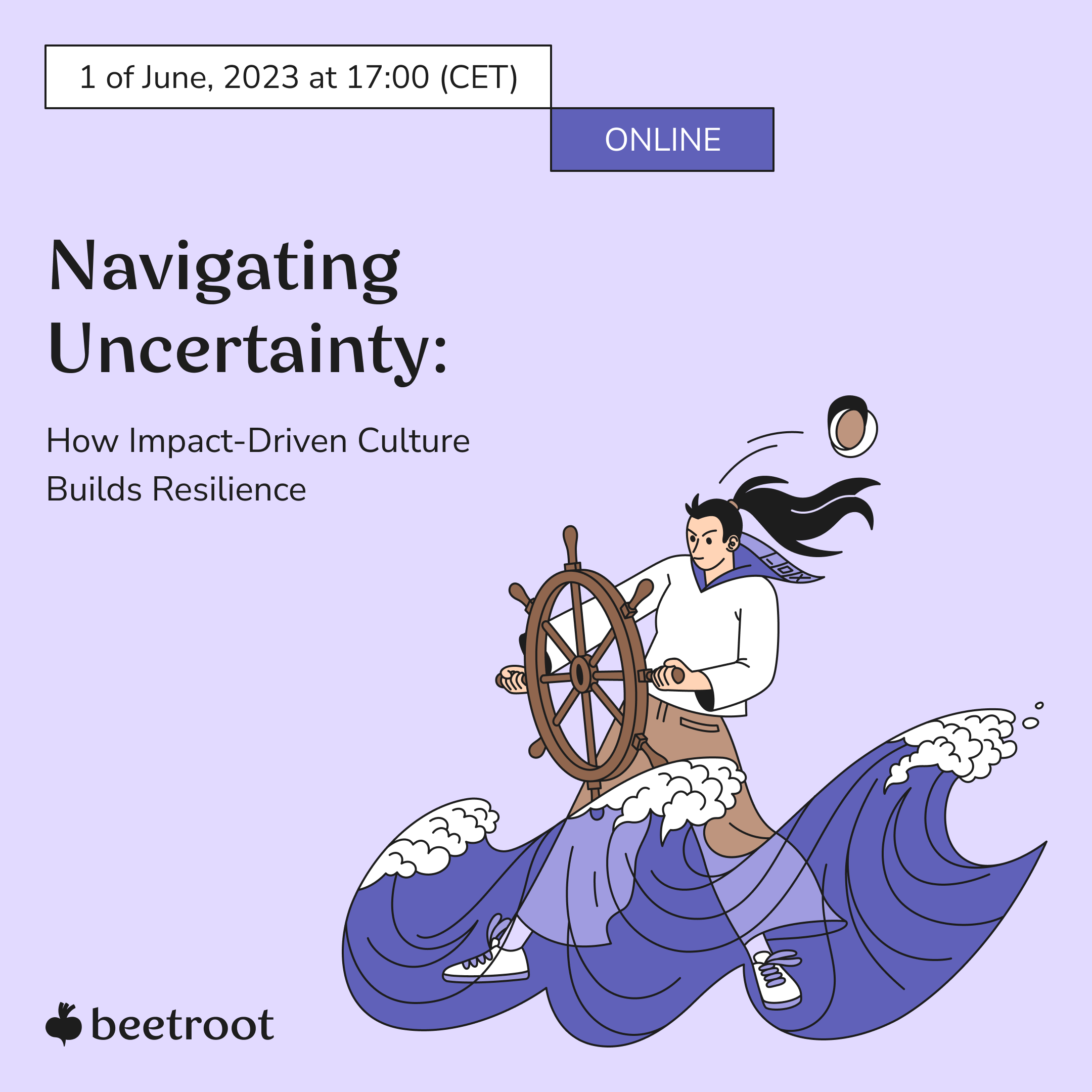 Navigating Uncertainty: How Impact-Driven Culture Builds Resilience
Join us for the event and be inspired by thought-provoking discussions on empowering organizations through impact-driven culture.
This event offers a unique opportunity to gain valuable insights and learn from those who have faced adversity head-on. Highlights of the Panel Discussion include exploring practical strategies for fostering an impact-driven culture in times of uncertainty, sharing insights and lessons learned from Beetroot's experience of working during war, including their key initiatives and their impact, discussing successful collaborations and partnerships that have driven positive change and resilience; Addressing the challenges organizations face when adopting an impact-driven culture and strategies to overcome them; Examining the role of individuals within organizations in driving and sustaining an impact-driven culture, regardless of their position.
We're excited to announce our lineup of speakers:
Andreas Flodström

Andreas Flodström, CEO and co-founder of Beetroot, will share Beetroot's remarkable journey in 2022 during the Russian full-scale war in Ukraine. Discover how we made a positive impact amidst the most challenging of circumstances. Andreas will delve into the strategies and initiatives from Beetroot's Sustainability Report 2022 that fostered resilience.

Alina Konovalchenko

Director of Operations at UN Global Compact Ukraine. Alina Konovalchenko is an emerging leader with a proven international business and NGO track record. She's actively participating in projects related to the ESG and sustainability field, business planning, and international relations.

Konstantin Vasyuk

Konstantin Vasyuk is the Executive Director at IT Association Ukraine and an expert in change management, leadership development, business management, non-profit consulting, and public relations. IT Ukraine is the largest professional community of Ukrainian service and product companies and over 85,000 tech specialists.

Dominique Piotet

Co-founder and CEO of Team4Humanity. Dominique Piotet has over 20 years of experience in strategy and operational digital transformation for Fortune 500 companies, thus rendering him a well-respected expert in the field. Having worked as a consultant and a corporate executive, he possesses a distinctive viewpoint on the industry, enabling him to offer valuable insights and solutions.