Who we are
Our large WordPress team resides within Beetroot's ecosystem of software development teams, hyper-specialized development studios and IT schools across Ukraine.
Office culture and values
Over the years, we have learned that sustainability makes or break a business arrangement. We believe in building a work culture of personal responsibility and trust, where people want to stay for a long time. This long-term, people-oriented perspective grants our developers the opportunity to continually hone their technical skills over time and help ensure that we stay at the forefront of the global WordPress movement.
Locations
Our WordPress development team is distributed across several Beetroot offices in large and mid-sized Ukrainian cities. This combination of locations allows us to balance quality of life and cost in a way that works for all parties.
Why it works
Beetroot is a social enterprise and we work close with Beetroot academy as part of the same ecosystem, where we have developers teaching WordPress.
WordPress is in our DNA
Our team is totally devoted to WordPress, staying on top of—and driving—global trends.
IT Education Network
Beetroot runs a national network of software development schools, teaching students WordPress.
Knowledge Sharing
Our senior developers function as mentors to middle and junior developers
Our team at a glance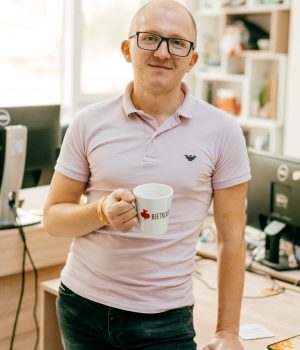 What are his long-term plans?
He's determined to polish his English and travel around the world.
What is he doing to relax?
He jumps in his car, pumps up the music to the full volume and drives into the sunset.
Is he the life of the party?
He's actually very quiet, but he can make everyone around laugh until their stomachs hurt.
His mama told him that being a tax inspector is a good job. He disagreed.
Let's get this clear from the start: there is nothing wrong with being a tax inspector. However, sometimes a job can be great, just not for you. This is what happened to Serhii, who decided to learn WordPress and to deal with codes, instead of taxes. Before joining Beetroot he never thought that going to work can bring you joy. Now he starts his day with a cup of hot coffee, cracks a joke, and plunges himself into work.
Skillset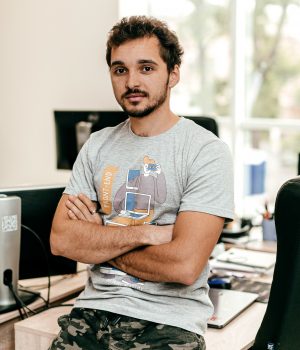 Does he enjoy teaching others?
Yes, he used to teach Front-end at Beetroot Academy.
Is he into sports?
Yes. Whatever sport you're thinking of, yachting or mountain climbing, Yuri has probably done it already.
Is he a good dancer?
Surprisingly, yes. At the same time, you could never tell that by just looking at him.
He used to have a startup before it became mainstream. Now he is leading the WordPress team.
Being an active and curious student, Yuri started working quite early, polishing his skills, learning to communicate with clients, and gaining experience in C# and Java. Afterwards, he decided to change the technological stack and to work with PHP and JS. However, no matter which language he uses, you can be sure that he's doing his work with dedication, passion, and eagerness to learn. Yuri's typical morning starts with some physical activity (casually sailing or jogging, that's his style). Then he reads tech news and digests, because he never stops improving. He sends the best pieces to his team, since he never stops developing them as well. Finally, he dives headfirst into to-do's, checklists, and messengers to make sure that everyone's day is pleasant and productive.
Skillset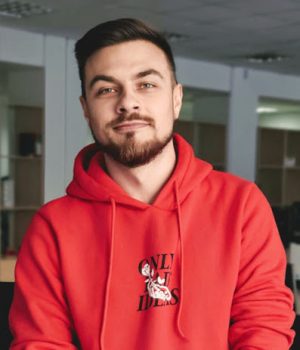 What's Kostia's back-up career?
He used to be a stand-up comedian, so that's always an option to fall back on.
What's his favorite methodology of testing?
Ad-hoc, obviously. It doesn't limit his freedom with specific instructions.
Is he into sports?
Yep, Kostia enjoys wakeboarding in summer and skiing in winter.
Being a perfectionist is cool, being a QA engineer is even better, and being a perfectionist QA engineer is essentially a story of Kostiantyn's life.
Kostiantyn (you can call him Kos to stop raking your brain) has a degree in computer engineering and an inexhaustible passion for testing things. He enjoys tackling challenging tasks, such as finding errors in big forms with a specific logic. When testing products, Kostya starts with a question: "would it be easy for me to use it?" He always keeps end-users in mind, knows how to manage big tasks, and meets the deadlines no matter what.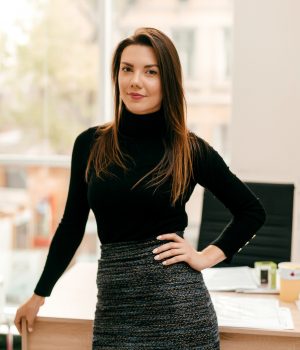 Does she like pets?
Yeah, she's a true CatDog person (not because of the cartoon, she just loves all the fluffy pets).
What's her attitude towards desserts?
She's passionate about baking extraordinary cakes. She's also known for сomplaining a lot when her cakes turn out to be anything less than perfection.
Is she into sports?
Yeah, she loves surfing and plans to move to Bali one day.
Takes care of the clients even when semi-conscious, half-awake, or in the middle of watching Netflix's most mind-blowing series finale.
Iryna has been working as an account manager for 5 years and she's been through a lot of stuff. Good stuff, obviously She's motivated by seeing how all the obstacles disappear from the client's way and nothing stops them from building a great team. Of course, sometimes she just wants to mute all the Slack chats for good, but she knows that listening to people and understanding their pain points is a much better solution.