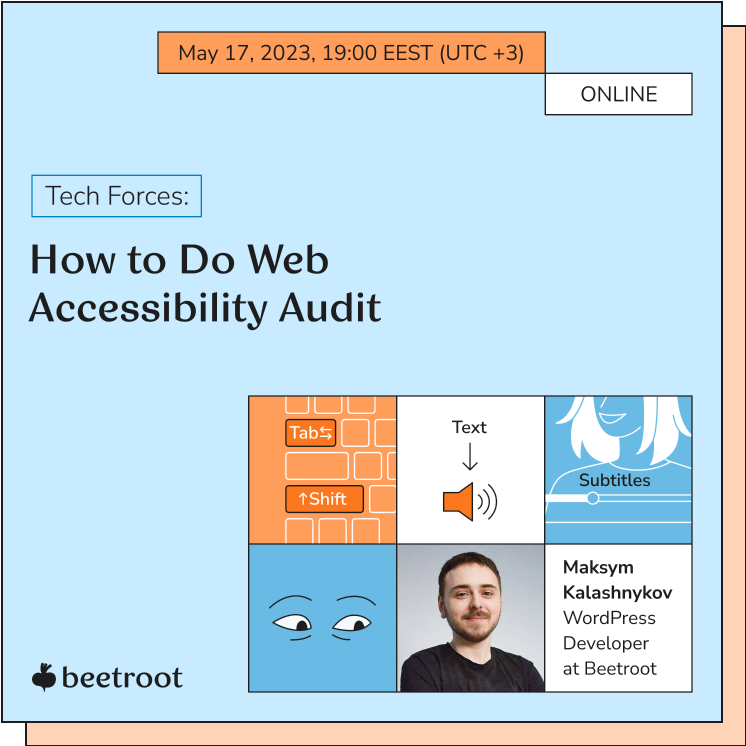 Beetroot Tech Forces: How to Do Web Accessibility Audit
Join us for an engaging online event to discuss the vital topic of web accessibility. Discover how to adapt your websites for a more inclusive online experience with practical demonstrations and real-world examples that go beyond theory.
The Beetroot Tech Forces community is excited to welcome WordPress Developer Maksym Kalashnykov as a speaker. He will share his experience in making websites inclusive by using Beetroot website as an example. Through a web accessibility audit, Maksym will demonstrate how to create a site that is convenient for everyone. During the meeting, he will cover important topics such as the significance of web accessibility, existing standards, and how to adapt your site to meet current web accessibility requirements. However, don't expect too much theory, as Maksym will primarily focus on practical demonstrations.
We are delighted to introduce our speaker to you:
Maksym Kalashnykov

Maksym is a seasoned WordPress Developer who we entrusted to take care of the Beetroot site. Thanks to Maksym's knowledge and effort, our site currently meets web accessibility requirements. He has also been a speaker at an international event focused on web accessibility and inclusion and has conducted relevant educational events within our company.