A Sustainable Startup's Guide on How to Hire iOS Developers
Determining the best way to hire iOS developers can be a challenge, particularly for startups that are scaling business operations at a rapid pace. Features, functionalities and the number of users needing support now may be quickly outgrown as a company expands.
In 2021, iOS users worldwide accounted for 27.47% of all mobile device users behind the Android operating system, with a reported 71.93% market share. While significantly behind Android in worldwide usage and mobile app downloads, 2021 saw 23.7 billion iOS app downloads.
According to U.S. Labor Statistics, as reported by Forbes, there is a global talent shortage of 40 million skilled workers worldwide. As Beetroot mentioned in our article about hiring Android developers, companies in regions not known as technology hubs continue to need help finding and landing talented professionals to join in-house development teams.
Startups that want to hire iOS app developers in the USA compete with every other startup and established company, many extremely well-funded with big names and previous accolades in cities like San Francisco, New York City, Seattle, and Boston. In Northern and Western Europe, iOS mobile app developers and full-stack developers are enticed to relocate to countries with tech hubs like Sweden, Finland, Latvia, Estonia, Norway, Germany, and Ireland.
What you should take from these facts and figures is that hiring iOS app developers, particularly those at the top of their field, is competitive. As in "cut-throat competitive." Without strategies for sourcing top tech talent, like outstaffed iOS mobile app developers through a dedicated team provider like Beetroot, your company is competing with every other company seeking to hire dedicated iOS app developers.
Options for Scaling Your iOS Mobile App Development Team
Even though your startup is competing to source top tech talent and hire iOS developers, there are several options you can pursue other than shelling out the big bucks to hire the best iOS app developers available in your region or relocate the talent. However, that's an option many companies choose.
In-house iOS Mobile App Developers
Depending on your company's goals and business model, you may decide your best course of action is to hire iOS developers in-house. You might get away with only part-time in-house iOS mobile app developers, but if you're an app-focused company, having developers in-house, ready for anything and everything regarding your company's Android and iOS applications, is an obvious choice. Some businesses, mainly if apps are the entirety of what it offers audiences, have little other recourse.
When you hire iOS app developers for in-house employment, you're sure to see the benefits. However, you're likely to pay significantly high salaries for the privilege and other overhead costs. The most significant advantage to hire iOS developers in-house is maintaining complete control of the app development process and, depending on the skill levels and size of your iOS mobile app developer team, a fast development process with lower chances of security breaches than with outsourced iOS mobile app developers or other talent-sourcing options.
The most significant disadvantage of hiring in-house iOS mobile app developers is how cost-prohibitive it is. Beyond salaries and benefits, you'll deal with the cost of hiring, onboarding, training, and providing office equipment for new hires. Then there are the administrative and Human Resources overhead costs.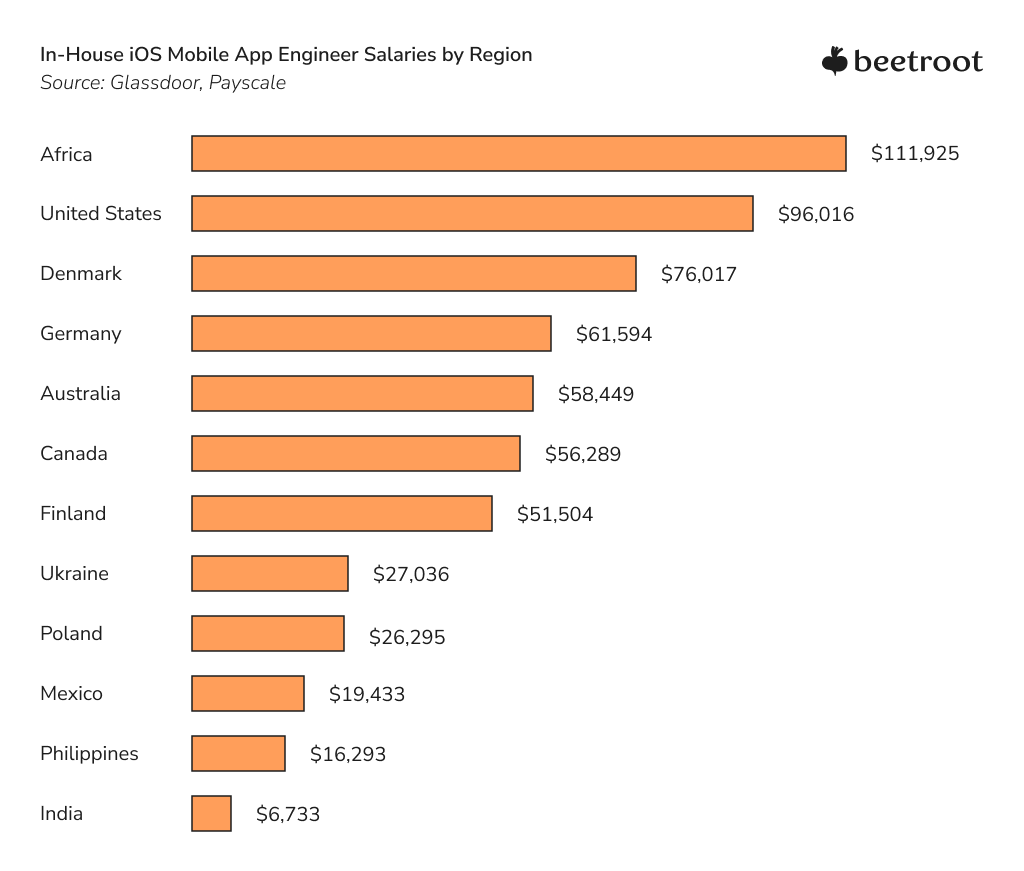 Freelance iOS App Developers for Hire
While freelance professionals are a great resource, particularly for startups, you'll have to be wary, stringent in your requirements, and particular about not only who you eventually hire but who you interview, as that process will cost time and money. If you can't find suitable iOS mobile app developers quickly, you're burning money daily.
If you're seeking resources and running Google searches to "hire iOS app developers USA," be aware you're searching for your app developers in the most expensive and competitive country on the planet for tech professionals.
If you hire iOS developers in countries with English-first commerce practices like the United States and other regions in North America and Western and Northern Europe, you'll need to ensure your Android and iOS mobile app developers are native speakers or adequately native-like. Otherwise, you'll lose most customers.
Nobody wants to use an app that looks and sounds bad; what could it offer you? Whether the software application offers fantastic products and services is negligible; people won't use something that looks "junky." If you hire outside Western Countries, you're even more likely to run into issues with clunky User Interfaces and User Experience if your end product is tailored to the English language.
That said, if you hire offshore iOS app developers after searching "hire top freelance iOS developers" and find a freelancer in a country that works for your target business model, fantastic. Eastern Europe and Asian countries are consistently more cost-effective to hire offshore iOS app developers. The downside is dealing with different time zones and lacking project control during the developmental stages of your iOS app project.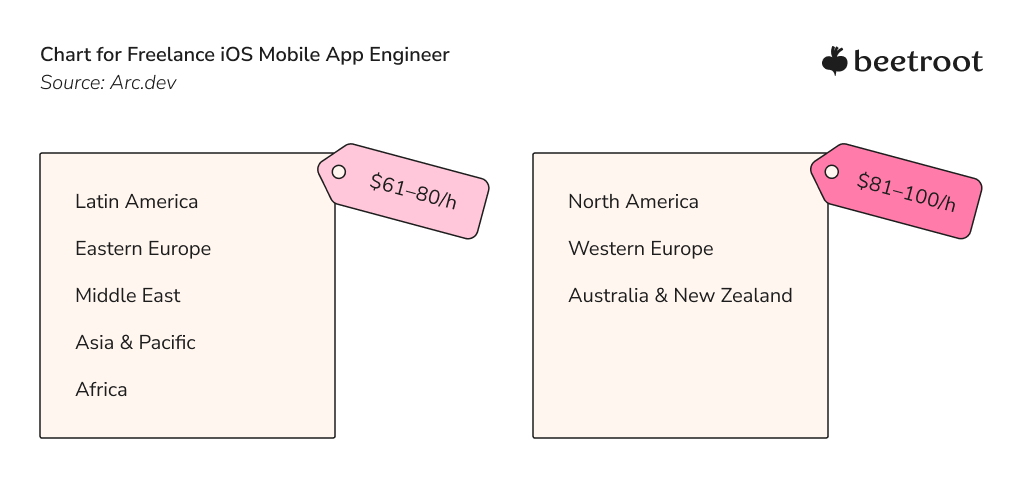 Outstaffed iOS Mobile App Developers
Outstaffing is an excellent solution for companies that need to hire iOS developers to supplement their existing app development team. You won't need to spend time or resources finding iOS mobile app developers that suit your project needs. An outstaffing dedicated development team provider, like Beetroot, will source and vet every candidate through a rigorous application and approval process.
With a hand-picked team curated by a software development team provider, you'll receive the top tech talent who'll then, for all intents and purposes, answer to your company's team lead while all administrative aspects of their employment are handled by the outstaff team providing service. During your iOS app development process, these outstaffed iOS mobile app developers will report directly to your company, simplifying operational constraints.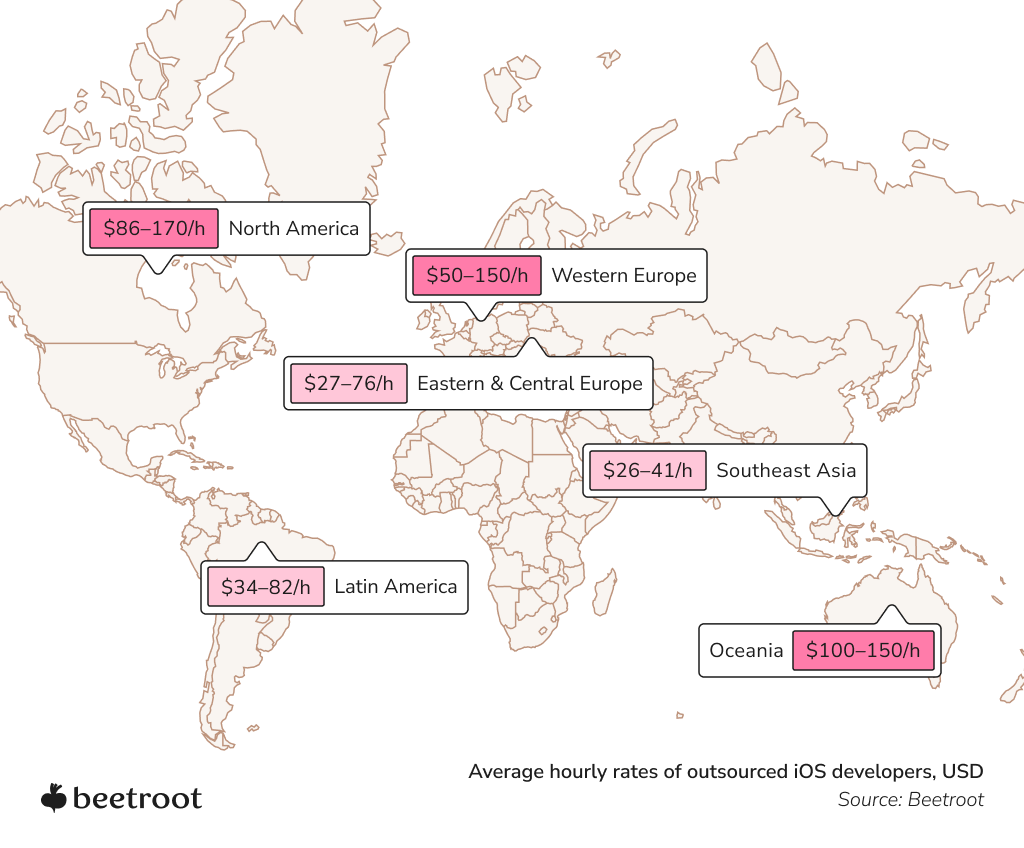 When Should You Outstaff Dedicated iPhone App Programmers for Hire?
Outstaffing dedicated teams when you need to hire app developers, and other technical professionals is helpful for companies that don't have the time and resources to spend sourcing in-house staff.

If you need in-house staff to join your team for a project but don't need to keep them on full-time after wrapping up your app development project, outstaffing is a great solution.

With a dedicated team model of outstaffed talent, you'll maintain complete control over the app development process and have the flexibility to adjust project requirements as they evolve.
Factors to Consider When Targeting Long-Term Success
Regardless of whether you choose to hire in-house iOS mobile app developers, freelancers, or outstaffed tech talent, you'll want to keep the following factors in mind to help keep your employees happy and productive.
Communication
Communication is key in any work environment, be it remote, in-person at an office, or a hybrid work model. Open, clear communication channels with everyone involved in your business operations are a necessity. Thanks to tools like Slack, you can keep everyone connected, whether they're a vendor, freelance app developer, or your in-house team.
Healthy Work Environment
When workers feel their work environment is a healthy place that cares about their happiness, job satisfaction, and overall well-being, they're more likely to stick with that employer. Happy workers are more productive, and in addition to having lower turnover rates among employees, a healthy work environment fosters a sense of ownership which contributes to more successful projects and business operations.
Partner Attitude
Before choosing which talent sourcing method you'll use and beginning work with new employees, ensure everyone involved agrees on project requirements and workflows and shares a similar attitude. Who you work with is important. When creating a new mobile application, you'll want the people on your team to share your vision for the project, so goals are met and your finished product is everything it needs to be.
How Beetroot's Dedicated Team Model Can Benefit Your iOS App Development
The Dedicated Development Team Model offered by Beetroot gives businesses an easy, accessible option to hire iOS and Android app developers and other tech talent. Beetroot's tech consultancy and solutions portfolio is the backbone of the Dedicated Team Model. We handle all the hiring, training, and administrative aspects of outstaffed dedicated teams and help your business get your team in place in weeks, not months.
Beetroot handles every aspect of our outstaffed teams' employment other than their daily responsibilities when working with your company. We handle legal and tax administration, contracts, payroll management, communication channels, and security policy compliance.
When you hire iOS developers through Beetroot's Dedicated Team Model, you'll receive the best iOS mobile app developers for your project's needs. They'll fit in like a natural extension of your in-house development team.
Find out how we can help extend your tech team for sustainable growth.
Contact us