How to Hire Android Developers for Sustainable Startup Scaling
It can be challenging to determine the best way to hire Android developers; should you opt to hire in-house Android mobile app developers, driving up your operational costs, outsource to freelancers, or go with an outsourced app development company?
In the wake of the Covid-19 health pandemic — and even before — many companies in regions not known as technology hubs struggled to find adequate local talent. Many Android mobile app developers and other tech professionals in the United States seeking in-house positions relocate to tech hubs like San Francisco, New York City, Seattle, and Boston. Those outside the United States do the same; countries like Sweden, Finland, Latvia, Estonia, Norway, Germany, Ireland, and the Netherlands attract the largest swathes of tech talent in Northern and Western Europe.
While many companies seeking to hire Android app developers and other tech talent choose to source in-house employees, smaller companies and those not positioned to appeal to relocated tech talent are taking advantage of the rise of freelance and remote workers in the wake of the Covid-19 pandemic. 
When people across the world found themselves furloughed or working remotely indefinitely due to the pandemic, it sparked a change in how people work. Many individuals and employers realized they could save resources and achieve similar or better productivity and work-life balance by continuing to work remotely.
Options for Scaling Your Mobile Development Team
You have a few different options when looking to scale your development team and the best method to hire Android app developers. Each of the options below has its benefits and disadvantages. Before deciding which option to hire Android developers is best for your business, you'll need to understand the associated benefits and drawbacks. 
In-House Android Mobile App Developers
One of your options to hire Android developers is full or part-time in-house employees. That may be one or two, depending on your business needs and required app release or update schedule, or an entire team.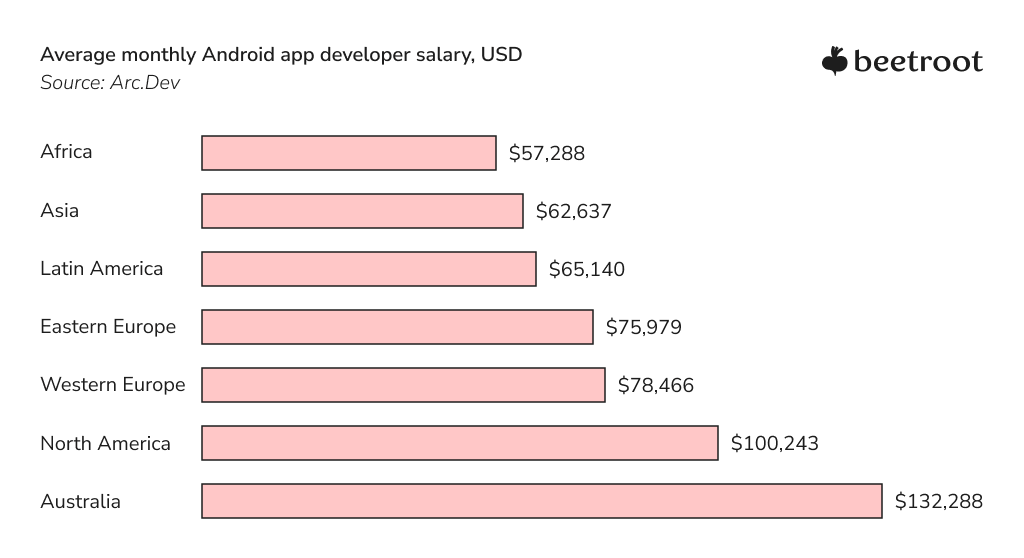 Pros of In-house Staff: Hiring in-house Android mobile app developers has clear benefits. Your business will maintain complete control of the development process, and depending on your in-house developers' experience levels and the size of your team, you'll enjoy a faster development process, more predictability, and less chance of security breach issues. In addition, you'll have access to real-time fixes, in-house developer resources, and full legal protection, which you won't have with freelance developers.
Cons of In-house Staff: The biggest disadvantage to finding full-time Android app developers for hire is the prohibitive costs. In addition to the expense of paying full-time salaries and benefits are the cost of hiring, onboarding, training, office space and equipment for the new hire, accounting, and the Human Resources overhead.
North and South America
Our calculations show that Android professionals in the USA earn slightly less than iOS professionals. However, in Canada, the average annual salary of Android developers amounts to $64,200, roughly at the same level as iOS specialist rates ($64,720).
If you decided to find Android developers for your team in South America, the costs of hiring would be much lower. Below is a breakdown of the average hourly rates in select countries: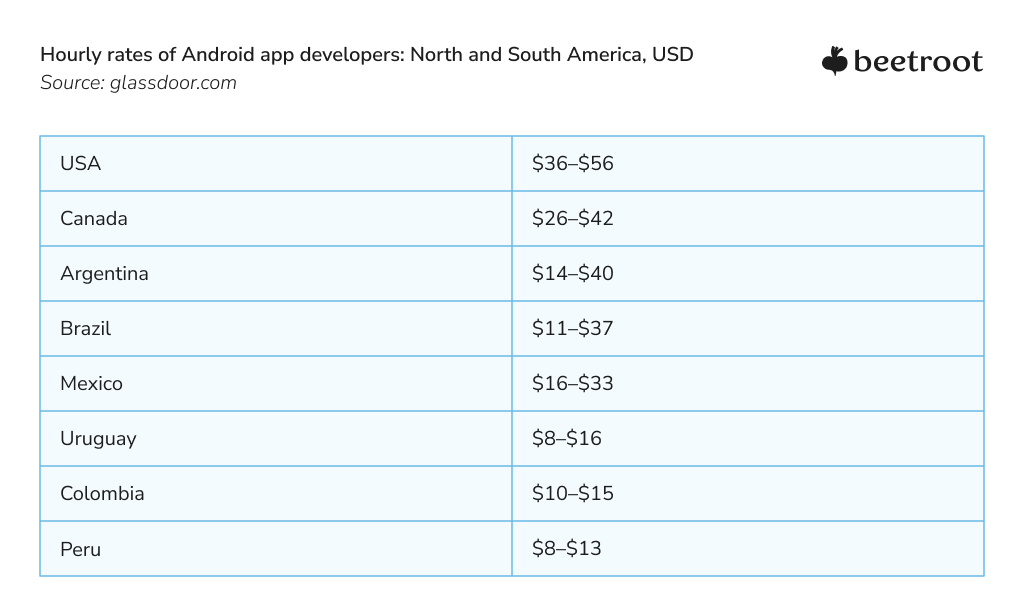 Northern & Western Europe
Android developers make around $60,500 yearly in the Nordics and $56,700 in the Baltic and Western EU countries, respectively. Check a more exact breakdown below.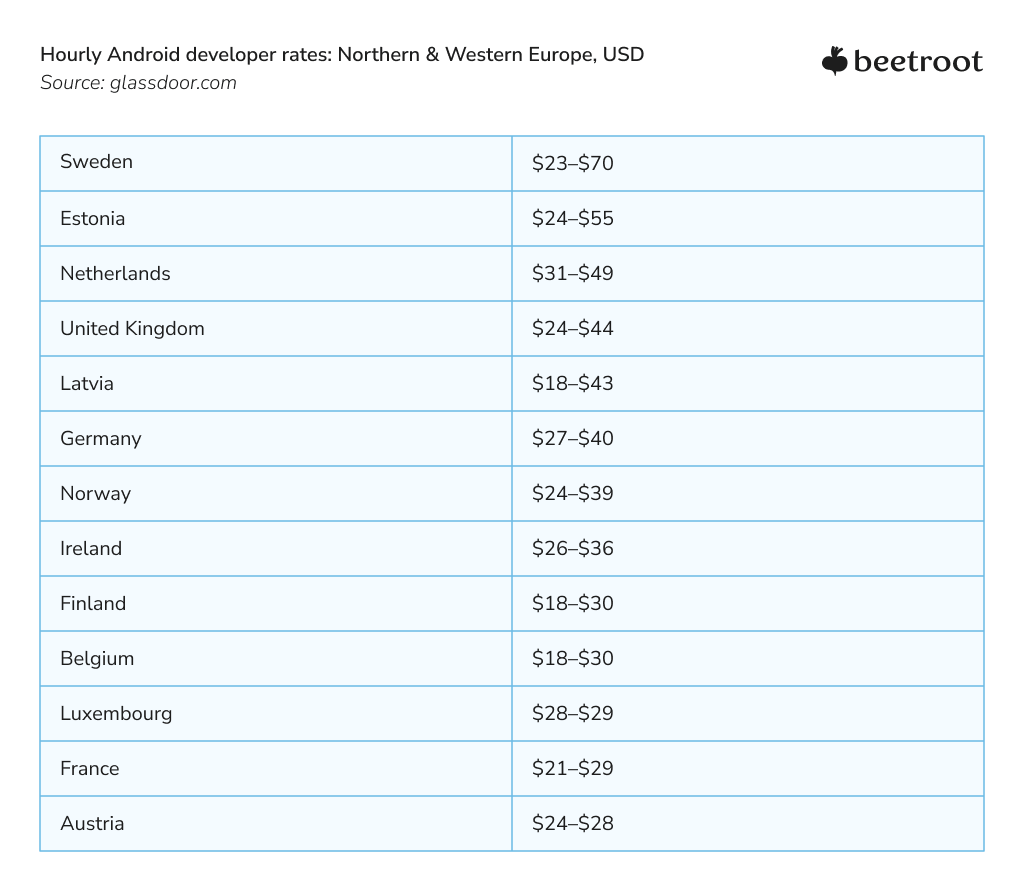 Eastern & Southern Europe
In the Czech Republic, Android devs earn $67,500 on average. In the harsh wartime conditions, many Ukrainian companies keep operating resiliently, with Android developer salaries equaling around $43,000 yearly.
The significance of Southern European software engineering hubs is increasing. For example, you can find skilled developers for your Android app in Bulgaria for $24,000 a year. Check other rates below.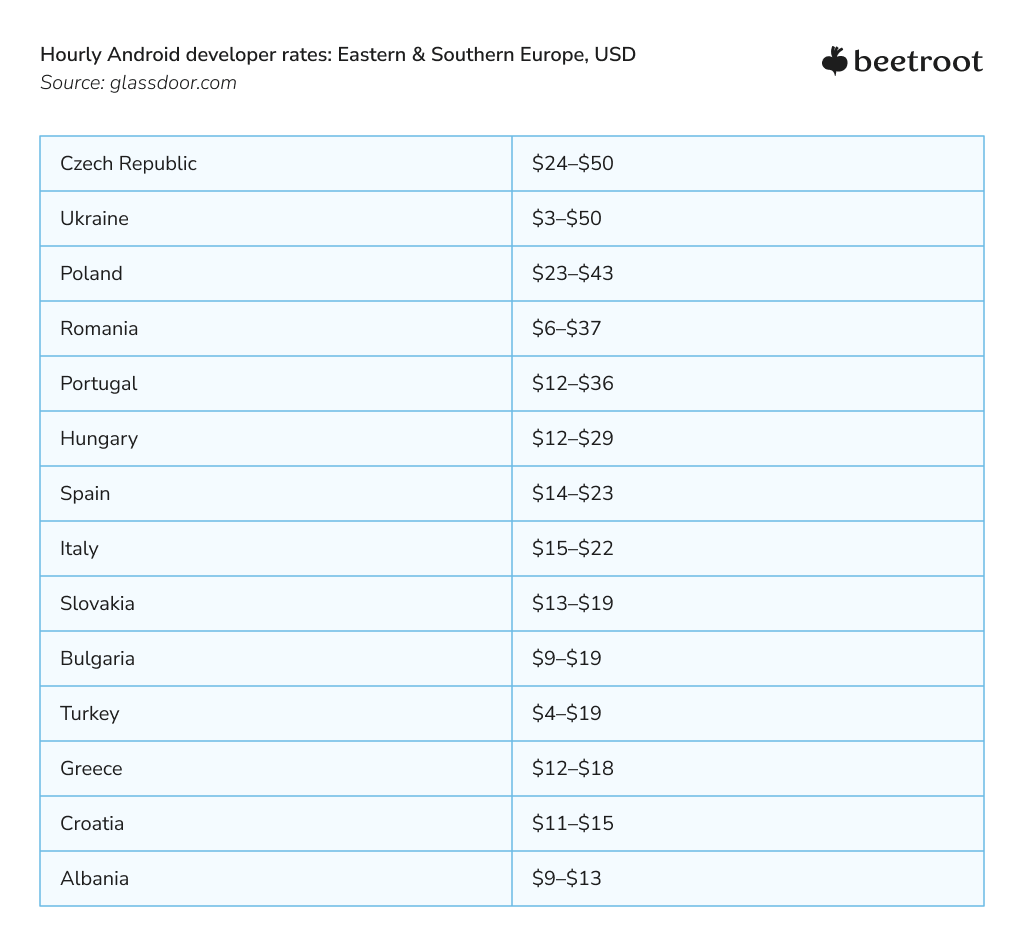 Freelance Android Mobile App Developers
If your company is in the United States or Western Europe, you're in one of the world's most attractive and enticing regions for tech talent, both in pay rate, benefits, and job prospects in desirable locations. If you're googling "Hire Android app developers USA," you should know you're also looking in one of the most expensive countries to acquire Android developers.
According to Upwork, average hourly rates of freelance Android developers vary from $35 for developers with basic skills to $60+ for intermediate and senior Android developers. Beyond fundamentals (Java, Android SDK, and the Android Studio IDE), the required skills usually include knowledge of frameworks like Ionic, Corona, and Material Foundation; familiarity with bug tracking systems like Jira, dependency management tools like Gradie, and version control with GitHub.
Pros of Hiring Freelance Android Developers: Hiring Android developers in English-speaking regions like North America and Western European countries is a good idea if your project requires native English speakers, as many app development projects do. However, if you and your users are located in regions not tied to the English language or don't require English-speaking developers for collaborative and UI/UX purposes, you can hire dedicated Android app developers more cost-effectively who are located in other regions.
Cons of Hiring Freelance Android Developers: Eastern Europe and Asia countries are consistently more cost-effective to hire offshore Android app developers. However, you'll be dealing with different time zones and a lack of project control when trying to collaborate. 
Outsourced Android Mobile App Developers
The average cost to hire full-time Android developers or find dedicated iPhone app programmers for hire is $107,000 per year. Depending on your company's size, this might be difficult to add to your expenses or entirely cost-prohibitive. Outsourced Android mobile app developers may be the solution.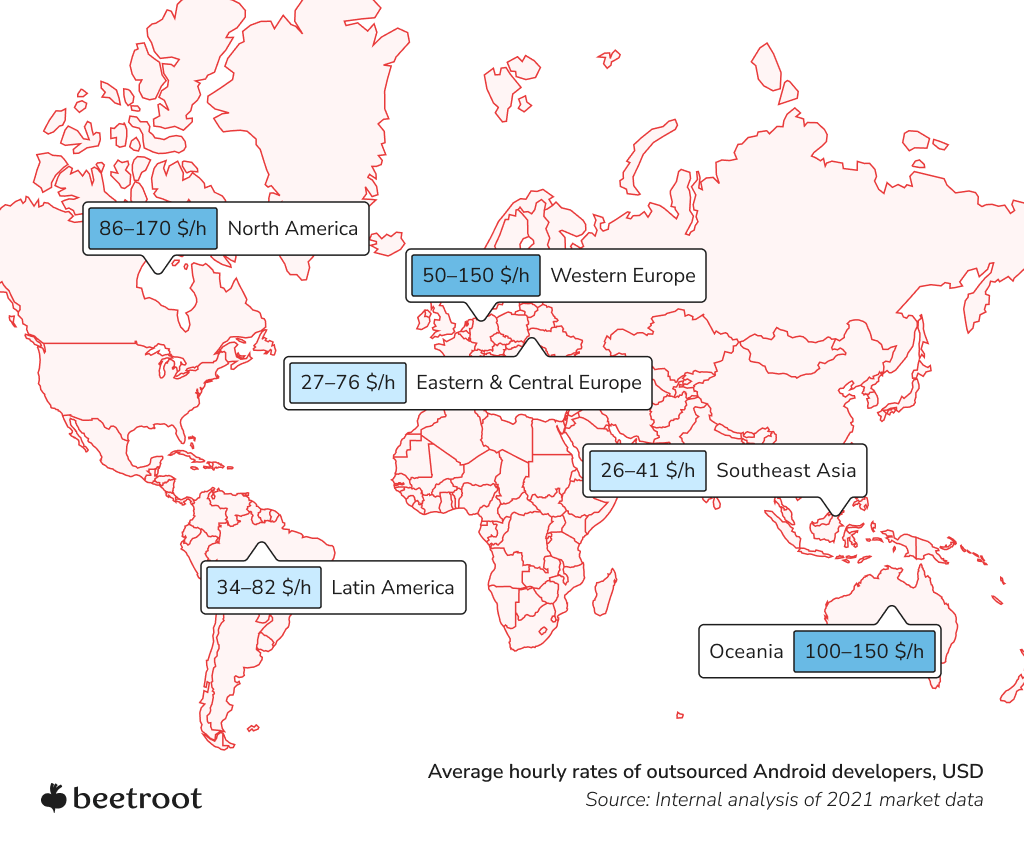 Pros of Outsourced Android Developers: The most significant benefit of outsourcing when you hire top Android developers is saving your business financial resources. If you can't afford — or don't need — to hire in-house staff, which averages $107,000 per year per employee salary, and need to hire a mobile engineer for a single app, outsourcing is typically the best option.
If you're planning to hire Android app developers in the USA or other tech regions, outsourcing software engineers is even more cost-effective if you hire app developers from eastern European, Asian, or South American countries.
Cons of Outsourced Android Developers: One of the most common downsides of outsourcing Android mobile app developers or sourcing dedicated iPhone app programmers for hire is inconsistent, slow, or fragmented communication between your company and your outsourced developers. When you have an in-house team, you can easily walk over to your developers and speak with them in person rather than relying on virtual communication via email, video chat, instant message, or phone calls.
That's not to say all outsourced Android developers and development companies will be slow to respond. However, it is a potential issue you may face.
Outstaffing vs. Outsourcing
If you want to hire Android developers to supplement your existing team but don't have the time or resources to allocate to finding developers that will suit your project's needs, outstaffing is an excellent solution. Similarly to outsourced app development companies, you'll rely on a third party, a team provider. However, the outstaffed app developers will report directly to you during the app development process rather than be employees of an outsourced company.
The Dedicated Team concept, sometimes called Team Extension or outstaffing, is a way to supplement your in-house development team with mobile app developers and other tech professionals hand-picked by a software development team provider. The team provider will find and recruit top remote tech talent, interview and onboard them, and handle all of the administrative aspects of their employment. During your project development process, these app developers will report directly to you, as an extension of your team, for as long as required.
When Should You Use Outstaffed Dedicated Teams?
You need to accelerate the hiring process for technical positions and don't have the time or resources to spend finding additional in-house staff.

You need additional in-house developers for your project but don't need to keep them on full-time after completing the development project.

The flexibility to adjust project requirements as they evolve is important for your development project.

You prefer to maintain complete control over the app development process.

While hiring Dedicated Teams through a team provider isn't cheap, keep in mind that in addition to quickly sourcing your developers and ensuring they're of the required caliber through tailored recruiting processes, administration and team support is also included. So, sourcing app developers through a reputable team provider is a great option if your goal is to upscale your in-house team with minimal strain, time, and effort.
Factors to Consider When Targeting Long-Term Success
Whether you hire in-house developers, work with freelancers, or hire an outsourced app development company, there are a few common factors you should keep in mind. These factors will help foster a healthy, successful long-term relationship with your development team, employees, and other collaborative parties.
Healthy Work Environment
Healthy, happy workers are more productive and more likely to stick with their current employer. They are also more likely to form a sense of ownership for your app and company, which encourages their best work and loyalty.
Communication
If you can't communicate with your team, whether they're in-house, just across the building, or on the other side of the world, you'll have little success last long-term. While boundaries are fine, no one needs their boss or client checking up on them every minute.
Ensure you have open and clear communication channels with everyone involved in your business. This might be Slack, email, instant messaging, or a combination. What matters is everyone knows how to communicate with one another.
Partner Attitude
Who you choose to work with matters. Before deciding on one of these options to expand your tech team, ensure you're on the same page and your views and understanding of the project's goals are in sync. If it might not be a good fit to work together or your attitudes and workflow style won't be complementary, move on and hire app developers that can align with your vision for your mobile app.
The Benefits of the Dedicated Team Model Offered by Beetroot
Beetroot offers businesses an easy, accessible option to hire Android developers and other tech professionals with our "dedicated development team model." We use a strategic approach that provides flexibility to your business's development capacity. The Beetroot team model is customized to fit your goals, terms, and scalability requirements. Beetroot will help your business hire dedicated Android app developers, getting your team in place in weeks, not months. Beetroot handles hiring, training, and retaining tech talent that matches your industry needs and fulfills your project goals.
With the increased complexity of technological advancements in recent years, it's more complicated than ever for companies to keep pace with the latest innovations. Beetroot's tested and proven in-house tech consultancy and solutions portfolio form the backbone of our Dedicated Team Model, enabling us to quickly and expertly find the Android mobile app developers your business needs.
Beetroot takes care of everything from legal and tax administration to contracts, payroll management, communication channels, and security policy compliance. When you choose Beetroot, you'll hire the best Android app developers for your needs, and they'll quickly become a natural extension of your in-house team.
Beetroot's senior-level support team is always standing by, ready to jump in at any moment, keeping your business ahead of the curve. Our on-site support team is dedicated to nurturing and building an active work culture while being available in emergencies, keeping your business running smoothly.
Find out how we can help extend your tech team for sustainable growth.
Contact us