Why do companies outsource? A close look at the data
In short, not just to cut costs anymore. They also do it to boost efficiency and growth. Outsourcing has become nothing less than the new normal, an increasingly mandatory commodity for businesses of every size in every industry. The digital world has turned the talent pool into an ocean, providing access to world-class professionals from all reaches of the globe. More and more companies are beginning to cut down on things they do in-house, instead sourcing them outside, and reaping the benefits.
And, fueled by the evolving needs of businesses, the outsourcing market is only expanding. In fact, to fully explain why companies outsource, we need to take a closer look at the outsourcing market, and sneak a peek at where it's going.
One giant leap for offshoring
There is broad consensus that the IT outsourcing market is thriving and growing. Procurement intelligence company Beroe Inc. forecasts outsourcing will grow annually at a rate of 6%, reaching $531 billion in 2022. Grand View Research's projections are even more optimistic: 7.7% growth per year up to $938 billion by 2027.
Deloitte, the world's largest professional services network, corroborates these forecasts in their 2016 Global Outsourcing Survey, according to which,
72% of respondents from more than 25 business fields were outsourcing already.
31% confirmed they would increase their outsourcing.
78% felt optimistic about their relationship with their contractors.
So, outsourcing is growing, and growing rapidly. But what's behind this impressive growth?
What drives outsourcing demand?
New technological innovations that improve business performance are driving the outsourcing market. As more industries and businesses realize the benefits of and implement productivity-enhancing technologies – in particular cloud computing, artificial intelligence/cognitive automation, and robotic process automation (RPA) – they become crucial for businesses to remain competitive. To meet this need, businesses require experienced professionals immersed in these technologies, professionals who are more readily available in the outsourcing market. These new technologies and the outsourcing market they help create and live off are so transformational that analysts have come to call them "disruptive"!
Augmented / "Disruptive" outsourcing
All evidence indicates that new outsourcing practices are indeed disruptive. Gartner, Inc. forecasts that "by 2024, organizations will lower operational costs by 30%, combining hyper-automation technologies with redesigned operational processes." Forrester Research reports that 56% of global technology decision-makers have already implemented automation software or are in the process of doing so. And Deloitte, in its 2018 Global Outsourcing survey, reports that the requirements of cloud computing and automation have a disruptive effect on more traditional outsourcing practices. Businesses have also come to expect more from outsourcing, including the competitive advantages of greater agility, efficiency, and utility. Eight out of every ten companies (80% of over 500 executives from leading organizations) Deloitte interviewed reported that they have either initiated discussions, conducted pilots, or implemented some disruptive outsourcing solutions.
An impressive 93 percent of Deloitte interviewees said they were considering or had already adopted cloud outsourcing solutions, for the following reasons: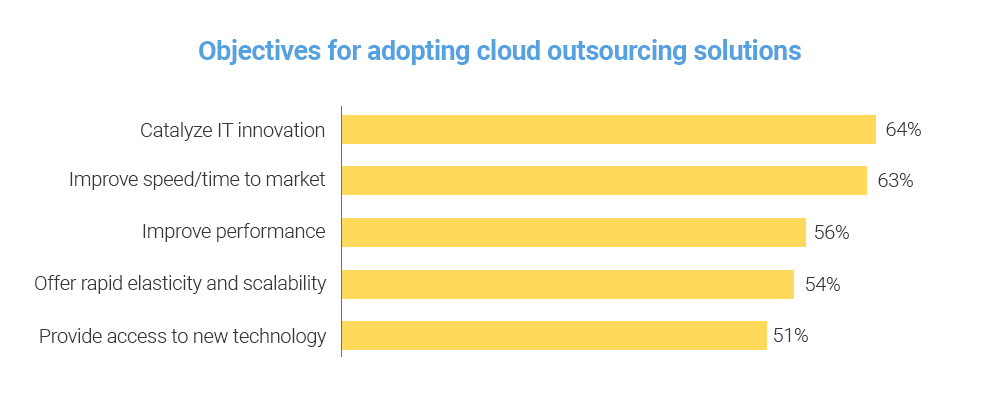 72 percent of companies Deloitte surveyed were considering or already in the process of adopting RPA outsourcing solutions.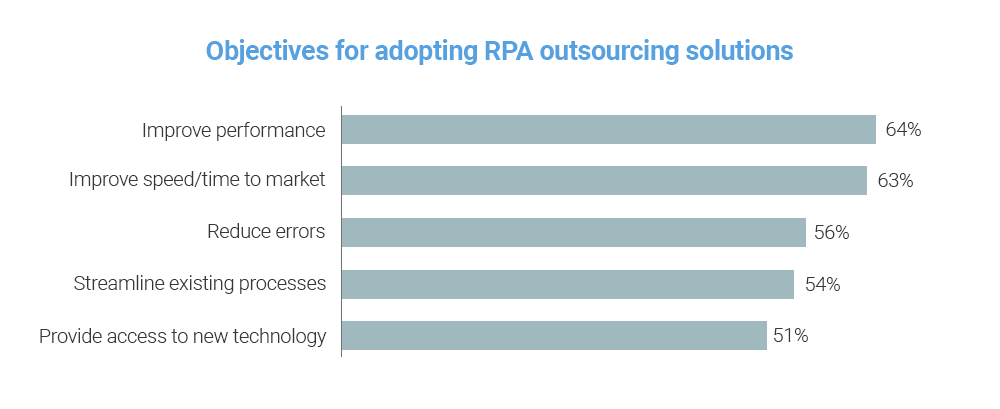 Vital for small businesses too
Outsourcing is disruptive not just of the productive process. It also goes some distance toward leveling the playing field by empowering smaller businesses. Large corporations certainly benefit from outsourcing practices that allow them to focus more time on their own core competencies. But small businesses and small-to-medium enterprises (SMEs) can also leverage the power of their outsourcing partners, profiting from insights that once only the largest companies could afford, and enjoy improvements in growth, productivity, and bottom lines.
New technologies also empower experts around the globe to leave the traditional corporate world and become independent contractors. Free and vigorous, they're ready to come on board as subcontractors, saving small businesses the headaches of payroll taxes, health insurance, and compensation.
In their 2019 Small Business Outsourcing Statistics survey, Clutch confirms that SMEs enjoy the benefits of partnering with contractors. The Clutch survey indicates that one-third of small businesses had already been outsourcing, and 52% were planning on it. The most commonly outsourced processes were: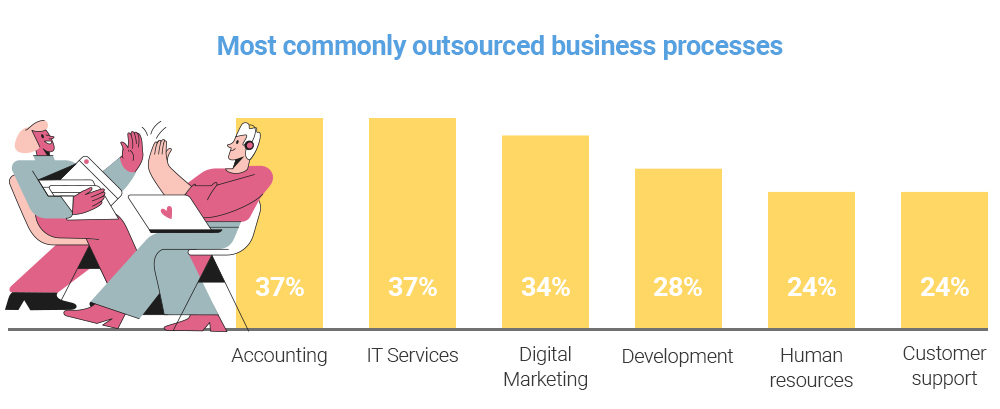 SMEs, like larger organizations, increasingly tend to entrust technical and skill-demanding processes to savvy external contractors, and allocate in-house spending on personal education and qualification. Like bigger firms, SMEs use outsourcing to improve business efficiencies, and thereby liberate in-house staff to focus on core processes and company growth.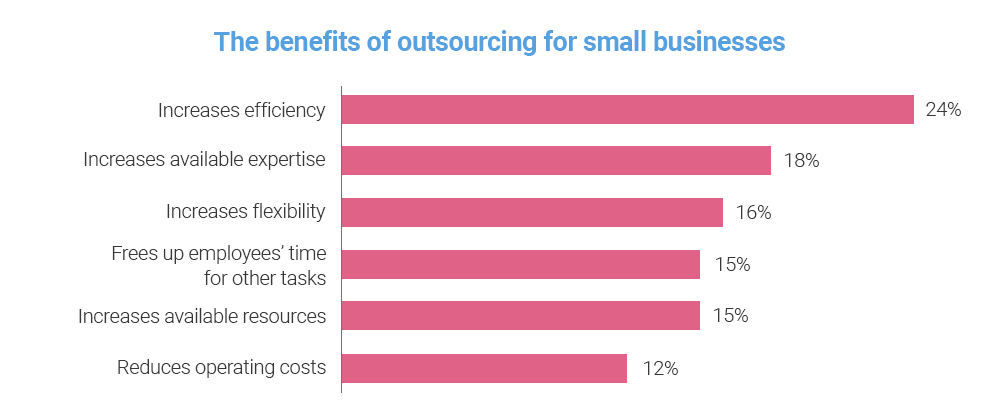 So, why do companies outsource?
As exploiting new digital cloud and automation technologies becomes increasingly essential to business survival and growth, the outsourcing market, once a mere cost-saving option, is now an indispensable cog in the business engine. If, in 2016, cost-reduction was understood to be the primary motivation for companies to reach out to the contractors, by 2019 the ground had shifted. Even in 2016, focusing on core competencies ran a very close second to cost-cutting, according to Deloitte's annual report that year:
59% of respondents were using outsourcing as a cost-cutting tool
57% said it allowed them to focus on their core business
31% outsourced to enhance service quality; and
17% to drive change and disrupt their business norm
By 2019, Deloitte's Outsourcing and Shared Services reported that "cost-cutting" had yielded the ground to "enabling focus on core competencies." Today's businesses – small, medium, and big – report the following benefits and drivers of outsourcing, in order of priority: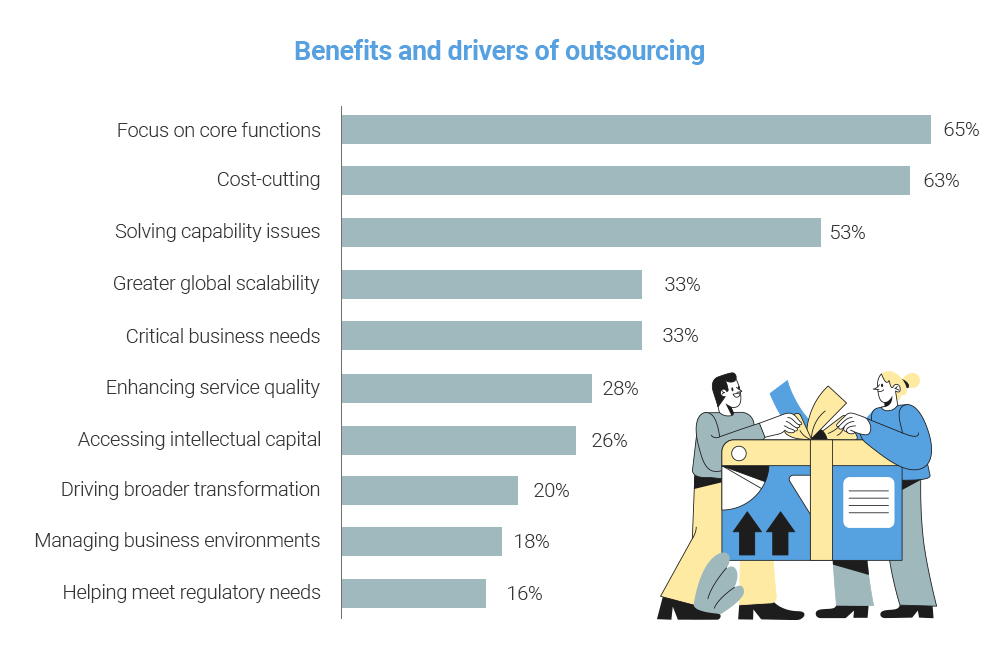 The reasons for enterprises to outsource are changing. Companies delegate more to achieve customer-centricity and unlock new tech capabilities. Extra time and excellent staff support allow businesses to scale, remain competitive, and become better for their clients.
By delegating time-eating tasks to service providers, companies can concentrate on core tasks, making them flexible enough to navigate changing commercial waters.
Conclusion
Outsourcing is set to grow, driven by rapidly evolving business demands. In our increasingly data-driven world, contractors have become a powerhouse, enabling companies to keep pace with accelerating technological innovation. More and more organizations in every industry are outsourcing to improve their customer-centricity and unlock technological capacities.
Today's outsourcing is far more than just a "cost-cutting tool"; it is a vital partner for businesses of all sizes to compete in the global market.
Find out how we can help extend your tech team for sustainable growth.
Contact us