The Ultimate Guide to Software Development in Ukraine 2022
The recent three months of brutal war Russia brought to Ukraine divided the lives of millions of people into before and after. And the incredible resilience of Ukrainians defending their country became the symbol of free will and resistance in the world's eyes. As for the business sphere surviving the wartime, Ukraine's IT industry is nearly the only one withstanding the hit with minimal losses. Mainly export-oriented and focused on international markets, Ukrainian IT companies have quickly adapted to the military realities and provided a record $2 billion in foreign exchange earnings for the first quarter of 2022.
In today's overview, we will talk about the phenomenon of tech Ukraine and why the country is still a promising outsourcing destination for your business.
Ukraine: the tech superheroes
As the IT Ukraine Association reports, around 85% of tech companies continue to deliver services, 2% of IT specialists joined the Armed Forces, 5% are involved in the 'cyber army' while others manage to combine volunteering and territorial defense duties with work, sometimes with sirens going off in the background.
Many companies had contingency plans in place long before the Russian invasion, from relocating employees to safer parts of the country to safeguarding clients and contracts. During the first 1.5 weeks of the war, Ukrainian tech companies paid almost $6.3 million in tax in advance. Some of them, including Beetroot, set up tech relief funds and fundraising projects to support Ukrainians whose lives were disrupted by war and consolidated resources to protect their teams and maintain business continuity — a steadfastness that impresses international partners.
"An added benefit of making Ukrainians part of your company is that you will not need self-appointed inspirational/motivational speakers for your employees," said Kristoffer Gustaffson, VP of Platform, Monocl Definitive Healthcare, and longtime client of Beetroot. "Seeing people volunteer to put in extra hours to cover up for their colleagues that are mobilized for the army, or getting the weekly report sent on Slack from a shelter is nothing but humbling and motivating for us that are blessed to live in a, so far, safe country." We couldn't make a better statement.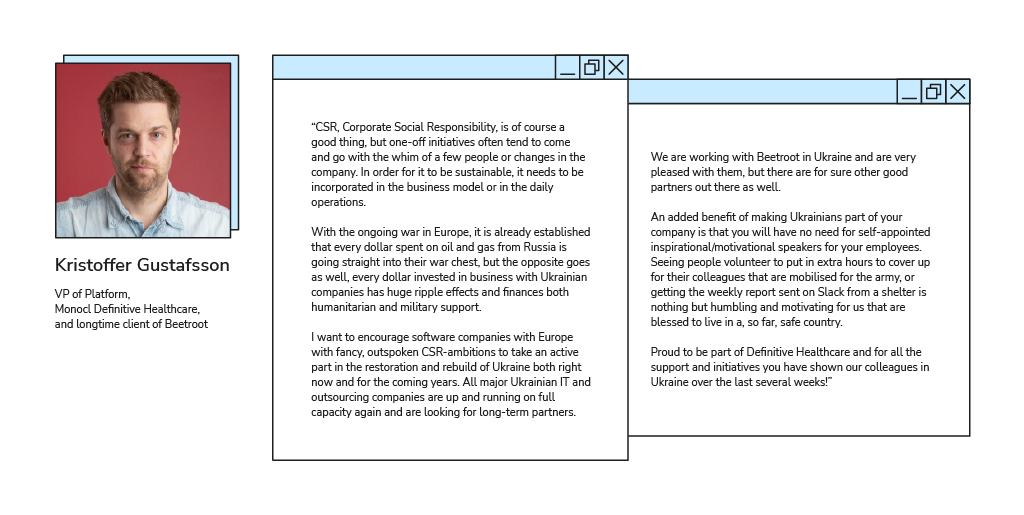 As resilient as it currently is, the tech sector needs the support of external partners to survive and thrive — to contribute to the future restoration of Ukraine with momentum.
The country has gained international recognition in the IT domain for good reasons. So it makes sense that we continue our narrative here by looking at some insights into the Ukrainian tech market in 2021 and 2022.
Overview of the Ukrainian IT industry
Ukraine is one of the largest exporters of IT services in Europe ($7.1 billion in 2021), the top recipient partners being the USA, Great Britain, and Switzerland. As an entrepreneurship hub, Ukraine is home to more than 89 R&D centers owned by or working with global companies, including Samsung, Dell, Oracle, Bosch, Comodo, Rakuten, and Huawei; 22 IT clusters, seven associations, and ten accelerators, according to the Ukrainian Tech Ecosystem platform.
Ukraine ranked #1 out of 169 in the Good Country Index in terms of Science and Technology Contribution;
Ukraine is #4 in Eastern Europe by the number of outsourced developers;
Ukraine ranked #11 in the IT Competitiveness Index by Emerging Europe;
52% of Coding Sans respondents claimed they outsourced development services at least once. More than that, 51% of those who have previously worked with outsourced talent were satisfied with their work, and 10% were absolutely satisfied.
To sum it up, people worldwide use IT outsourcing a lot. Ukraine is good at IT outsourcing.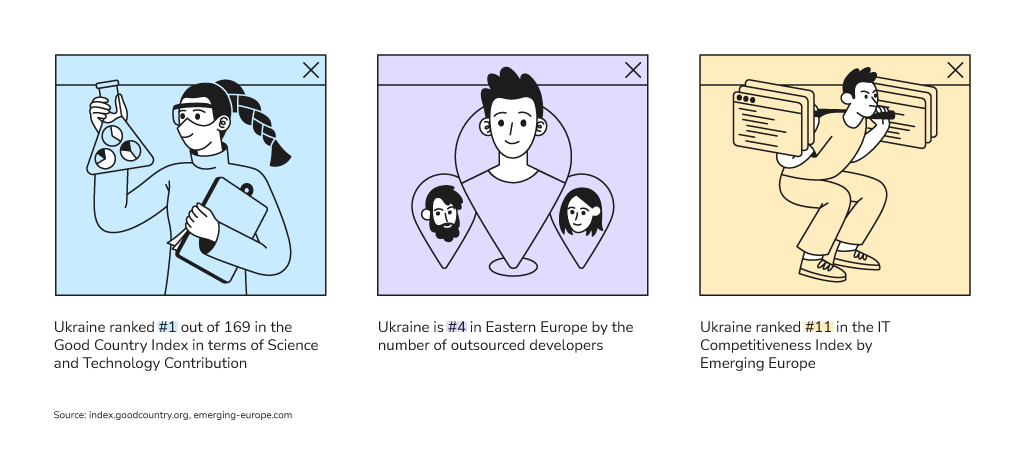 According to The World Bank's overview, Ukraine ranked 61 out of 190 countries for the ease of doing business. By comparison, in 2013 (when Beetroot only started), Ukraine ranked 137 out of 185 countries. Such an impressive leap has little to do with Beetroot in particular, though. During these years, Ukraine simplified its trading procedures across borders (rank 78 out of 190), went the extra mile to protect its investors (rank 72 out of 190), and signed a visa-free regime with the European Union.
Diia City — a special tax and legal regime for IT companies — was officially launched on February 8, 2022. It includes a favorable tax system — 9% withholding tax or 18% income tax; 5% personal income tax (PIT), single social security tax at 22% of minimum pay (approx. $50), 1.5% military collection; investment promotion taxes; intellectual and business protection guarantees; easy kick-off and simplified administration, and more. The new regime was expected to help increase the share of IT in Ukrainian GDP from 4% to 10% and the industry's revenues to $16.5 billion, assisting in transforming the tech sector into Europe's largest IT hub.
IT companies
According to various sources, there were between 3,000 and 5,000 IT companies in Ukraine in 2021. The government's Tech Ecosystem lists 1750 product companies and 538 service vendors.
The development of the Ukrainian IT market and the increased number of local companies resulted in a deeper specialization of product development and outsourcing services providers, revealing more niche players. Companies coexist with IT consultancies, tech laboratories, R&D centers, and IT hubs. Ukrainian IT is a boiling pot, probably of the borsch-variety of activity. Navigating the growing outstaffing and outsourcing landscape isn't necessarily easy, especially when many companies are merely cookie-cutter replications of the ones around them.
Startups
Ukraine is a regional leader in innovation and gained compelling positions in several international ratings. Bloomberg's Innovation Index placed it among the 50 most innovative countries worldwide. In 2021, Ukraine ranked #34 of 100 global startup ecosystems in the StartupBlink's rating and #6 for startups in Eastern Europe. Before the war, the Ukrainian IT industry actively attracted investments and grants for startups getting their operations off the ground (Seed and Pre-seed).
Four globally known unicorn companies, Grammarly, GitLab, BitFury, and People.ai, have Ukrainian roots. People.ai raised $100 million during the Series D round in August 2021. Grammarly closed a $200 million investment deal (Late VC round) in October 2021, while GitLab completed its IPO, selling 10.4 million shares at $77 each, raising $800 million for an $11 billion valuation during the same month.
Tech education
Knowledge is power — we all know that. And in this case, knowledge of technical subjects is probably Ukraine's superpower. Ukraine ranks #1 among European countries for its number of tech graduates. Ukrainian universities provide 23,000+ qualified IT specialists and 130,000 general engineering professionals every year.
The high educational level of Ukrainians explains the high demand for Ukrainian specialists. According to the UN Education Index, Ukraine ranks 47th out of 189 countries (between the UAE and Italy). In general, Ukraine's education index corresponds to that of foreign countries. A typical Ukrainian IT worker has a higher (often technical) education, at least a basic command of English, and two years of experience on average.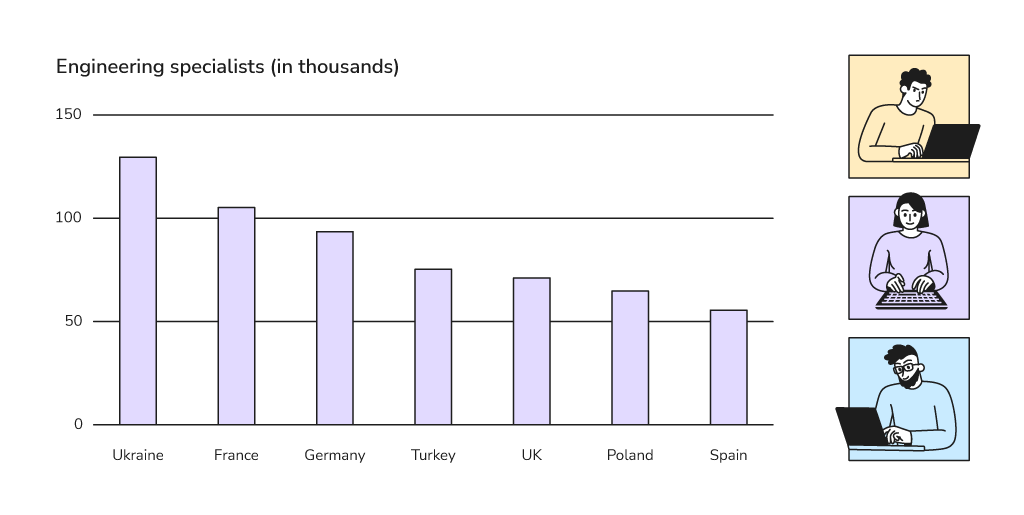 If talking about Ukraine in general, you will find that 29.4% of the tech population are junior specialists with one or two years of experience. Middle specialists form 36.9% and have been tackling IT projects for 3-5 years, and 19.5% are senior specialists who have from 6 to 10 years of experience under their belts. And 14.2% of developers have been around for more than ten years.
Software developers in Ukraine
Over 240,000 tech specialists engage in Ukraine's software development scene, making it the second-largest developer population in Eastern Europe. Something else to note about Ukrainian software developers is improving gender equality. According to GlobalLogic research, the number of women in Ukrainian IT has increased threefold over nine years — from only 7% in 2012 to over 22% in 2021; the share of female IT professionals has been growing at an average annual rate of 15%. In addition, companies are increasingly focused on meeting the ESG standards (environmental, social, and corporate governance) and sustainability goals.
Talent relocation
Forced mass relocation of IT specialists to safer regions is transforming the IT map of Ukraine. Many companies have moved their development centers to Western Ukraine, where powerful IT clusters and hubs (Lviv, Ivano-Frankivsk, Ternopil) were already present. At the same time, we are talking about relocation mainly from large to medium and small cities. This process entails a gradual reformatting of their economic profile, which can be a catalyst for positive regional changes.
Sustainable business models
The multi-center business model of some of the Ukrainian tech companies allowed them to swiftly relocate the majority of projects with minimal disruption and loss of development speed for clients and secure jobs for employees who had to flee their homes. Remote work, the 'new normal' of the COVID-19 era, has already taught companies to be flexible in their operating practices. The war forced them to solidify their skills.
Programming languages
In February 2022, DOU (Ukraine's leading online tech community) published the most popular coding languages rating among Ukrainian developers. JavaScript is the number-one programming language in commercial use (18.8%), while C# takes the silver medal (14.7%) with a positive dynamic for the second year running.
Java ranked #3 in 2021 (14.3%), its share declining each year, whereas TypeScript is growing at a 10% annual rate and has all chances to be in the top five or even top three programming languages in the coming year. On the other hand, negative dynamics exist in Python, Ruby, C, Scala, and Clojure. And very few newbies choose C++ nowadays.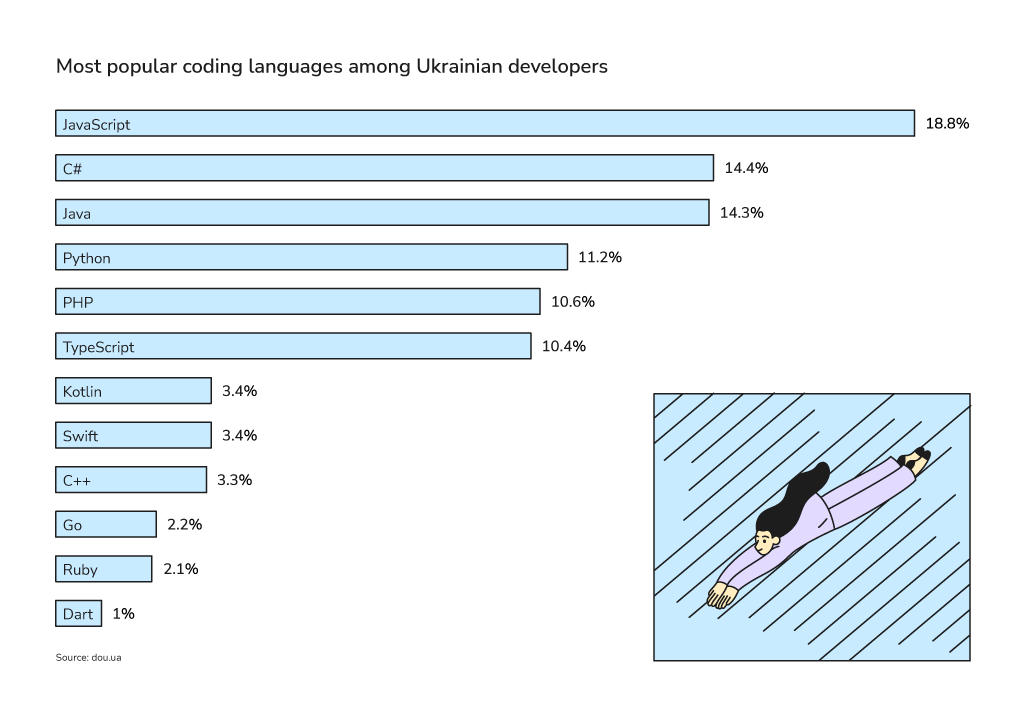 Developer salaries
In general, salaries depend on a developer's seniority and tech stack. The average monthly salary of a senior software engineer in Ukraine is $4,000, with this number rising to $4,550 and $5,600+ for the Tech/Team Lead and System Architect roles, respectively. A mid-career developer typically earns from $1,500 to $2,600 per month, which amounts to $18-33K annually, considerably lower than the $88,700 in Finland or $118,000 in the US.
In terms of hourly developer rates, Ukrainian outsourcing companies typically charge around $25-$40. For comparison, the average outsourcing rates in neighboring Poland and the Czech Republic are $40-$56 per hour and $34-$53 per hour.
Looking for more detailed data? Check our latest Python developers' salaries and WordPress developers' salaries overview.
Time difference
Due to its geolocation, Ukraine has a minimal time difference from other European countries. For instance, the time difference between Kyiv and Stockholm is only 1 hour and 2 hours with London. Even if your business operates across the Atlantic, there is only a 7-hour time difference between Ukraine and New York or Toronto, so you should be able to pull off a daily stand-up with your team if needed.
English proficiency
When it comes to hiring specialists from other countries, English language proficiency is one of the top client worries. It doesn't take a rocket scientist to understand how important it is for a team to speak the same language. Ukrainian rocket scientists, sorry, tech specialists, are well aware of this requirement. According to research by the IT Ukraine Association, 80% of IT workers have an intermediate or upper-intermediate command of English. Beyond that, a 13% group stands out with an advanced and higher English proficiency.
Cultural differences
According to the Coding Sans report, cultural fit is one of the most crucial hiring criteria, second only to the willingness to learn. Company owners want software developers to provide top-notch services and share cultural values and specificities. This point becomes even more critical in the context of outsourcing. Luckily, the traditions in Ukraine and Europe are often similar, given nearly the same holidays and days off apart from Easter and Christmas, which occur a week or two later in Ukraine. As for personal qualities, Beetroot clients often mention that Ukrainian developers are very straightforward, direct, and honest. They do not beat around the bush and get right to the point.
In our case studies, you can find more information about working with distributed teams from Beetroot. And if you want to join forces with top-performing Ukrainian software developers or set up a dedicated international team — you know where to find us.
Find out how we can help extend your tech team for sustainable growth.
Contact us