The Ultimate Guide to Software Development in Ukraine 2021
There is a whole world behind the term "software development." Like, literally. According to Evans Data Corporation, in 2017, there were 22 million developers worldwide, and by 2022, this number will crawl up to 26 million developers. This number equals the population of a tiny planet or the Chinese province of Gansu.
The COVID-19 outbreak has accelerated the global digitalization process, and the world's need for code has never been more substantial. From the Perseverance rover's Mars landing to enabling remote work in the New Normal, the software supports nearly every sphere of our lives these days.
What's the biggest challenge in the IT industry?
The answer will differ depending on who you ask. According to the analysis by Coding Sans, the biggest challenge for developers is their limited capacity. They would like to be more efficient in time management, have more fingers to type, and get rid of Susan, who keeps distracting them with her Coachella stories. But for over 65% of technology leaders worldwide, surveyed by Harvey Nash and KPMG, the biggest challenge is a tech talent shortage.
According to European Commission, the high-tech skills gap in Europe will reach 500,000 in 2025, while the US could lose out on $162 billion worth of revenues annually unless it finds more high-tech workers, as suggested by Korn Ferry.
If 2020 taught us anything, it would be that companies worldwide need to adapt to the new, more intense competition in the talent hunt. And in this article, we'll introduce you to a solution that may work just rightly for your business in 2021.
Let's talk Ukraine
We can hear the muffled "why Ukraine?" sound from behind the screen. Firstly, we have built unique expertise and insights into the Ukrainian market for the past eight years. It makes sense that we begin our narrative here. More importantly, there's a wide range of international rankings acknowledging Ukrainian developers' skills, and the domestic software industry is growing. Let us walk you through this.

Overview of the Ukrainian tech industry
In 2020, Ukraine exported $5.03 billion worth of IT services. Ukraine is home to more than 100 R&D centers owned by or working with global companies, including Google, Samsung, Siemens, and Huawei. The 2019 poll conducted by the American Chamber of Commerce in Ukraine indicates IT as the second most attractive Ukrainian industry for foreign investment.
Ukraine is at 1st place out of 163 in the Good Country Index in terms of Science and Technology Contribution;
Ukraine is in the top 3 of the world countries with certified IT professionals;
Ukraine is Eastern Europe's #1 country for IT and software development outsourcing
52% of Coding Sans respondents claimed that they outsourced development services at least once. More than that, 51% of those with experience of working with outsourced talent were satisfied with their work, and 10% — absolutely satisfied.
To sum it up: people around the world use IT outsourcing a lot. Ukraine is good at IT outsourcing.

According to The World Bank's annual overview, Ukraine ranks 64 out of 190 countries for the ease of doing business. To compare, six years ago, in 2013 (when Beetroot has only been starting), Ukraine ranked 137 out of 185 countries. Such an impressive leap has little to do with Beetroot in particular, though. During these years, Ukraine simplified its trading procedures across borders (rank 78 out of 190), went the extra mile to protect its investors (rank 72 out of 190), and signed a visa-free regime with the European Union. Among other essential measures to improve the tech business climate have been establishing three anti-corruption institutions and launching a public e-procurement system called Prozorro that received the International Public Procurement Leader Award.
IT companies
According to various sources, there are between 3,000 and 5,000 IT companies in Ukraine. The government's Tech Ecosystem Overview lists 1142 product companies and 858 service vendors in Ukraine.
With the development of the sector, the diversity of the companies increases. Along with outsourcing software development companies, there are numerous product companies, IT consultancies, tech laboratories, R&D centers, and IT hubs. It's a boiling pot, probably of the borsch-variety, of activity. With the increased volume of local companies also come increased specialization and niche players. Navigating the growing outstaffing and outsourcing landscape isn't necessarily easy, especially when many companies are merely cookie-cutter replications of the ones around them.
Startups
When it comes to innovative capacity, Ukraine is also doing well. Not as well as Silicon Valley, but still, progress is there. According to Bloomberg's Innovation Index, Ukraine is one of the 50 most innovative countries worldwide. In 2020, Ukraine made it to the world's top 30 startup ecosystems, jumping up by two spots in the StartupBlink's rating.
2019 marked the largest funding rounds in the history of the Ukrainian tech sector. Gitlab, owned by an entrepreneur from Kharkiv, raised $268 million, topping the most massive investments for 2019. Grammarly has closed a $90 million round of funding the same year. The Restream startup, founded in Vinnytsia and incorporated in Austin, USA, has raised $50 million during the Series A round in 2020.
Tech education
Knowledge is power — we all know that. And in this case, knowledge of technical subjects is probably Ukraine's superpower. Ukraine ranks #1 among European countries for its number of tech graduates. Ukrainian universities provide 16,000 qualified IT specialists and 130,000 general engineering specialists every year.

Software developers in Ukraine
Over 205,000 tech specialists engage in Ukraine's software development scene, making it the second-largest developer population in Eastern Europe. Something else to take note of when it comes to Ukrainian software developers is improving gender equality. About a quarter of the Ukrainian IT force are women. The share of women in IT has grown by more than twice since 2015. Now, let's dive into more details.
The vast majority of specialists — 70% — live in major Ukrainian cities, like Kyiv, Kharkiv, and Lviv. However, a genuinely remarkable trend is tech communities' growth in numerous midsize towns, including Poltava, Mariupol, Ivano-Frankivsk, Vinnytsia, and Kremenchuk. Having opened 13 tech academies across the country and a tech hub in Mariupol, Beetroot is happy to observe the IT industry's development in smaller cities. We believe it's where the industry's social impact is especially significant.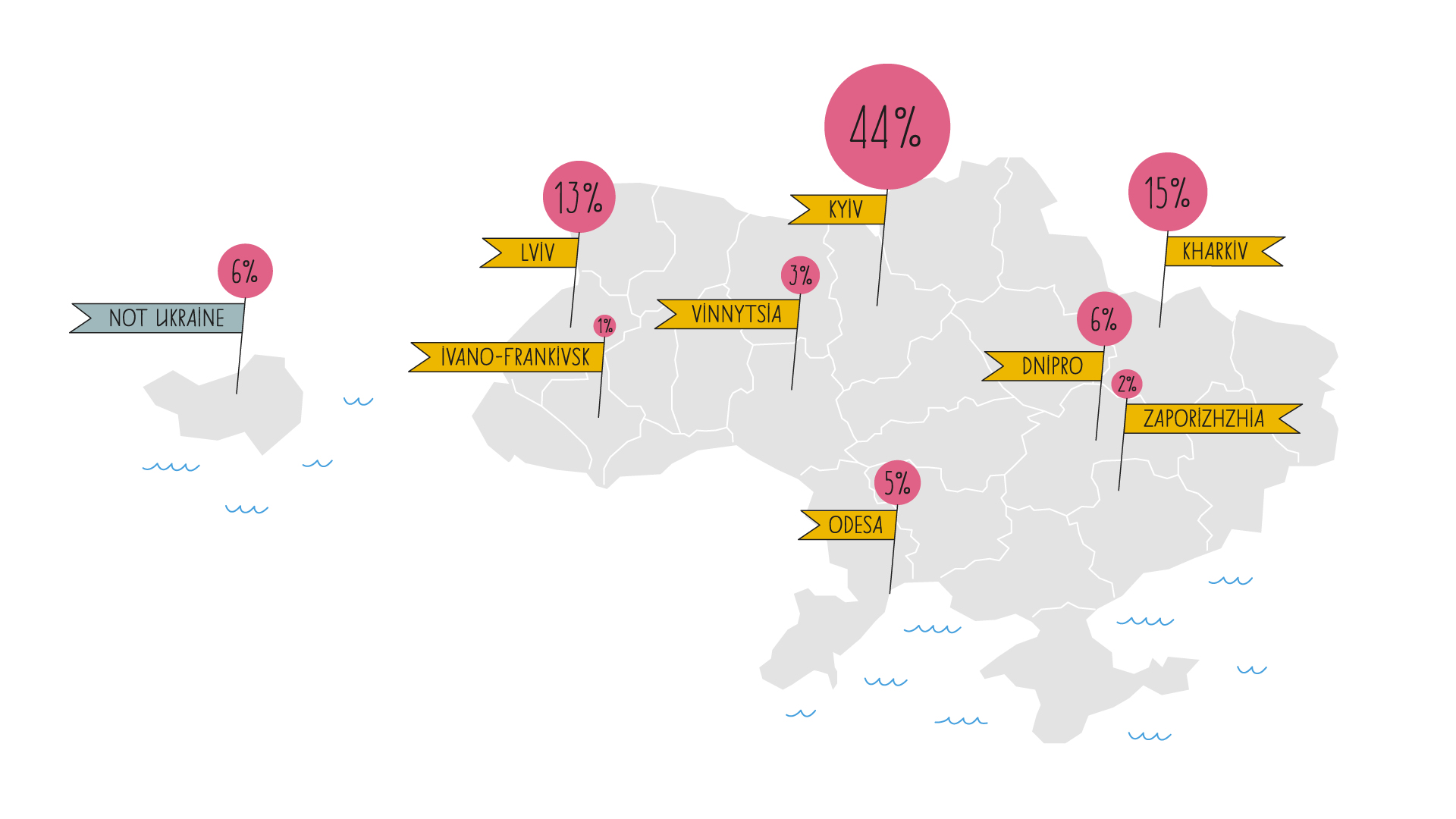 Programming languages
JavaScript is the number-one programming language in the Ukrainian development community. Over 18% of software engineers use it as primary in 2020, and more than 41% named it their additional programming language.
2020 was the first year when JavaScript has outrun Java. The latter has been experiencing negative dynamics in the last three years, which corresponds to the worldwide trend.
Except for JavaScript, the languages that have shown a significant growth rate in recent years include Python (34% growth since 2017), TypeScript (55% growth since 2018), and Kotlin (67% growth since 2018).

The ratio of senior to junior developers differs depending on the city. For instance, in big IT hubs such as Kyiv, senior and junior developers are almost equally distributed. But in smaller towns, there are usually more junior specialists and not so many experienced ones.
If talking about Ukraine in general, you will find that 29.4% of the tech population are junior specialists with one or two years of experience. 36.9% are middle specialists, who have been tackling IT projects for 3-5 years, and 19.5% are senior specialists, who have from 6 to 10 years of experience under their belts. 14.2% of developers have been around for more than ten years.
Developer salaries
In general, salaries depend on a developer's seniority and tech stack. The average monthly salary of a senior software engineer in Ukraine is $4,000, with this number rising to $4,550 and $5,600+ for the Tech/Team Lead and System Architect roles, respectively. A mid-career developer typically earns from $1,500 to $2,600 per month, which amounts to $18-33K annually, considerably lower than the $47,000 in Finland or $92,000 in the US.
In terms of hourly developer rates, Ukrainian outsourcing companies typically charge around $25-$40. For comparison, the average outsourcing rates in neighboring Poland and the Czech Republic are $40-$56 per hour and $34-$53 per hour correspondingly.
Looking for a more detailed salaries overview? Check our 2021 Ukrainian Tech Market Report and get an up-to-date insight into software developer salaries in Kyiv, Kharkiv, Odessa, and other Ukrainian cities.

Time difference
Due to its geolocation, Ukraine has a minimal time difference from other European countries. For instance, the time difference from Stockholm is one hour, and from London — 2 hours. Even if your business operates across the Atlantics, there is only a 7-hour time difference with New York and Toronto, and you should be able to pull off a daily stand-up with your team if you wish.
English proficiency
When it comes to hiring specialists from other countries, English language proficiency is one of the top client worries. It doesn't take a rocket scientist to understand how important it is for a team to speak the same language. Ukrainian rocket scientists, sorry, tech specialists, are well aware of this requirement. According to the research by DOU (Ukraine's leading online tech community), 85% of tech specialists have an Intermediate or Upper-Intermediate level of English. Beyond that, there is a 13% group that stands out with an Advanced level of English.
Cultural differences
According to the Coding Sans report, cultural fit is one of the most crucial hiring criteria, second only to the willingness to learn. Company owners want software developers to provide top-notch services and share cultural values and specificities. This point becomes even more important in the context of outsourcing. However, cultural traditions in Ukraine are often similar to the majority of European traditions. Holidays and days-off are almost the same, apart from Easter and Christmas, which occur a week or two later in Ukraine than in the rest of Europe. As for personal qualities, Beetroot clients often mention that Ukrainian developers are very straightforward, direct, and honest. They do not beat around the bush but instead, get right to the point.
You can read more about the specificities of working with distributed teams from Ukraine in our case studies.
Find out how we can help extend your team to Ukraine.
Contact us