AI Integration in Education: Building & Automating
According to the 2024 Gartner CIO and Technology Executive Survey, 73% of CIOs say their organization will increase funding for artificial intelligence and machine learning in 2024. Moreover, 80% of CIOs reported that their enterprises plan to fully adopt generative AI within three years.
Artificial intelligence stopped being a competitive advantage and has become the new standard for businesses that want to excel. With platforms like edX and Coursera already leveraging AI, it's clear that the EdTech field will be no exception.
The thing with generative AI is, incorporating this technology is intricate, costly, and simply confusing at times. So, where do you start? To answer this question, Beetroot invivted three industry experts with an in-depth understanding of the matter to talk about AI in EdTech. Here is who spoke at the webinar:
Philip Stelter, Clearly Partners and a business consultant with over 20 years of experience consulting on building roadmaps to AI implementation;
Dmytro Voloshyn, CTO and co-founder at Preply, an EdTech company that offers an online language learning marketplace where tutors and learners can connect;
Anastasiia Petrova, strategic partnerships lead at Beetroot Academy, a social enterprise facilitating IT education.
In this piece, we share the key insights from our speakers that will help you get started with AI adoption within your organization, whether it's an EdTech startup or an established e-learning enterprise.
How to Approach AI Integration in Education
The business world knew generative AI was coming, but in 2023, the technology's force was so transformative that it still caught many by surprise. After all, this was the year ChatGPT managed to go from 200 million users to 1.3 billion, which does not happen daily.
Philip Stelter believes that from this moment on, businesses will distinguish themselves by how well they use artificial intelligence. Even though GenAI tools like ChatGPT already help companies boost efficiency, these are only near-term results, and many organizations are struggling to capitalize on the opportunities while dealing with current challenges.
Generative AI raises questions about data protection, governance, AI training, usage ethics, and more. The overwhelming pace of advancements creates a complex environment where businesses grapple with integrating AI into existing workflows. "It's big, it's fast, it's scary, it's confusing, and yet teams, investors, and board members are all asking for further course of action," says the expert.
However, despite the chaotic nature of the AI landscape, we can't deny the tangible benefits of its integration. A study conducted with Boston Consulting Group revealed that consultants using AI experienced a 12.2% increase in task completion, a 25.1% boost in task speed, and a remarkable 40% enhancement in task quality.
It's worth noting that the study in question is called "Navigating the Jagged Technological Frontier." This refers to the concept of the jagged frontier used by Ethan Mollick of the Wharton School, University of Pennsylvania. Basically, it emphasizes the uneven applicability of AI across various tasks: while some areas like customer service, sales, marketing, and coding are obvious fits, others become less clear and even challenging, especially when dealing with your own bespoke data.
Philip Stelter says that the key lies in building and testing. Exploring how Gen AI responds to different use cases requires a hands-on, iterative approach. The true power of Gen AI emerges when organizations leverage it with their unique data or products.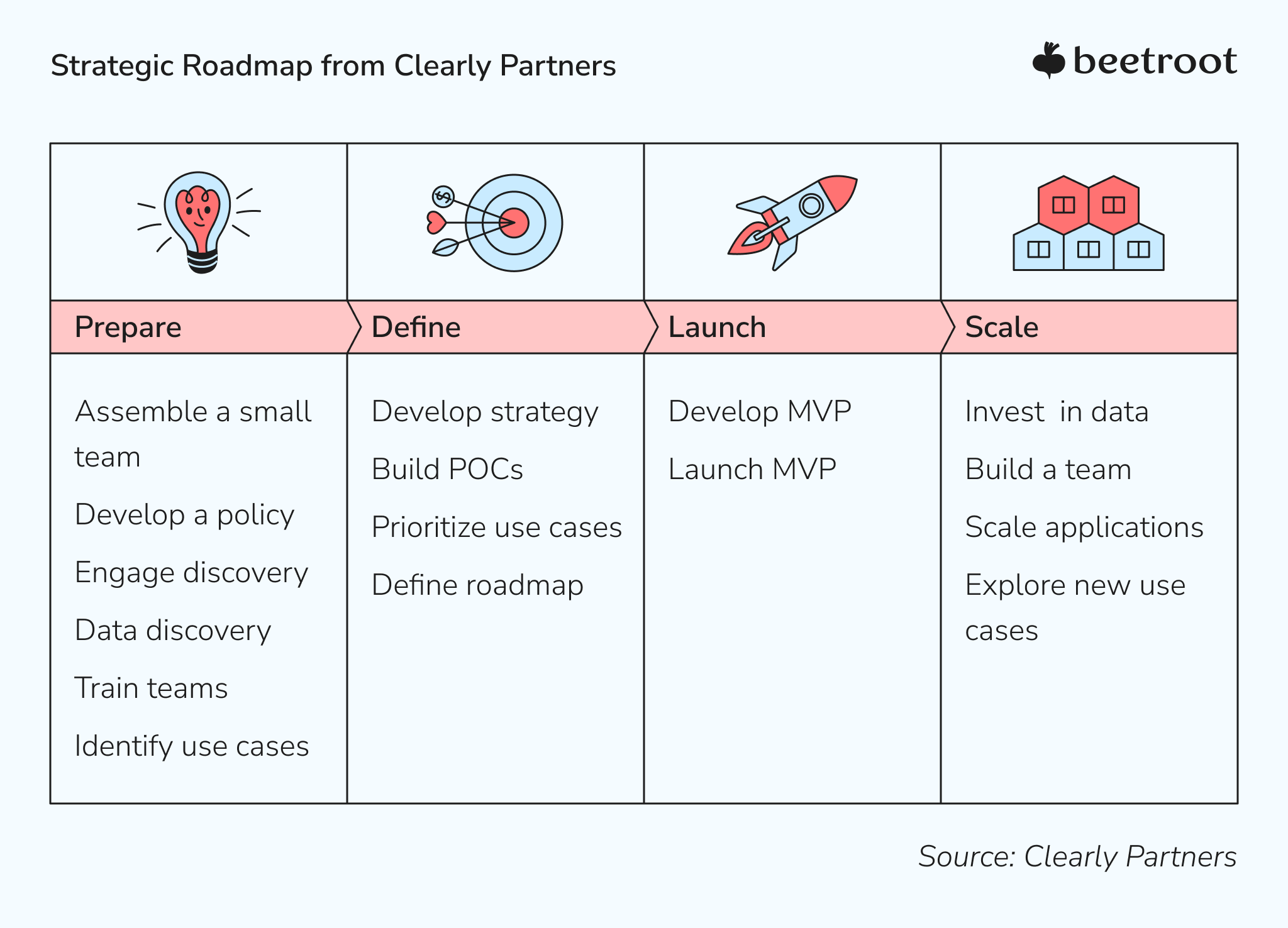 So, where do you start when entering this jagged frontier? Philip Stelter and other experts at Clearly Partners created a step-by-step guide to help organizations get started with generative AI integration.
The preparation phase here covers five easy first steps you can apply at the beginning of your EdTech AI journey. Let's briefly go over the insights Philip Stelter shared when presenting them.
Assembling a small team
To start working with artificial intelligence, you need to build a cross-functional task force of internal experts who will focus on experimentation and strategy development. Along the way, you probably will need to address skill gaps, empowering the team with data scientists and engineers, product managers, and ethics leads.
This journey won't be easy: 63% of businesses say their biggest skills shortage is AI. But ultimately, it's worth the effort: humans and AI combined will make the most powerful teams. And the way your team works with AI will define how your organization works.
Developing AI policy
Philip Stelter emphasizes that policy should empower teams. He recommends taking an agile approach to developing guardrail types policy and establishing cross-functional governance. After all, AI will impact multiple areas of your business, including legal, technology, and human resources. Therefore, crafting and implementing clear ethical guidelines and establishing how human oversight will help eliminate bias is essential.
Embracing the test-and-learn approach
According to Philip, GenAI requires a test-and-learn approach, which means the process will be hands-on and iterative. It will involve building proofs of concept early on and prioritizing prototyping since organizations working with AI can't predict how the models will behave without testing them based on the data input.
The expert also suggests establishing performance measurement since such projects require significant resources. Therefore, you will need to detect and demonstrate some sort of return on investment or gains from that.
Maintaining high data quality
Philip notes that the quality of data is the lifeblood of AI, and with poor quality data, an organization's journey with this technology will be particularly difficult. The expert recommends addressing this issue early on.
To ensure the data is high-quality, you need to conduct audits, fix issues, focus on compliance and monitoring, and explore the use cases where the data is ready. You can also leverage GenAI to fix some of the quality issues.
It's also important to remember that bias is a huge risk that must be addressed since the unintended consequences of overlooking it will be significant. In this case, diversity is key: more data empowers more capable AI.
To sum up, the journey into generative AI in education is challenging, but organizations can navigate these complexities with a proper AI implementation strategy and thus leverage the power of GenAI.

From Theory to Practice: Preply's Experience with GenAI
So, how do all these tips from Philip Stelter work in practice? To answer this question, we want to introduce you to Preply, the biggest marketplace for language learning with 40 thousand tutors, 2 million learners, and over 400 B2B clients.
Since Preply is focused on connecting students with human teachers, it is organically on the opposite side of AI. However, that didn't stop the company from exploring the opportunities this technology could offer.
Dmytro Voloshyn, co-founder and CTO of Preply, shares that the company built a co-pilot tool for tutors to help them be more efficient at what they do. The AI-powered feature allows teachers to create detailed prompts and generate student assignments based on OpenAI's model wrapped in a user-friendly interface. In addition to that, the platform introduced AI functionality for students, creating a playful learning experience for acquiring new words.
Dmytro emphasizes that while AI itself is undoubtedly useful, the Preply team has discovered that the key to broader adoption lies in educating users on how to harness its power. To drive wider adoption of its AI functionality, Preply initiated webinars to teach tutors to leverage GenAI for automating routine tasks and focusing on the creative aspects of teaching.
What can other EdTech companies take away from Preply's example? Dmytro says that many AI integration examples prove the journey into GenAI implementation doesn't necessarily require starting from scratch. You can begin with OpenAI wrappers (API calls) and prompt engineering (custom instructions, CoT, etc.) before moving to custom models that involve fine-tuning and RLHF. Moreover, according to Preply's CTO, 80% of the initial value can be generated without dedicated AI engineers if your team has specialists who can work with API calls and prompt engineering.
The Role of Training Your Team for Successful AI Implementation in Education
When Preply decided to make the use of AI a standard practice in their internal team, they asked engineers about what could be done to encourage them to use AI tools. Suggestions ranged from paid licenses to comprehensive tool lists and use cases. However, the standout preference was training.
It's safe to say that education is a pivotal factor in driving the adoption of AI within organizations. Since improving access to tech education is one of Beetroot's strategic priorities, we simply had to invite Anastasiia Petrova, strategic partnerships lead at Beetroot Academy.
Beetroot Academy is a Swedish-Ukrainian social enterprise on a mission to help people have great careers in the digital economy. The organization has been on the market for eight years, uniting a community of 200+ teachers, 250+ partners hiring our alumni, and 10,000+ graduates who have broken into tech.
As educators in tech, the organization couldn't ignore the impact of AI on education, specifically tech education. Anastasiia shares that the Beetroot Academy team secured funding to develop AI educational products within the Reconomy project.
The project's primary goals include teaching junior specialists how to use GenAI tools and upskilling tech teams in GenAI. Here are the steps Beetroot Academy already took to reach these objectives:
Internal education: Beetroot Academy prioritized educating its own team with internal workshops on AI and the basics of machine learning.
Public events: The organization extended its impact by conducting public webinars for the Ukrainian audience about AI for QA, PM, and UI/UX, and for the international audience about making your work more efficient with AI instruments.
Enhancing educational courses: Recognizing the need to integrate AI into their educational offerings, Beetroot Academy added a dedicated module about AI tools to its Learning Management System (LMS).
Both Preply and Beetroot Academy showcase the pivotal role of education in fostering a culture of AI adoption. As organizations invest in the training their teams, they empower their internal workforce and contribute to the broader mission of enhanching tech education for all.

Securing Investment in EdTech
Securing investment is a critical milestone for organizations aiming to drive innovation and expand their impact. Dmytro, CTO of Preply, sheds light on the significance of profitability and differentiation in attracting potential investors.
In a world experiencing unprecedented turbulence, demonstrating profitability becomes a top priority. Dmytro emphasizes the need for organizations to showcase a clear path to profitability in the future. Amidst global uncertainties, investors value stability, making it essential for EdTech companies to focus on maximizing revenues and minimizing expenses. In the end, such organizations have higher chances of scoring potential investment.
As for EdTech organizations leveraging AI, Dmytro highlights the importance of understanding their "secret sauce." Mere integration with established AI platforms like OpenAI may not be enough in the long run. EdTech companies need to establish a distinct identity and offer something competitors cannot replicate to capture investor interest.
Transforming Education Together
Starting out with AI implementation might feel like diving into uncharted waters, full of challenges. But here's the thing: despite the difficulties, there are simple strategic steps you can take to begin the journey. Besides, many companies have been there before, and it's okay to turn to them for inspiration, advice, and guidance. For this purpose, we've recorded the webinar so you can go back to it whenever needed.
The Beetroot specialists have extensive expertise in both EdTech and AI projects, which allowed them to come up with practical solutions to the common challenges in this field. Now, they can apply this knowledge to help you turn the overwhelming into the achievable. So, if you've got an idea for adding AI to your EdTech project but don't know how to begin, don't hesitate to reach out.
Find out how we can help extend your tech team for sustainable growth.
Contact us