5 Questions About a Dedicated Team You've Always Wanted to Ask
Behind every great project, is a great team. It doesn't take a rocket scientist to acknowledge how beneficial excellent teams can be. Better productivity, innovations and creativity, efficient distribution of tasks—these things only begin to touch all the advantages that come with teamwork. But, the term "dedicated teams" can cause confusion when it isn't fully understood. What are they, how do they differ from other outsourcing models, do you personally need one? In this article, we will answer the main questions concerning dedicated development teams.
What is a dedicated team?
In a nutshell, it's your own remote team of hand-picked individuals who focus solely on a single company's software development project. This model is often called outstaffing or staff augmentation.
It differs from outsourcing in that within a typical outsourcing model you hire a third party with its own code of conduct, culture, and structure. They take full responsibility for a pre-defined project, from draft to implementation, and it's understood (whether communicated or not) the people involved will juggle multiple projects from different clients, at the same time. It's not uncommon for some to pull 16-hour shifts or more, in order to satisfy the needs of several clients.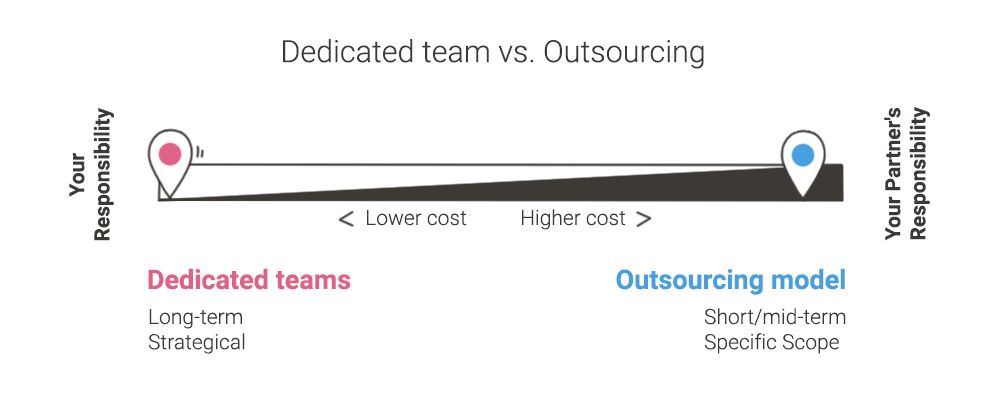 In a dedicated team model, it's the contrary. You have complete control over the processes your team is engaged in. But, with great power also comes responsibility. You, as the client, take more responsibility for managing your team and their time, assuring they are only dedicated to you. No one will ask you to change your plans, "because X is busy with another client that day." Your dedicated team may not be physically present in your office, but they are solely devoted to you.
What does a typical dedicated team structure look like?
It can look however you want. In a dedicated team model, you set the rules, and the project team structure will reflect them; your current needs, and the development process you set. For instance, at Beetroot, we have experience in building extensive dedicated teams of 30 WordPress experts or data operators. Some teams might even have a dedicated project manager who takes care of the daily processes. However, there are also cases of having a dedicated team that consists of only one dedicated Front-end developer. The structure can vary and is customizable to your needs.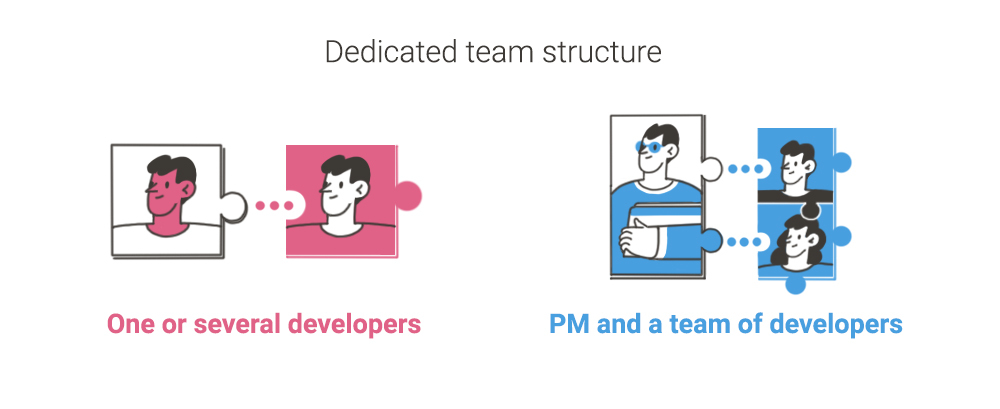 Choose a model with developers only if you have a clear vision of your project and want to manage the team directly. Opt for a model with a PM if you want to be less involved in the working process.
What are the advantages and disadvantages of this model?
Good question! Let's start with the advantages: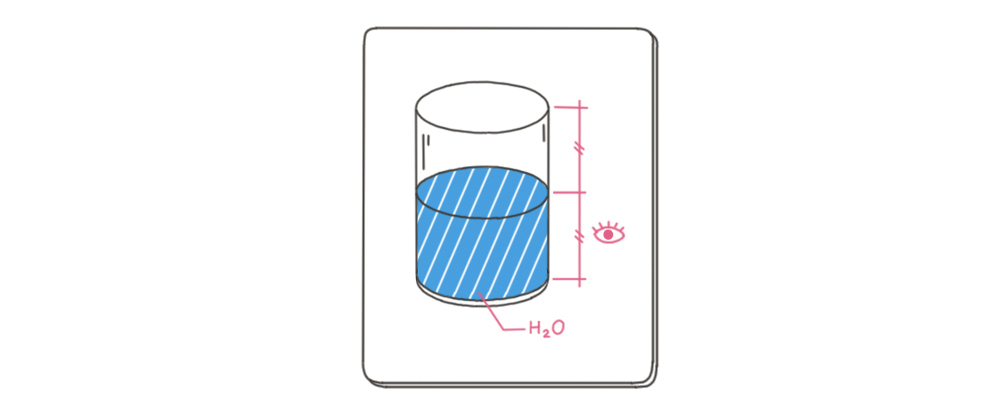 When building a dedicated team, you directly participate in each interview and pick the specialists who express commitment and a keen interest in what you do. This approach helps you build a more meaningful collaboration and team relationship over time. Entrusting individuals with clear responsibilities becomes a leadership tool for achieving high efficiency. According to research, and to be fair, common sense, employee loyalty, and job satisfaction are major contributors to a business' ROI. Purely from a hiring standpoint, it's not cheap to run perpetual vacancies, not to mention how draining it can be.
Dedicated teams are similar to in-house teams, meaning they share the values, culture, and objectives of the company that hired them. This is complemented by the values and culture of the company hosting them. Finding a good match is essential. It's perhaps redundant to point out, but a client who works with a startup mentality will struggle to work with a partner that built its organization in awe of the old pyramid.
In working with a dedicated staff, you eliminate many of the managerial layers—you can talk directly to them whenever you need them. It's not only a benefit but also essential.
Based on practical experience, 70% of managers have reported flexibility in teams fosters better productivity and quality of work. Since dedicated team members aren't involved in any outside projects, much like your own in-house team, they remain agile and maintain the ability to adjust to your schedule. This enables the freedom to set convenient times for video calls, negotiate deadlines, and receive reports on what work they are doing, at the precise moment.
Modern business models, like offshoring or nearshoring, aim to bring production costs down to the lowest amount possible. When building an external offshore team, you can reduce administrative, recruitment, and retention expenses. These are aspects your partner will worry about—at local market rates. The entire support structure can likely be streamlined on your end, since building a team comes with everything from office management and HR, to IT support.
Finally, by having a dedicated team, you can adjust its size to meet your project needs. You can even start by hiring one dedicated developer and then scale the team up as your project grows. Another great thing about dedicated teams is you can also scale it down if needed. Your outsourcing partner will help guide you in a way that eliminates the hassle.
We should add a little onion to the ointment, but not too much. There are just a few disadvantages to dedicated team models: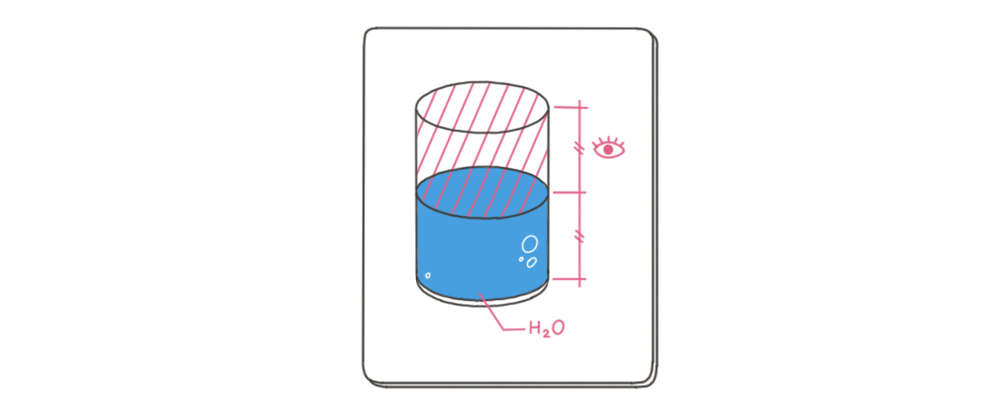 Low efficiency during short-term projects
It's not that dedicated teams can't handle short-term projects, they are just more effective when working towards a long-term perspective. Loyalty, values, and flexibility, are all advantages that shine brighter in a long-term perspective.
The hardest pill to swallow is hiring a good team takes time. You will need to be involved in the hiring process as much as possible, in order to build a team that will take your project to the next level. Even more, you will have to invest resources in team development. At the end of the day, these efforts are completely worth it. You'll receive a devoted squad of professionals who work at the perfect cost-quality ratio.
Sounds great! But how can I be sure a dedicated team model is exactly what I need?
Building a dedicated team in another country is a big step. Your desire to be confident you really need this type of cooperation is natural. In order to decide, you can start by defining the type of project you are working on right now. If it's a large, long-term project with a variety of tasks and an unchanging need for high-quality deliverables, then a dedicated team model is the right choice for you. On the other hand, if you have a small, time-limited project with a known deadline and predetermined resources, then you should opt for another cooperation model like Software Solutions.
Another question to consider is your project's budget. Having a limited, strictly-planned budget usually means a dedicated team model is not your cup of tea. We've prepared this simple checklist to help you perform a preliminary screening of whether you need a DT model or not: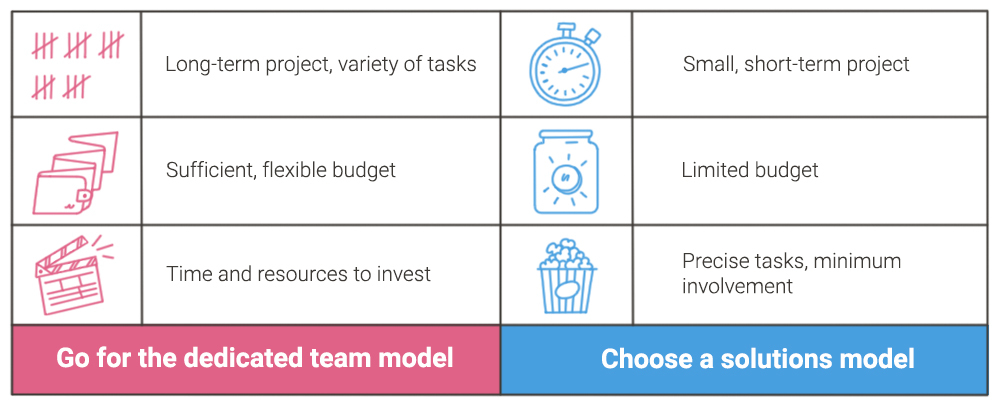 Okay, I want to build one. What's the process?
It all starts with you and the development company's HR manager. You will schedule a meeting to thoroughly discuss your needs and objectives. After that, an HR manager will begin searching for candidates who'd be a good fit for your project's requirements and your company's culture. In Beetroot's process, the first candidates are available within two weeks. Once a pool of candidates has been selected, HR managers perform the initial interviews. Your team leads or CTOs will then proceed with hosting the technical interviews and evaluating the test tasks. At this stage, you can assess the tech skills your potential software developers have and choose the most appropriate for you. When you are absolutely happy with the chosen candidates, HRs will make them an offer and invite them to start a trial period. The trial usually lasts for three months, but you can adjust its duration based on your preferences.

Final remarks
Managing a distributed team requires wisdom in leadership and dedication—not only from the team's side but also the client's. If you're ready to communicate and bridge physical distances, you will be rewarded with a new source of inspiration and productivity while adding an additional layer of business optimization.
Find out how we can help extend your tech team for sustainable growth.
Contact us