What Does a Dream Workplace Look Like?
The original article's author is Verena Schödl, an alumna of the University of Gothenburg. In 2018, she, together with fellow researcher and author Charoula Iliadou, chose the case of Beetroot for their Master thesis to study feedback environment, work engagement, and Organizational Citizenship Behavior (OCB) in less-hierarchical, self-managed organizations. Updated by Ulyana Paliychuk.
During our childhood years, we had grand plans for our future. We dreamed of growing up into superheroes, princesses, or monster truck drivers, and then poof! It's supposed to happen. But, eventually, reality sets in, and we realize that it takes hard work and dedication to build a workplace for ourselves and our staff to make us a company with good values and a thriving team culture.
Before writing this article, we spent some time pondering what a dream workplace is. And so we came to an answer that it's where people feel happy and self-sufficient. Then we conducted field research and dug out the key components of a good company culture that seem to make it so.
Don't be afraid of giving feedback
We mentioned in our previous articles that the best company culture starts with transparency and trust. Now it's a good time to say that openness and trust start with giving feedback.
Building a working feedback environment is a tough nut to crack. It requires striking a balance between giving favorable feedback (compliments) and unfavorable feedback (complaints) while preserving the credibility of both. However, our research shows that it's worth trying. A good feedback environment allows people to act quicker, communicate their problems, and find out-of-the-box solutions.
Another thing to add is that a feedback-oriented team culture works even better within self-managed teams. As it turns out, self-management enables people to seek feedback actively instead of patiently waiting for it. In this case, all the benefits of the feedback environment come faster, people get keener on their jobs, and, they say, even the sun shines brighter.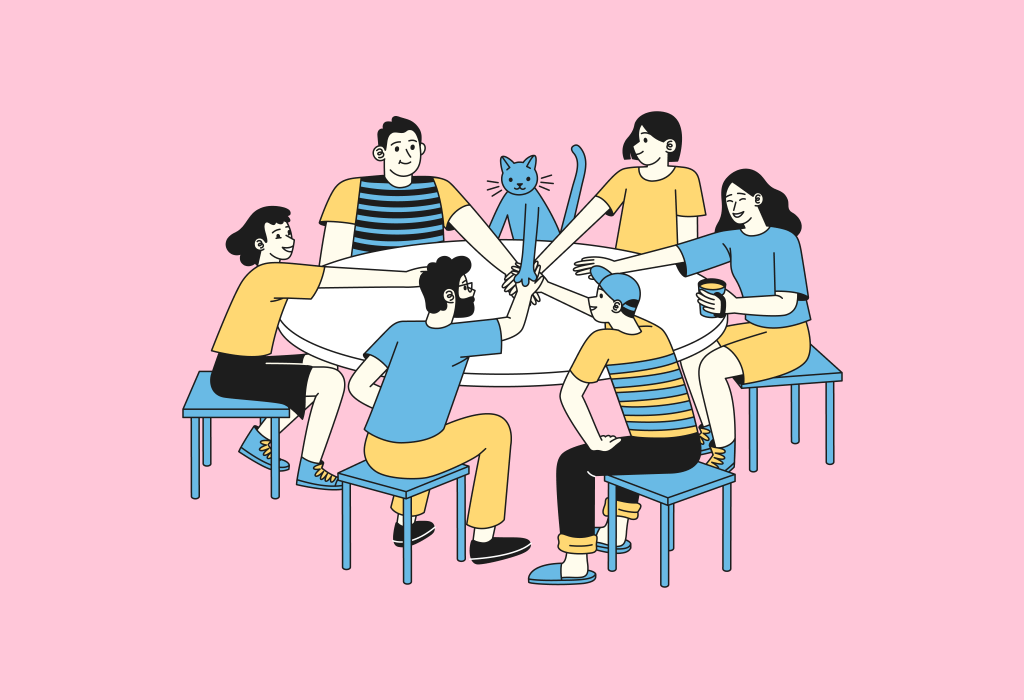 Freedom, responsibility, and ownership in team culture
It's a fundamental human right; freedom is necessary to feel happy at work. In short, we don't think you've been locking your teammates up in the cellar, but do they feel that way? Creating a dream workplace and culture at work takes more effort than just letting people out of the office at the end of the day.
By freedom, we mean the possibility to control your working time, express ideas, and be yourself all the time. During our research, we figured out that people feel inspired whenever they have the right to choose their tasks, development plans, or schedule.
Freedom is closely linked with the other two notions: responsibility and ownership. So when giving your team freedom of choice, you should also make sure that they comprehend their responsibility for its consequences. The combination of the two creates a feeling of ownership within a team. And according to recent research, psychological ownership is one of the best triggers of job commitment and satisfaction.
What makes a company a great place to work? It all boils down to the fact that by giving your team both freedom and responsibility over their work and nurturing their feelings of ownership, you come closer to building a genuinely happy workplace.
Beetroot was honored to receive the WorldBlu certification in 2019 as a sustainable democratic workplace according to WorldBlu's 10 Principles of Organizational Democracy. According to WorldBlu data, democratic workplaces don't just make for happier employees – they also have healthier bottom lines. WorldBlu-certified companies deliver on average 700% greater revenue growth over three years than S&P 500 companies.
Professional development is part of positive workplace culture
"It takes all the running you can do to stay in the same place; if you want to get somewhere else, you must run at least twice as fast as that," Lewis Carroll wrote in Alice Through the Looking-Glass. These are apt words for today's IT industry, indeed. Technologies are developing very fast, and people need to evolve even faster to stay at the top.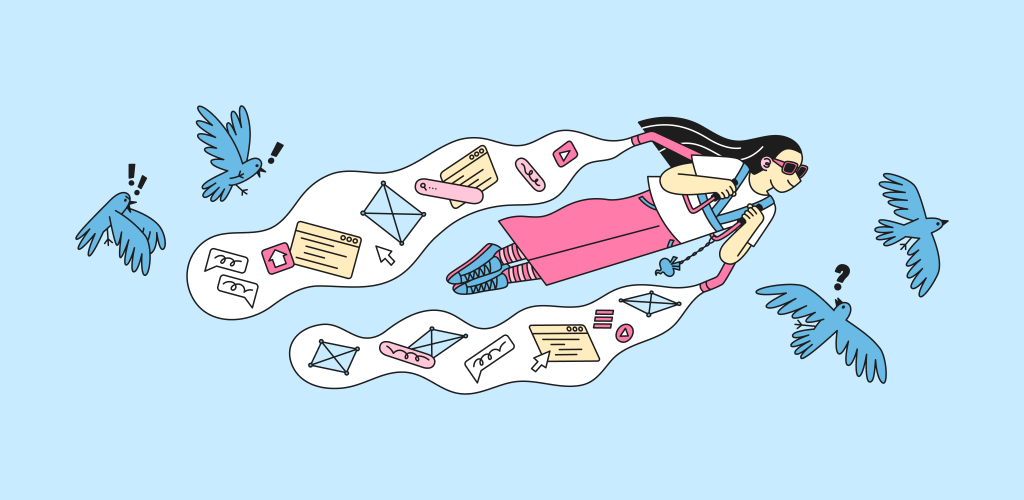 But we know for sure that a company can become a development platform that provides opportunities and support on the path to professional development rather than a burnout factory that breaks down 80% of its employees.
Dream workplaces must foster team members' personal development. We are talking about more than just regular self-evaluation sessions, workshops, or financial support for employees' learning. It would help if you created an atmosphere where people are not afraid to try something new. Engage your team in dives into unconventional tasks and never blame them for failures. That's how we learn.
Company culture and family feeling as workplace values
Company culture is an essential workplace component. Our research showed that there are four main characteristics of "good" culture:
Uniqueness and bond. Think of something that makes your company unique, and then use it to bring your team together.
Inclusiveness. Company culture should keep its doors open for everyone and accept people as they are.
Knowledge-sharing. Encourage your team to share insights and experiences. It is an efficient learning method and a sound basis for building friendly relations.
Care. We've mentioned that a family-like culture is a good thing to have in a company. If you don't want to go that far, try to show care for every team member and encourage them to do the same.
When all these components come together, chances are big that they will create a unique environment where people feel welcome to work and improve themselves and their achievements.
Tech teams in a responsibility-driven organization
When bringing up the self-managed organization, we're frequently asked how it affects the development teams. After all, they work for the customer with their own vision, mission, and values, so they must adapt to the client's culture. But it is still consistent with Beetroot's practice of cultivating self-responsibility within the teams, where employees are autonomous and flexible regarding job tasks and decision-making.
As a leader, you have all aces to shape a supportive environment to onboard your dedicated developers. It's what we refer to as "Sustainable Teams" in our philosophy — shifting the focus on the long-term context and total presence in everything we do while taking care of ourselves, society, and the environment. Team sustainability reflects a healthy workplace culture where mutual trust helps unlock each individual's power, mindfulness of mental health, and communication of the project's purpose. That fuels the level of commitment the team needs to achieve its goals.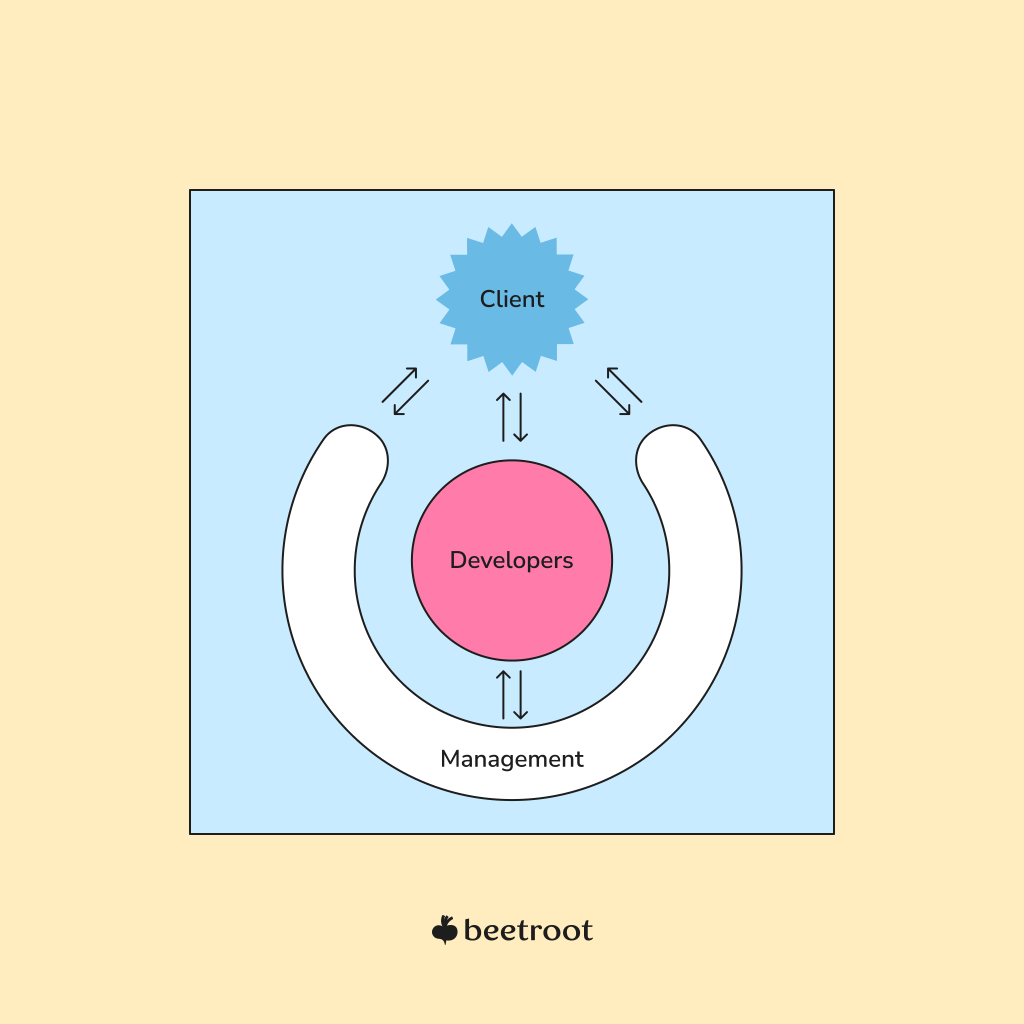 Coincidence or law of attraction, but customers who come to Beetroot the most are the ones who share our values and culture. As part of our service approach, we offer them open, direct communication with teams, unfettered by middle management. And so we hand-pick candidates to ensure they will be a perfect match for the team based on the exact criteria.
Developers also see the benefits of a mutual sustainability mindset. They interact directly with the client, can improve their soft skills like communication or English proficiency, and generally establish better relationships with the core team while working on meaningful projects in a good work environment.
Is there a balanced formula for your development team to thrive while making it work for your business? Ask Beetroot — we surely know some effective recipes.
Find out how we can help extend your tech team for sustainable growth.
Contact us