How to Hire WordPress Developers
WordPress technology is booming. In 2020, 35% of websites will be built using WordPress. If you are planning to join the WP tribe and develop your next project using this technology, you will want to hire a WordPress developer to help.
Finding an experienced and professional WordPress developer can be challenging. There are an abundance of websites and hiring platforms, where millions of experts offer their WordPress development services. For someone who has never sifted through such a variety of options, it could be slightly unnerving. We have prepared this guide to walk you through the hiring process of WordPress developers and help you find your perfect match.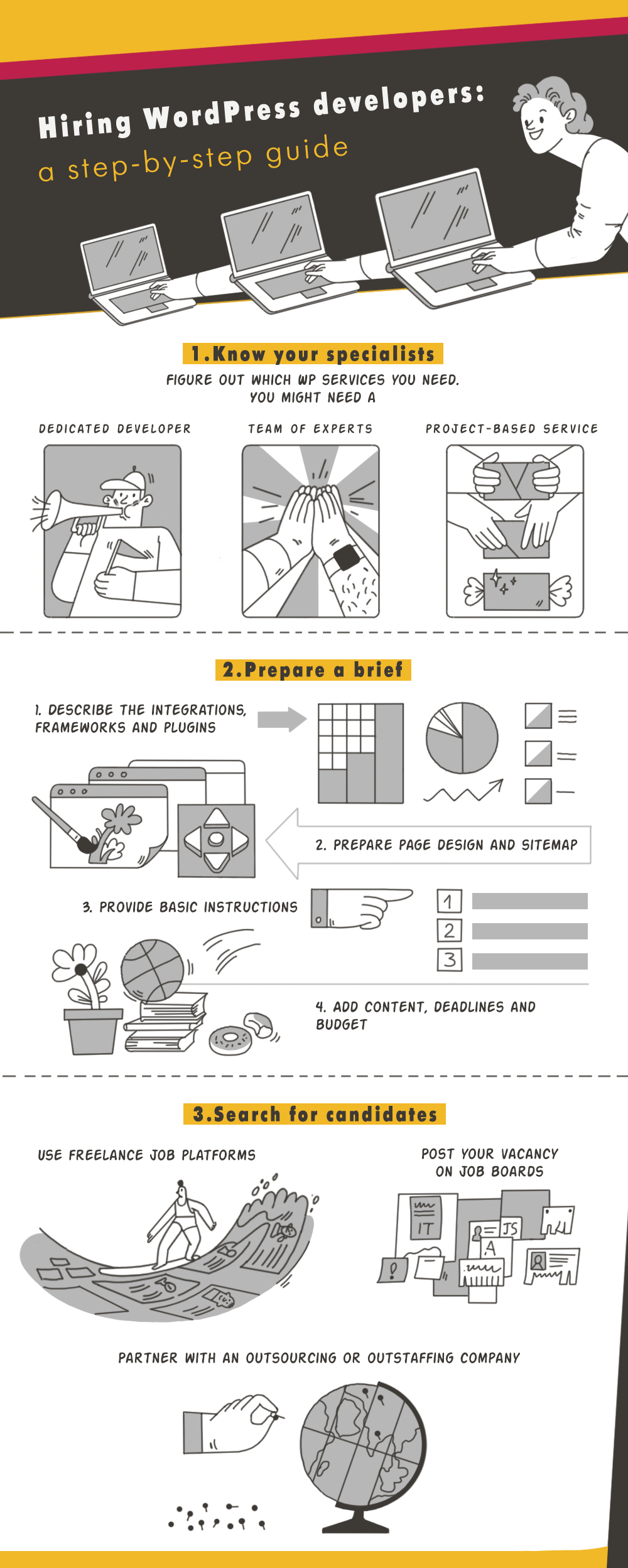 Step 1: Know your specialists
Depending on the complexity and longevity of your project, you may need different styles of WP developers. For a short-term and simple task, you can choose a freelance WP developer. They will easily use the already existing themes and plugins to complete your project. If you have an ambitious, long-term project in mind, you might need a team of developers. A team can offer increased skills and experience in creating unique plugins and themes. Let's take a look at differing WordPress experts and how they can uniquely contribute to your project:
A WordPress developer
Recruiting just one skilled WP developer can be enough to secure a great project. It's like adding Tony Stark to the Avengers team — it's a must. An experienced developer will write custom code, create themes and plugins for your website, and might even throw in a joke or two if needed. For outstanding results, you can aim for a dedicated WordPress developer who will work solely on your product without being distracted by side projects.
A WordPress designer
Let's be clear from the beginning: there is actually no such thing as a WordPress designer. When working on a WP project, you'll need to simply hire a UI/UX designer or a web designer. If this is true, why do some companies keep looking for WP designers?
"Clients usually want to hire a WordPress designer, when in reality they need a developer who can build a website using ready-made themes and plugins. In this case, software development skills are less important than an ability to create good-looking websites", says Beetroot WP team lead Dmitriy Olkhovkiy.
"Creating designs of a WordPress website is quite similar to designing any other site", says Beetroot WP team lead Yuri Nifontov, "It's good to hire a designer with basic knowledge of front-end development and with a clear understanding of interface themes and plugins that will be used in your project".
A dedicated team of developers
Some projects can make you think you need more than one developer. You may find yourself feeling that a single developer won't be as fast or effective as a team of professionals. However, hiring more people doesn't always secure a faster project completion. Yuri says, "Don't forget that having a team of developers will require much more effort in managing and controlling the project, whereas working with one person considerably simplifies the process".
"Here, at Beetroot, all WordPress developers are full-stack, which means that they can handle a project on their own. But if you are working with a person who has the necessary skills in developing themes and plugins, but knows nothing about layouts, then you should consider hiring at least a 2-person team to finalize the project", says Beetroot WP team lead Vladislav Yevsikov.
Project-based services
Project-based WP hires are the most frequently used type of cooperation, taking care of your website from the ground up. These services are usually composed of small tasks and completed by freelance WordPress developers or outsourcing companies.
"Usually, one project is assigned to one developer with the necessary skills and experience", says Yuri Nifontov, "In some situations, it is appropriate to give separate tasks to front-end and back-end developers in order to divide basic functionals from complicated business logic. The longevity of a project is another important factor to consider. On the one hand, having a long-term project can help you build better relationships with your developers and polish your communication. On the other hand, if you have strict deadlines, you can cut down the timeline of a project by hiring more developers".
To summarize, for a successful project, you can easily hire one experienced full-stack developer and be confident of a decent delivery. However, in some cases, you'll need to build a team of developers and designers to bring the best results.
Step 2: Prepare a design brief for website development
We all want to hire a professional developer, tell them to make "something nice", then lean back in your chair and let our tech guru figure out what that "something" actually is. But, that's not how things work. Being a project owner, you will need to create a detailed and precise design brief for your developers. The brief is meant to walk your WordPress experts through all the stages of development and while explaining the project's objectives, target audience, and budget.
"Any project should start from specifications", says Yuri Nifontov, "If you don't have a website design then you need to start with preparing a brief for the designer, and eventually move on to composing a brief for WP developers. A good brief includes the descriptions of all processes and scripts for users. It should name all additional instruments and services, which will be integrated in the project in the future. Separately, it should discuss all interactive elements for pages, animation, and all not-so-obvious elements of the users' interface. For developers, it's important to know what is going to happen to the project after it has been deployed, where it will be located and what load it's expected to have on a daily basis. If you have any references, share those with your team. Finally, don't forget to include your budget and timeline. This information will help developers prioritize their tasks or warn you that your expectations are far from their actual capacity".
Here is what an average WP brief should include:
Frameworks
Plugins
Page design (both desktop and mobile)
Sitemap
Basic instructions
Integrations
Content
Deadline
Step 3: Take a dive
Now that you know who you are looking for and what needs to be done, you are ready for the final stage of hiring: finding the right candidate. When it comes to hiring developers, there are three possible online paths that you can follow. First, you can search through developers' CVs posted on specialized job platforms. Second, you can post your vacancy on one of the job boards and wait for someone to reply. Last, you can partner with a reliable outsourcing or outstaffing company, and peacefully enjoy your banana smoothie while they're doing all the work. Let's take a closer look at all three options.
Freelance job platforms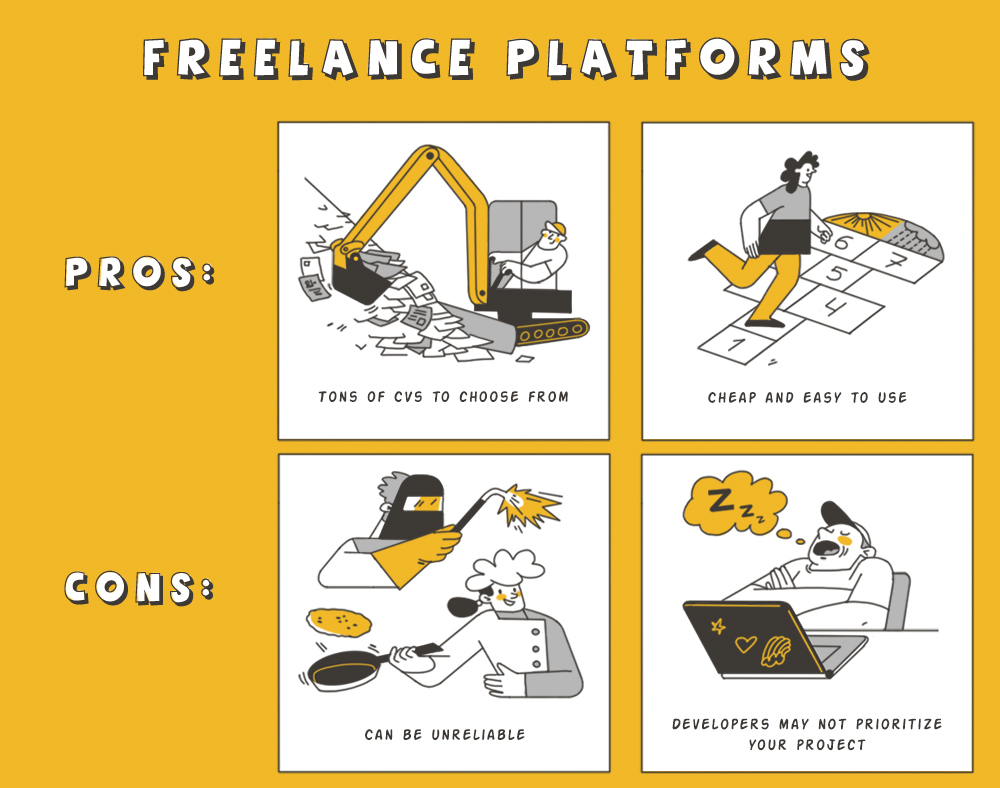 Hiring WordPress developers on a freelance platform, comes with several advantages:
There are many options to choose from. Popular freelance platforms have thousands of registered user profiles, which means your chances of finding the right fit are quite high.
It's cheaper. Since freelancers don't include administrative, HR, or other costs in their bills, working with them might be more affordable.
Freelancers are flexible. Freelance web developers and designers can shift from discussing project details to actually implementing them, in the blink of an eye. If you choose to work with a company, you will spend more time discussing work terms and signing contracts than actually getting anything done.
What about disadvantages? You didn't expect everything to be so easy, right?
It's risky. Freelancers might disappear in the middle of the project, leaving you empty-handed. Of course, the chances of this happening are slim, but it's never impossible.
Communication might be challenging. It's possible your freelancer lives in a different time zone and can't always speak with you on a daily basis.
You cannot be sure that freelancers will prioritize your project. When working with a group of freelancers, there is a chance they are working simultaneously with other clients.
If you choose to find your next hire within the freelance platform, there are several things that need your attention.
Portfolio. Check out your chosen developers profile and see what projects they have completed in the past. Make sure their portfolio comprises successful projects that are similar to the requirements you have. For instance, if you need a full-stack PHP developer, you should probably skip the guy who only created simple WooCommerce websites using ready-made themes. If your chosen devs haven't worked on similar projects but you still want to give them a try, prepare a small test task for them to complete.
Ratings and reviews. This one seems obvious, but is quite problematic when assessing candidates. Of course, we all want to hire a 5-star developer with tons of laudative reviews from previous employers. However, sometimes good developers receive negative reviews for reasons that are not always work-related. Or, perhaps, a great developer may be newly registered on a platform and hasn't had the chance to accumulate reviews. When making the final call, take your time reading reviews and checking ratings, but don't over-rely on them.
Hourly rates. Skilled WP developers know their worth and usually have high salary expectations.You will see a lot of low-price and attractive offers while surfing through freelance platforms. However, the results of such cooperation won't be attractive at all. At the end of the day, you will most likely have to hire another specialist to re-do everything from scratch and waste even more resources.
Communication. While talking with your potential hires to clarify their experience and availability, pay attention to how they communicate. Being you aren't able to sit next to them throughout the project, you'll need to build smooth and open communication as you go. Make sure developers can reply in a timely manner, have a decent knowledge of English, and are able to explain complicated tech terms without overwhelming you.
Here is a list of freelance platforms where you can search for your next team member:
Job boards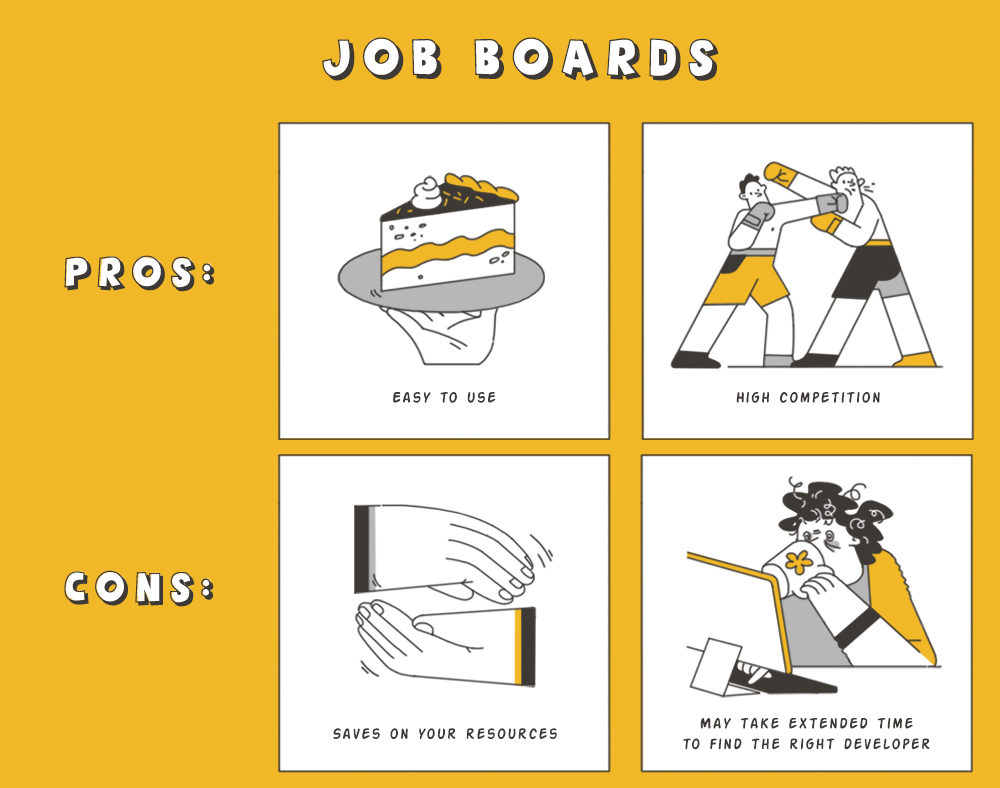 The great thing about job boards is you don't have to waste time searching for the right candidate. All you need to do is post your vacancy and wait for developers to reply. The bad thing, though, is finding a great developer might take longer without active steps from your side. But, if you are not in a hurry, here are several job boards to look for WP experts:
Outsourcing and outstaffing companies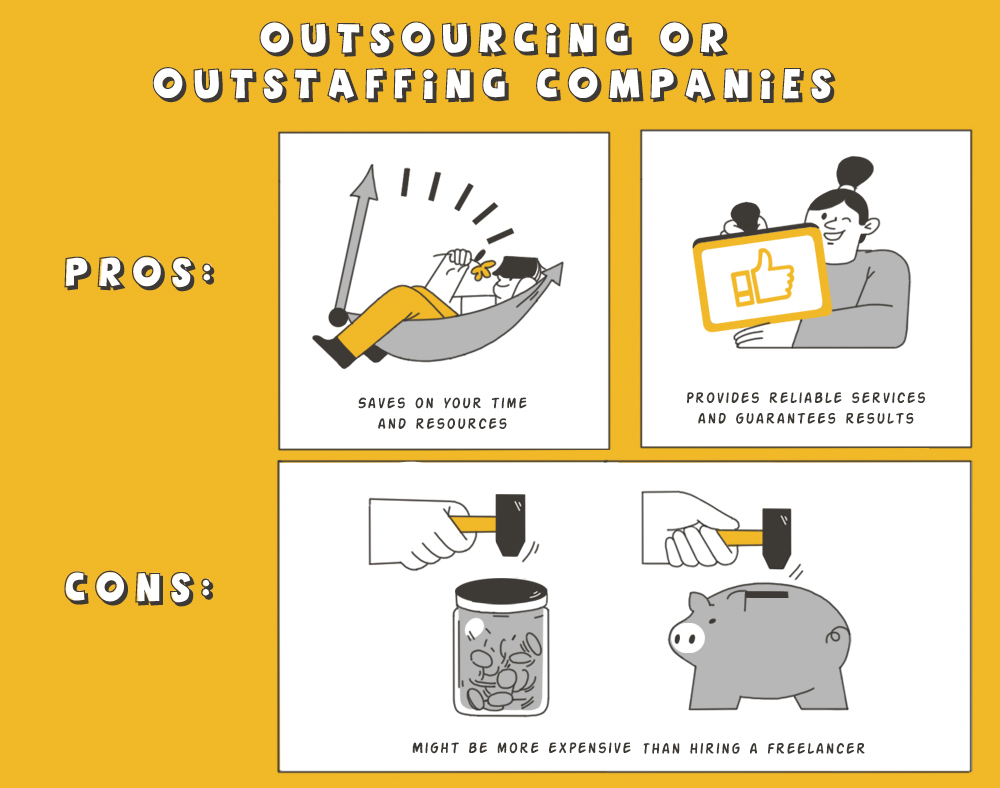 If none of the above attracts you, it doesn't mean you're too picky — perhaps just rational. Searching for a skilled developer among thousands of CVs while trying to keep your own project from bursting at the seams, is not what most people would put on the list of things they like to do. Fortunately, there is a third way to hire expert WordPress developers.
You can now partner with an outsourcing or outstaffing company and let them do the job for you. Having a reliable partner who can find the right candidates, then onboard and develop them professionally, can become a cornerstone of your projects' success. Here, at Beetroot, we have long-standing expertise in WordPress website development and a dedicated team of fantastic experts, all ready to help you with a project of any complexity.
Find out how we can help extend your tech team for sustainable growth.
Contact us