WordPress Developer Salaries: 2022 Comparison
It's not always easy to talk about salaries. However, if you intend to launch a WordPress solutions project and need a skilled tech team to work on it, you cannot avoid the subject. WordPress developer salary is not a constant thing since many factors can affect it. Let's outline some average numbers for outsourcing WordPress services vs. working with freelancers.
What affects WordPress developers' salaries?
There is no universal formula to calculate how much WordPress developers typically make. Indeed, the salary of your WordPress programmers depends on several factors:
Experience. Nothing new under the sun: the rates you will eventually pay your developers, for the most part, depend on their skill level. You could either sieve through the market to find young and inexperienced programmers who charge less or potentially can build a website for free or turn to senior devs who know their job and how much they are worth.
Type of job. When it comes to WordPress development, there is a tendency to lump all developers and implementers together. However, the difference between their tasks is evident. The first category of jobs requires building custom plugins and themes from scratch. Given that, you will need the assistance of more skillful and experienced web developers with higher salary expectations. Here's a simple life hack to help you tell these programmers from others: look at their titles. Usually, they call themselves Front-end engineers, PHP developers, or even Full-stack developers. The second type of work involves project realization using already existing, ready-made WordPress themes and plugins. In this case, you can hire less experienced developers with lower salary expectations.
Location. Ordering a cappuccino in Brooklyn is likely a different story than, let's say, in Bengaluru. Depending on the location of your WordPress talent, you need to pay them accordingly so they can afford to buy the said cappuccino and pay for other necessities like rent or medical insurance.
Employment. Hiring a freelancer would probably cost you less than going all in for a distributed team of WordPress web developers. Yet still, working with full-time developers brings certain advantages, which are worth paying higher wages. Let's discuss this topic in more detail.
Full-time WordPress developers' salary
Before deciding how much money you are willing to pay to your WordPress devs, consider the advantages and disadvantages of different types of cooperation with WordPress developers (we'll come back to this point later). WordPress programmers are compensated differently depending on their geographical location and seniority. Now, let's take a closer look at the numbers.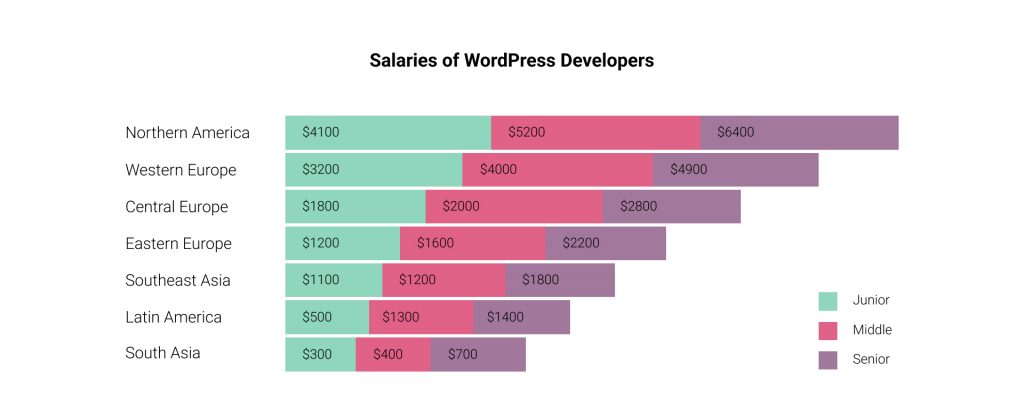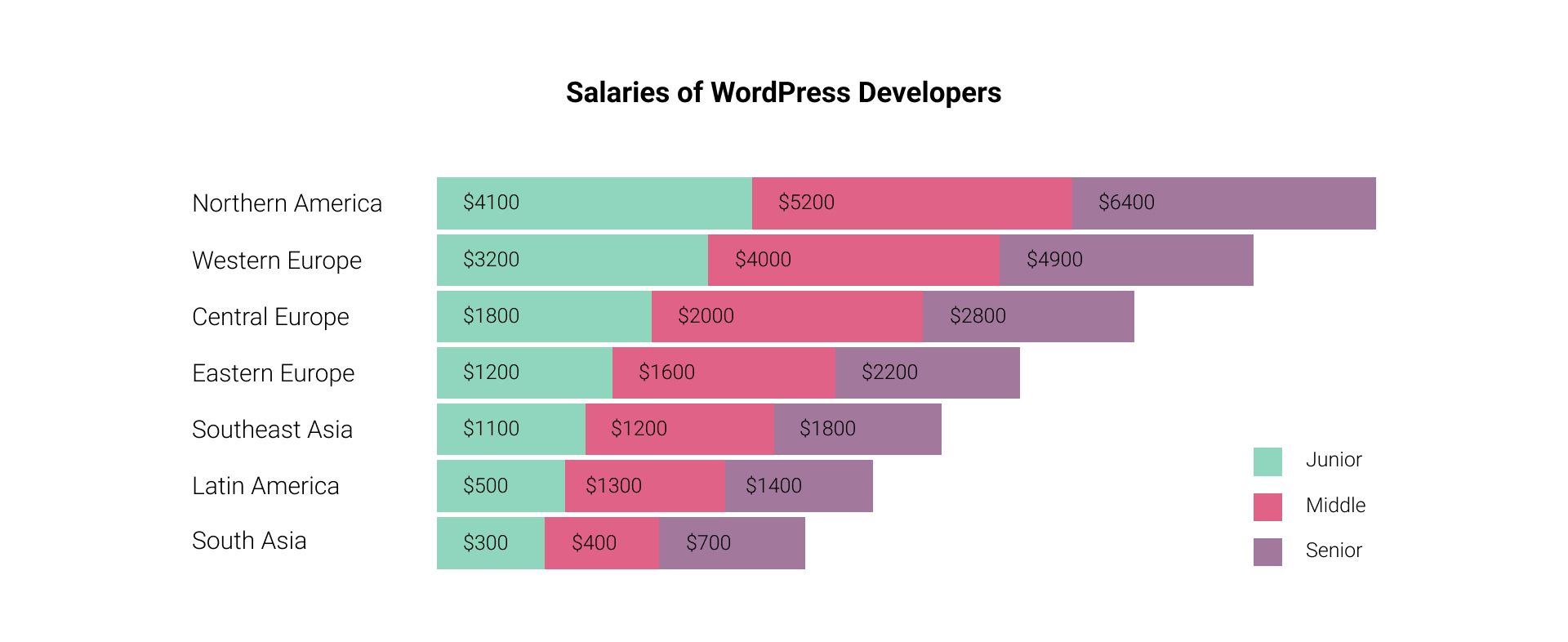 Northern America
If your project is on a tight budget, the United States or Canada is not the best place to look for developers. For instance, in the USA, the median monthly salary of junior developers is around $4600, middle devs earn $5900 per month, and senior programmers — $7500.
Western Europe
WordPress salaries in the UK or Germany are lower than in the US and Canada, but hiring a team there is still rather expensive. For example, a junior WordPress developer will cost you around $3900 per month, middle — $4400, and senior — $5130.
Central Europe
Poland is one of the most attractive countries for outsourcing talented devs for an affordable price. Entry-level developers get compensated around $1500 per month, while senior developers' earnings average $3000.
Eastern Europe
Ukraine offers one of the best cost-quality ratios for hiring developers of Eastern European countries. Here you can hire professional dedicated WordPress developers, paying $980 to junior devs, $1900 to middle devs, and around $2600 to senior specialists. And if we move south to Bulgaria, hiring a full-time WordPress developer there will cost you between $1160 and $1740 from junior to senior skill level.
South Asia
Once the trendiest destination for outsourcing, India and Pakistan lose to European countries today in terms of quality and communication, according to customer reviews on Clutch and Goodfirms. However, the monthly salaries here are still quite low. You can hire a junior dev for $280, middle — for $350, and experts — for $700.
Southeast Asia
One of the most popular countries for outsourcing, the Philippines, can offer quite affordable prices for WordPress developers. Here, a junior specialist's salary equals $560, middle — $700, and senior — $1000.
Latin America
Brazil and Argentina offer lucrative prices for WordPress development, with entry-level specialists earning $490 a month, middle to senior — $1300-$1400. However, before signing a contract, keep in mind the significant time differences that may impede communication if your company is located in Europe.
Freelance WordPress developers' hourly rates at the largest marketplaces
Just as much as the salaries of the full-time WordPress devs, freelance WordPress developers' rates depend highly on the geographical location. You can find freelance developers at several trendiest marketplaces, including Upwork, Glassdoor, Freelancer, Guru, and Toptal.
According to Codementor survey, average hourly rates for WordPress development services around the world are as follows:
The United States — $70 per hour
Australia + New Zealand — $70 per hour
Canada — $65 per hour
The Middle East — $64 per hour
Western Europe — $63 per hour
Eastern Europe — $56 per hour
Latin America — $51 per hour
Asia — $49 per hour
Northern Africa — $41 per hour
According to Upwork, freelance WordPress developers registered there are available at $15-$28 per hour. Also, we analyzed the profiles of top-ranked WP freelancers (90% and up completed job success) from around the world, with varying seniority levels and experience, and found out they charge between $17-$86 on average.

Here, at Beetroot, you can combine the reliability of a full-time team with the cost-efficiency of a freelancer. Check out our website with a detailed description of Beetroot WordPress services to learn more.
What's the difference between a freelance WordPress developer and a full-time outsourcing partner?
As we already mentioned, choosing the type of cooperation with WordPress developers affects the final cost. Traditionally, working with freelancers is cheaper than collaborating with an outsourcing or outstaffing company that builds a remote WordPress team for you. However, making a decision based solely on the cost exposes your project to multiple communication and operational risks. Here are some advantages and disadvantages of working with either of these business models.
Advantages of hiring an outsourcing partner:
Scope of work. Even the most talented freelancers are limited in what they can do because of their inability to consult with a team of other tech experts. On the contrary, a full-time partner offers a more comprehensive range of tools available for custom web development.
Additional services. When you hire an outsourcing company, you receive a WordPress developer onboard and a well-organized team of QA engineers, HRs, and project managers.
Reliability. You can be sure that an outsourcing company won't suddenly disappear for three weeks because it needs to visit its grandma, neither will it 'lose' your number for good once the project is over. This type of partnership allows you to pursue long-term projects and build better relations with your team.
Disadvantages of hiring an outsourcing partner:
Cost. Yes, working with an outsourcing partner will cost you more. However, a higher price tag comes along with several additional services — from tailored recruitment to full support with team scaling, care, and retention — to take the hassle out of the organizational matters so you can focus more on growing your business.
Communication. Sometimes companies have complicated communication because of several layers of middle managers between you and your WordPress developers. A way to minimize such a drawback is by encouraging direct contact between clients and programmers, as we practice it here at Beetroot.
Advantages of hiring WordPress freelancers:
Specialization. Freelancers generally find their feet in one specific sphere and polish their skills, undoubtedly becoming professional in this area.
Flexibility. As freelancers, developers can be flexible regarding working hours and deadlines.
Determination. It's in their best interest to do the job as fast and flawlessly as possible to persuade you to return for their services or recommend them to your friends and colleagues.
Disadvantages of hiring WordPress freelancers:
Workload. Skilled freelancers usually have several projects on their plates at the same time. There is no guarantee that they will prioritize your tasks.
Limited scalability and expertise. One person cannot take care of all the aspects of a project, especially if it changes significantly down the road and requires the development of custom solutions.
Reliability. Big-name freelance marketplaces like Upwork improve the safety of cooperation with freelance developers. However — let's face it — freelancers often disappear. It has always been part and parcel of freelancing and, even though lower, the risk is still there.
Lack of commitment. The nature of the freelance industry is that developers are not fully committed to any of the projects they take as in-house or dedicated programmers would be. Sad but true, your company may get affected as well. So, if your aim is a long-term partnership, you might be better looking for other cooperation models.
Miscommunication risks. Even though all teams are prone to misunderstanding issues, hiring a freelancer offshore may entail additional risks of poor communication due to language barriers, cultural differences, and geographical remoteness. These difficulties can affect both parties and undermine successful cooperation in many ways.
Security violations. The flip side of the freelance market is that you never know 100% who you are working with, and your sensitive data might be compromised, misused, or stolen. Software development companies are bound by information security regulations and data privacy compliance. Here, at Beetroot, we are strictly committed to providing a new level of credibility as an ISO 27001 certified service partner, and our customers can feel at ease working with our teams.
So, be sure to make an informed decision after considering all the advantages and disadvantages you just learned and following your project requirements. Or drop us a line, and we'll be happy to help you find what you need.
Find out how we can help extend your tech team for sustainable growth.
Contact us