Breaking Down the Barriers: Green Tech Market Challenges in 2023
As the world grapples with the environmental effects of human activities, sustainability has become an integral part of modern-day businesses that no company can afford to ignore. Today's customers, investors, and employees expect responsible actions toward the planet and society. To meet these expectations, companies should prioritize their commitment to sustainability to foster trust and loyalty among stakeholders.
Similarly, governments and international organizations are taking action to reduce carbon emissions. As a result, businesses also need to do their part by minimizing the carbon footprint of their operations, supply chains, and resource usage.
These factors have accelerated the green tech market's evolution into one of the most dynamic global industries. However, achieving the ambitious target of reaching Net Zero by 2050 will require environmental companies to scale up their operations at an unprecedented pace while navigating a volatile economic landscape.
In this article, we'll explore the current challenges in green and clean technology to find ways to tackle them effectively and — you guessed it — sustainably.
How Much Is the Green Tech Market Worth?
By 2030, the global GreenTech and sustainability industry is estimated to reach about $417 billion. Growth has already exceeded expectations, with green technology surpassing the €4 trillion ($4.3 trillion) mark in 2020. The funding destined for climate tech organizations reached $59B in 2022. By 2030, global environmental technology and resource efficiency revenues are projected to reach €9.4 trillion ($10.1 trillion), offering significant potential for green tech startups and scaleups to expand while tackling the global climate crisis.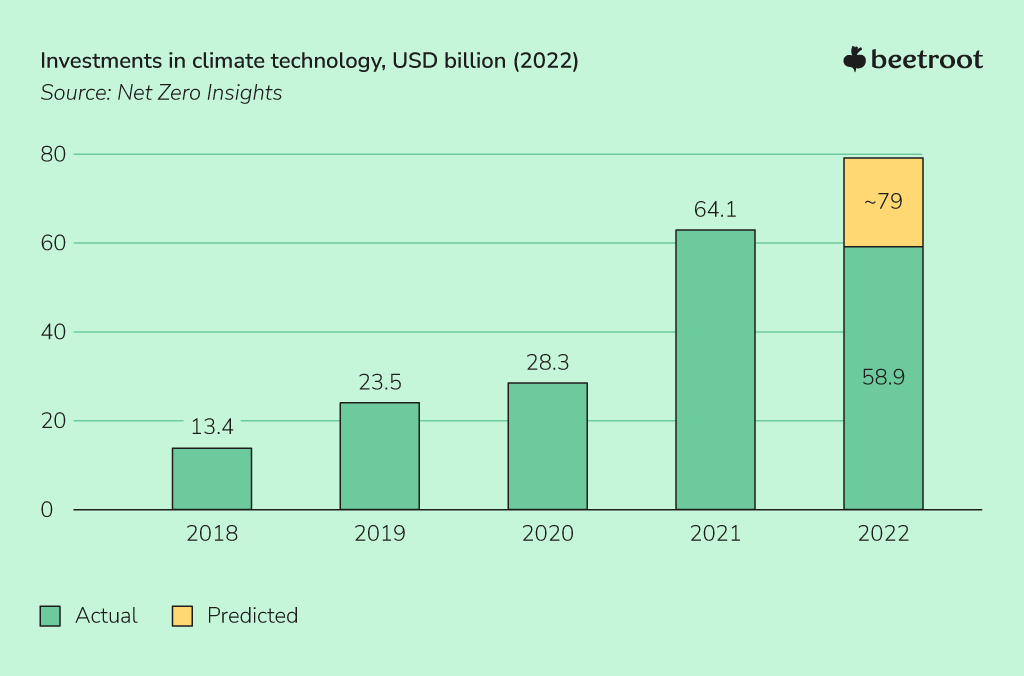 Green Tech Market Growth: Outlook for the Digital
The use of digital tools that gather data, enhance the visibility of supply chains, and streamline processes can greatly assist businesses aiming for net zero emissions. In particular, some of these tools have clear-cut applications that are especially relevant to the power sector. According to estimates, the power sector is projected to invest $5.2 billion in software by 2025, with $2.8 billion dedicated to software that improves cost efficiency, reliability, and remote operations and $2.4 billion allocated to smart-grid software.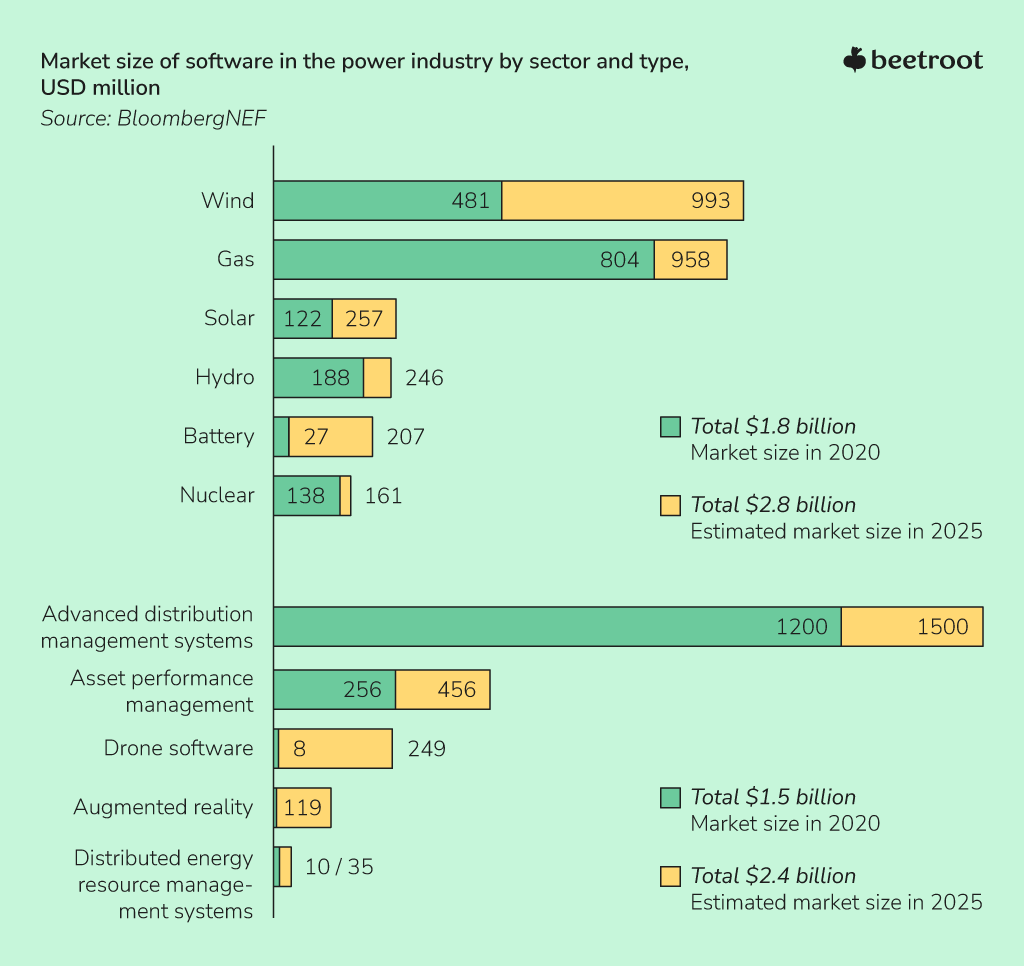 Top Challenges Facing the Green Tech Market
Slow Adaptation of the Existing Energy Policies to Clean Energy
The procedures stipulated by the "green" legislation provided for the gradual, slow-pacing implementation of environmental goals — often decades in advance. However, the severe crisis caused by Russia's ongoing war in Ukraine and the recovery from the COVID-19 pandemic has put enormous pressure on the economy. Additionally, regulatory and political uncertainties are causing the cost of doing business in the country to increase. A survey by BloombergNEF discovered that countries with clear clean energy policies and regulations tend to attract 17 times more clean energy investment than those without such policies.
Power Grid Needs to Be Fully Ready to Switch to Renewables
As we strive towards achieving Net Zero, redesigning the global energy system using climate technologies that can function with renewable sources instead of relying on fossil fuels is essential. However, due to the intermittency of renewable energy generation, it is crucial to reconsider how the grids operate and increase their flexibility to support large-scale deployment. This flexibility will also enhance the energy system's resilience to potential outages, attacks, and extreme weather conditions.
Slow Project Approval
Renewable energy projects across the globe are facing a common challenge of extended lead times and the need for permits. That has resulted in a significant backlog of wind capacity in Europe, with four times more stalled projects than those currently under construction. Such delays negatively impact the industry's ability to expand on a large scale, which relies on investment certainty and timely project completion to meet market demands efficiently.

High CapEx to Deploy GreenTech and Sustainability Solutions
Clean energy investment grew by a mere 2% annually in 2015-2020, but the pace of growth has accelerated to 12% since 2020. Developing countries are most affected by the increase in energy prices following Russia's war in Ukraine. Unfortunately, clean energy spending in emerging and developing economies, except for China, has not improved since 2015. The lack of public funds to support sustainable recovery, weak policy frameworks, economic uncertainty, and rising borrowing costs have made capital-intensive clean technologies less attractive. As per McKinsey's COP 27 insights, all necessary technologies will require a staggering $276 trillion CapEx to achieve the 2050 net-zero, 1.5°C goal.
Lack of Tailored Solutions to Address Unique Environmental Issues
It is both a restraint and a possibility for disruptive scaling. The market needs customized tools and solutions to collect and process massive amounts of data to gain new insights and make significant changes, for example, collecting data with sensors and drones and using machine learning (ML) and analytics to turn this data into actionable intelligence.
Talent Gaps
Having specialized technical skills and experience is essential for success in high-impact industries. For instance, the demand for wind and solar asset development, construction, and operation experts is expected to quadruple by 2030. This growth will require 1.3 million additional professionals in project development, management, finance, and tech roles.
Sustainable Team Augmentation for Lasting Success
As the GreenTech industry continues to expand, having a strong engineering team is crucial to create a lasting impact. However, the talent gaps in this industry can make it difficult to scale quickly and efficiently. That's where Beetroot comes in.
Our team augmentation services enable impactful green and clean technology businesses to tap into a vast pool of highly skilled tech specialists and developers across Northern, Eastern, and Southern Europe. Through our sourcing network, we can connect you with over 1 million experts and provide the talent you need to accelerate your GreenTech project.
By partnering with Beetroot, you can streamline your hiring process, cutting hiring times in half on average. We understand the importance of maintaining a sustainable team, so we designed our HR processes to help your GreenTech development team stay integrated, well-connected, and productive in the long run.
Finally, we are an impact-oriented company that believes in creating sustainable social, economic, and environmental impact at scale as a tech ecosystem. Our unique offering enables you to enhance your engineering capabilities while also playing an active role in driving positive change.
So let us help you build a sustainable team that will power your GreenTech company to success — for the good of your business and the planet.
Find out how we can help extend your tech team for sustainable growth.
Contact us