Newsroom
Read the latest on our events, people, product updates, and more.
Beetroot Invites Web Developers to Join Free Digital Accessibility Meetup
October 4, 2022 — Stockholm, Sweden — The Beetroot ecosystem is hosting an online meetup dedicated to digital accessibility on Wednesday, October 12. This event will be particularly useful for…
October 4, 2022 — Stockholm, Sweden — The Beetroot ecosystem is hosting an online meetup dedicated to digital accessibility on Wednesday, October 12. This event will be particularly useful for programmers, QA specialists, designers, and other IT professionals. Participation is free, so everyone is welcome to join.
The session will be held in English, titled "Beetup: Coding for Accessibility & Inclusion." Key speakers will be renowned American field experts Jay Mullen and Dave Gibson, the Team Lead and Founder (respectively) of Accessibility.Works, a brand specializing in universal design and auditing websites, web apps, and mobile applications.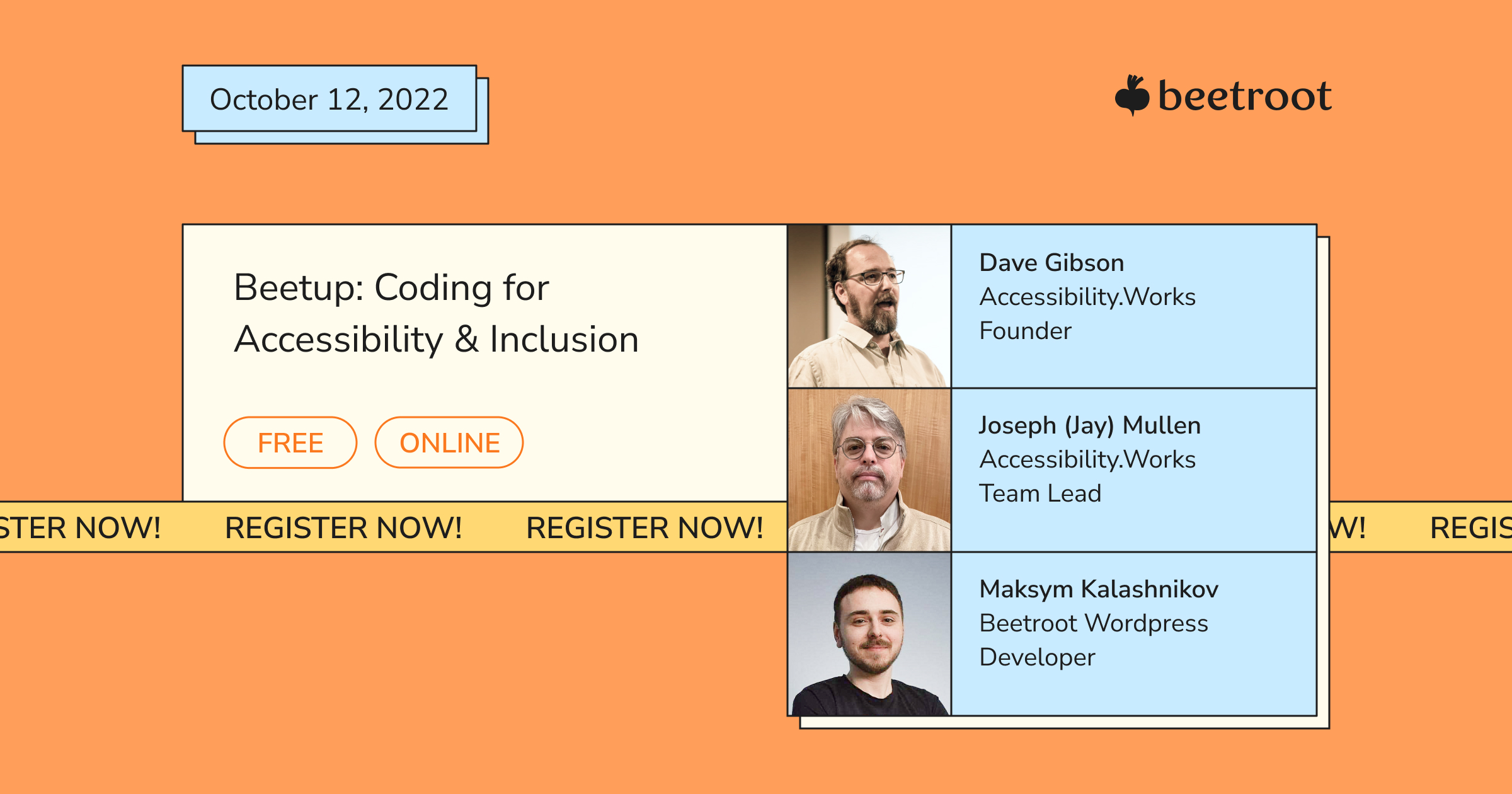 Dave Gibson, the President of Propeller Media Works, established Accessibility.Works in 2016 as a blog which grew into a consultancy providing digital accessibility auditing, training, and remediation consulting for mid to large organizations and corporations.
"By addressing digital accessibility through universal design and development, we not only reduce the legal exposure to ourselves and our clients," commented Mr. Gibson. "We ensure everything we build is inclusive for all."
Joseph (Jay) Mullen was introduced to digital accessibility in 2003. He helps companies and institutions make their websites, web and mobile applications, and content accessible to wider audiences. In addition, Mr. Mullen has been training teams and providing audits to Fortune 100 companies.
Maksym Kalashnykov, a WordPress Developer at Beetroot, will also speak at the event. Sebastian Streiffert, the head of Beetroot's marketing team, is the meetup moderator.
Experts are up to discussing all aspects of web accessibility during the meetup, including legal, social, and technology considerations. They will explain how to conform to WCAG requirements when designing digital properties and producing content based on specific examples. They will also share some practical tools and resources for learning and accreditation. All participants are welcome to join a Q&A session following the presentation.
"Digital inclusion has long been a priority direction in Western IT companies and is regulated by legislation. For Ukraine, this matter is relatively new yet very important, especially when we see the terrible effects of a full-scale invasion," said Uliana Tereshchenko, the Sustainability Coordinator at Beetroot. "Therefore, we invite everyone to learn more about how digital accessibility operates and is governed worldwide and get some beneficial tips and advice."
Web accessibility refers to a website's or app's ability to meet the needs of the broadest range of users. It helps eliminate audience constraints and makes pages and applications equally comfortable and intelligible for everyone. Potentially, that means attracting up to a billion new users — roughly as many people worldwide live with some form of disability, impeding the use of digital products. That is why about 25 nations have created web accessibility standards, WCAG being the most commonly used.
Register for the Beetroot accessibility meetup via Google Forms.
***
About Beetroot
Beetroot is a tech ecosystem with its roots in Sweden, helping clients solve their software and staffing needs by managing each and every step in tech competency — from education to sustainable development services.
Beetroot was founded in 2012 and today engages around 600 people across its headquarters in Stockholm, Sweden, and Europe.
Read more about Beetroot here.
Find out how we can help extend your tech team for sustainable growth.
Contact us