Newsroom
Read the latest on our events, people, product updates, and more.
Beetroot's 2020 Sustainability Report highlights contribution to the SDG progress and commitment to socially impactful tech business
June 30, 2021 — Stockholm, Sweden — Beetroot AB today published its inaugural non-financial report, which illustrates its accomplishments and aspirations in extraordinary times while underscoring commitment to creating a lasting…
June 30, 2021 — Stockholm, Sweden — Beetroot AB today published its inaugural non-financial report, which illustrates its accomplishments and aspirations in extraordinary times while underscoring commitment to creating a lasting impact as a tech ecosystem in line with the UN Sustainable Development Goals (SDGs).
The report marks the critical role sustainability plays for all companies under the Beetroot Ecosystem umbrella.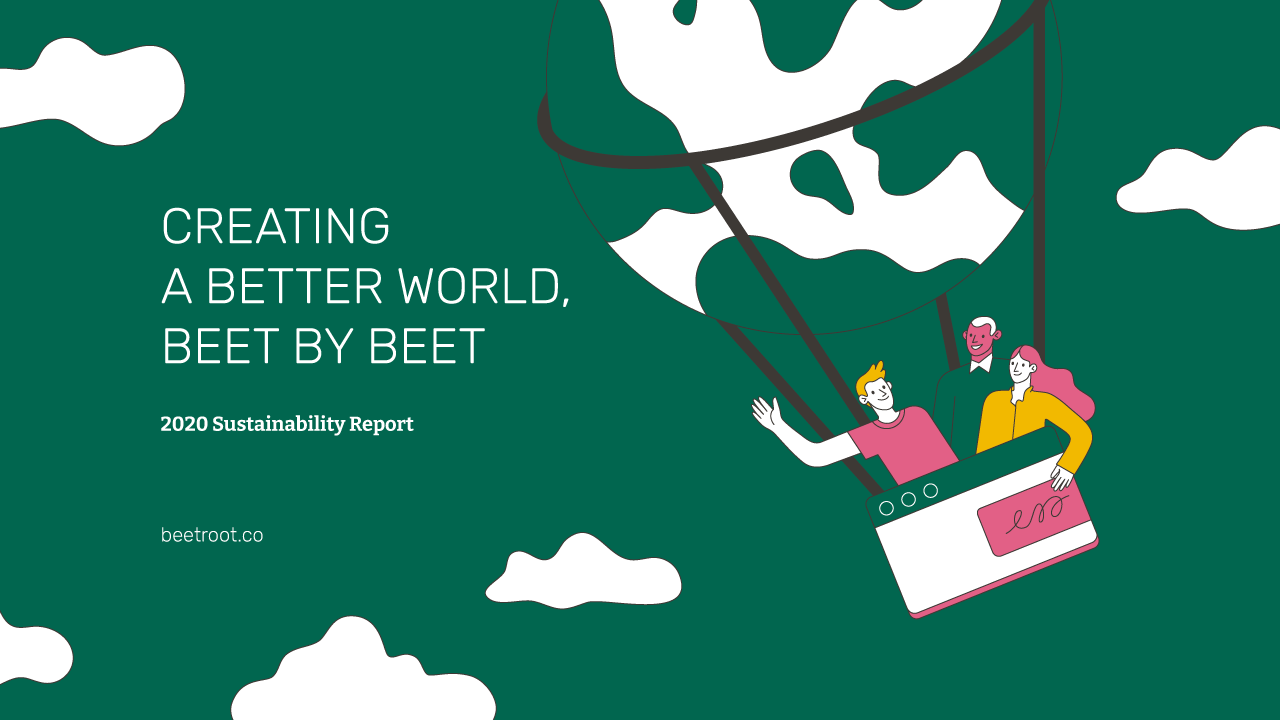 "Beetroot has been an impact-oriented company from day one. Sustainability is hard-coded in everything we do as a tech ecosystem. Rather than being an add-on policy, it is central to how and why we do business," said Andreas Flodstrom, Co-founder and CEO of Beetroot AB. "Keeping our sustainable impact targets aligned with the global goals and standards is critical to us. Translating them into actionable initiatives is no less important."
The focus on sustainable development, Flodstrom mentioned, was one of the central factors strengthening the Beetroot Ecosystem's resilience in 2020 and enabling a 40% YoY growth and a 25% increase in new jobs despite the turbulence caused by the pandemic.
Beetroot identified that some of the most effective ways for the company to contribute to the SDG progress are economic development (focusing on small and midsize cities), high-quality education, gender equality in the tech industry, well-being, and climate action.
Among the results demonstrated in the report are the following:
The total number of direct and indirect jobs created by the Beetroot Ecosystem in Ukraine reached 2,000-2,500.
During the COVID-19 outbreak, Beetroot enabled a rapid transition to remote work and initiated extra payouts for team members who got sick in addition to regular health insurance. In 2020, the total amount of insurance payout grew by 30% compared to 2019.
Beetroot Academy educated about 4% of all talents who joined the Ukrainian tech industry in 2020.
Members of the Beetroot Ecosystem in Ukraine and Sweden hosted a combined total of more than 250 online and offline educational events that attracted over 15,000 attendees.
In partnership with Ioco Arma Nostra, Beetroot provided 75 scholarships for individuals from Ukrainian families affected by the war to take a Beetroot Academy course and start a career in tech.
The Ukrainian Corporate Equality Index awarded Beetroot a 2020 Top Employer prize.
In addition to continuous efforts to reduce the carbon footprint, Beetroot invested in a reforestation project in Castillo y León, Spain, to compensate for the CO2 emissions that could not be avoided.
Some of the significant sustainability challenges that Beetroot aligns with its strategic goals include the following:
Engaging more people in Ukrainian Tech as a progressively significant driver of Ukraine's economic growth, with the average tech salary almost six times higher than the national average;
Providing more opportunities for women in tech with a corresponding goal of reaching 50/50 gender parity in the Beetroot Ecosystem's team by 2030;
Diminishing the company's carbon footprint and offsetting the harm that cannot be avoided;
Finalizing the ISO 27001 implementation as the first step in developing a sustainable cybersecurity strategy;
Moving towards a client base composed of at least 80% impact-oriented industries (including but not limited to Greentech, Medtech, and Edtech).
Even the report title, "Creating a Better World, Beet by Beet", revolves around a pun appealing to the company name to accentuate the deep roots of a sustainable approach to business and its tight integration into Beetroot's organizational culture.
"Sustainability has always been at the heart of Beetroot, having grown from an enthusiastic idea of its founders to one of the company's core values. We want to thank our talented teammates and stakeholders for making this possible," commented Gustav Henman, the Co-founder of Beetroot. "Together, we create a better tomorrow, beet by beet."

The full version of the report is available here.
###
About Beetroot AB
Beetroot AB is a Swedish tech company that provides IT solutions and builds teams of tech experts in Ukraine to help clients worldwide realize their technology visions. Founded in 2012, the company is on a mission to create sustainable social, economic, and environmental impact at scale.
Beetroot AB is the first member of the Beetroot Ecosystem, including Beetroot Sweden AB, Beetroot Academy, Beetroot Hub, and a vast network of pre-vetted development houses. The purpose of the Ecosystem is to increase both impact and efficiency by managing each and every step of the tech competency funnel.
Beetroot Academy is a well-established network of IT schools in Ukraine. Transferred to work entirely online in 2020, the academy has educated approximately 2% of Ukraine's tech talent.
Currently, the Beetroot Ecosystem's team is approaching 600 members in Ukraine and Sweden.

More info about Beetroot is available here.
Find out how we can help extend your tech team for sustainable growth.
Contact us